Wedding venues are one of the biggest and most important aspects of any wedding. Venues set the tone and vibe for the rest of the wedding, and that's why we want to share our top modern wedding venues in Sydney. We have shot a lot of weddings over the years, and so we have definitely seen our share of venues and locations that we have loved.
Curzon Hall
Curzon Hall is a beautiful heritage listed wedding venue located not too far from Macquarie University. It was originally built in 1899 as a present from Harry Curzon Smith to his wife, Isabella, and many years later it was converted into a function space with Victorian Italianate style, semi-circular arches, cathedral ceilings, marble fireplaces, and so much more to bring in an atmosphere of romance and grandeur.

Things we like:
Palace looking sandstone building - perfect for fairytale wedding.
Variety of gardens for wedding ceremony options: The Enchanted Garden, The Eternal Garden and The Garden Chateau
Both wedding ceremony and wedding reception at the same location.
Plenty of options for location shoots, including in the building (no worries in wet weather)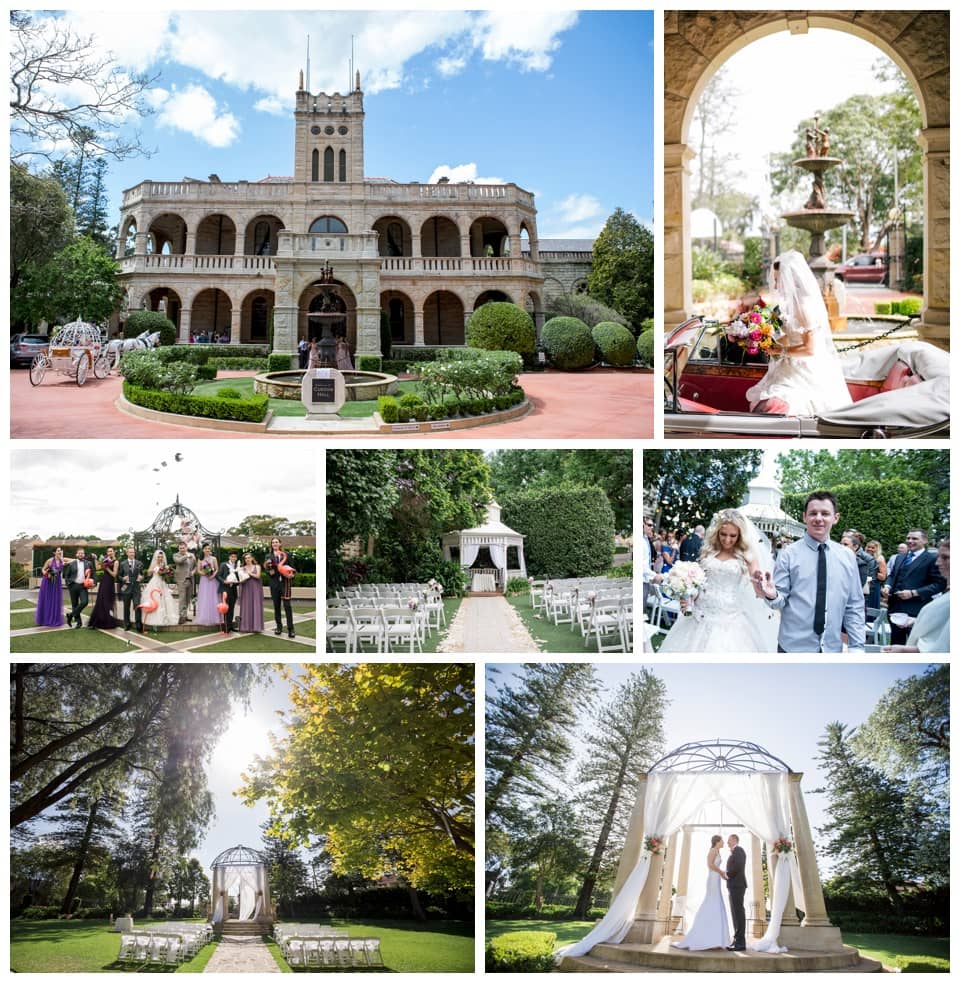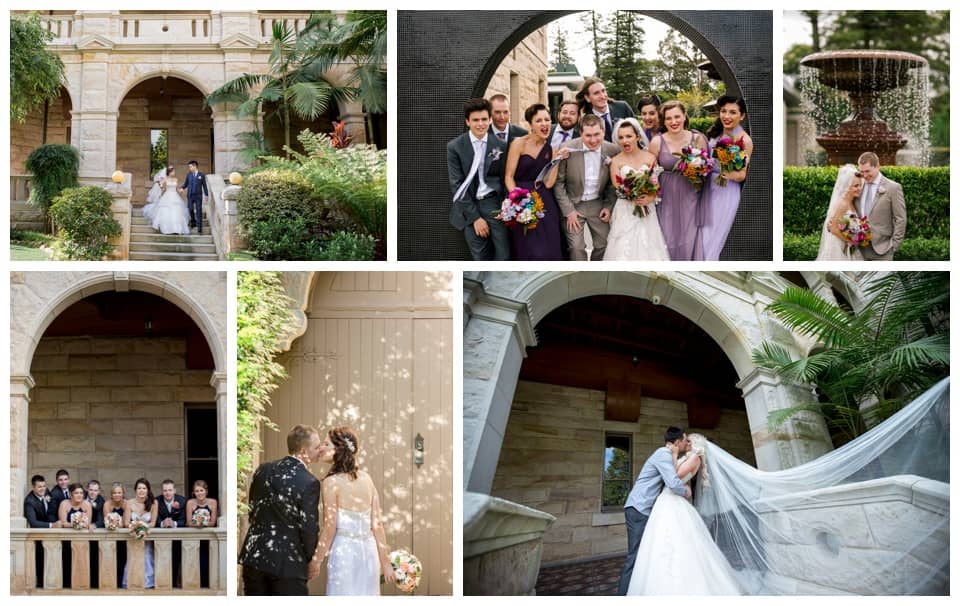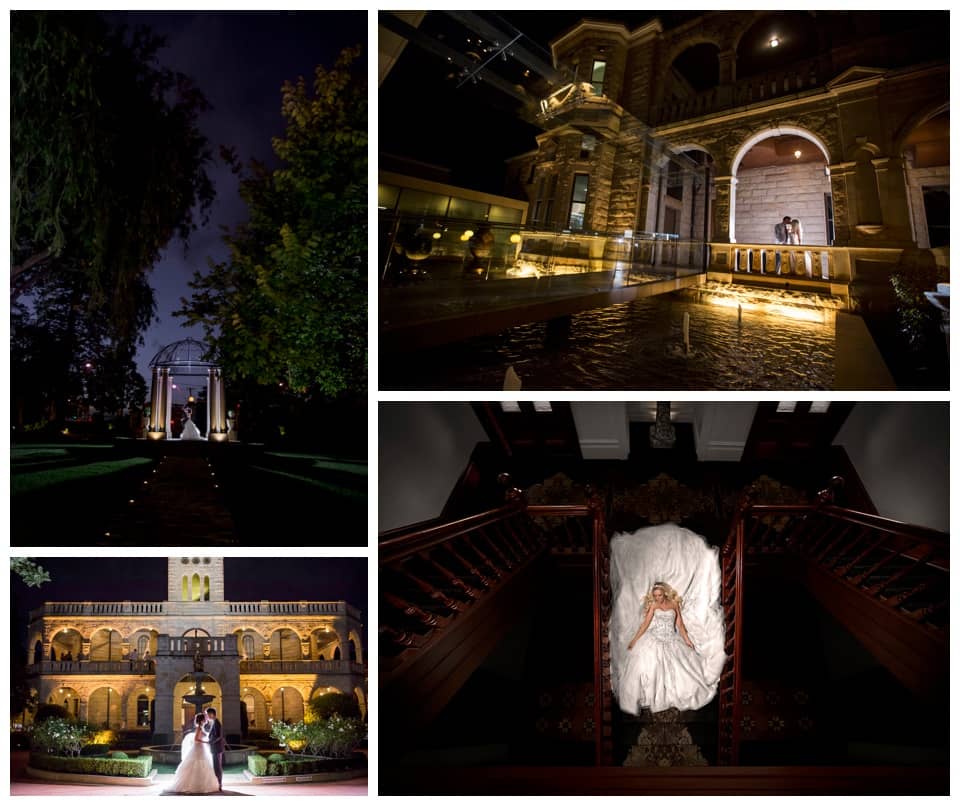 Sergeants Mess
Sergeants Mess is a modern and chic waterfront wedding venue in Chowder Bay. It is ultra glamorous with red lounge chairs, statement walls for photos, and of course, the picturesque view of the ocean. If you like over the top glamour and class, then this is the wedding venue for you.
Things we like:
Located in Mosman - easily access various great photoshoot locations like Gunners Barracks, Balmoral Beach, Bradleys Head, Clifton Gardens, etc.
Both wedding ceremony and reception at the same location - outdoor ceremony overlooking the harbour.
Elegant, modern looking reception hall.
The Bridal Suite - the red couch area - great for bridal party to chill out before the wedding reception as well as for photos.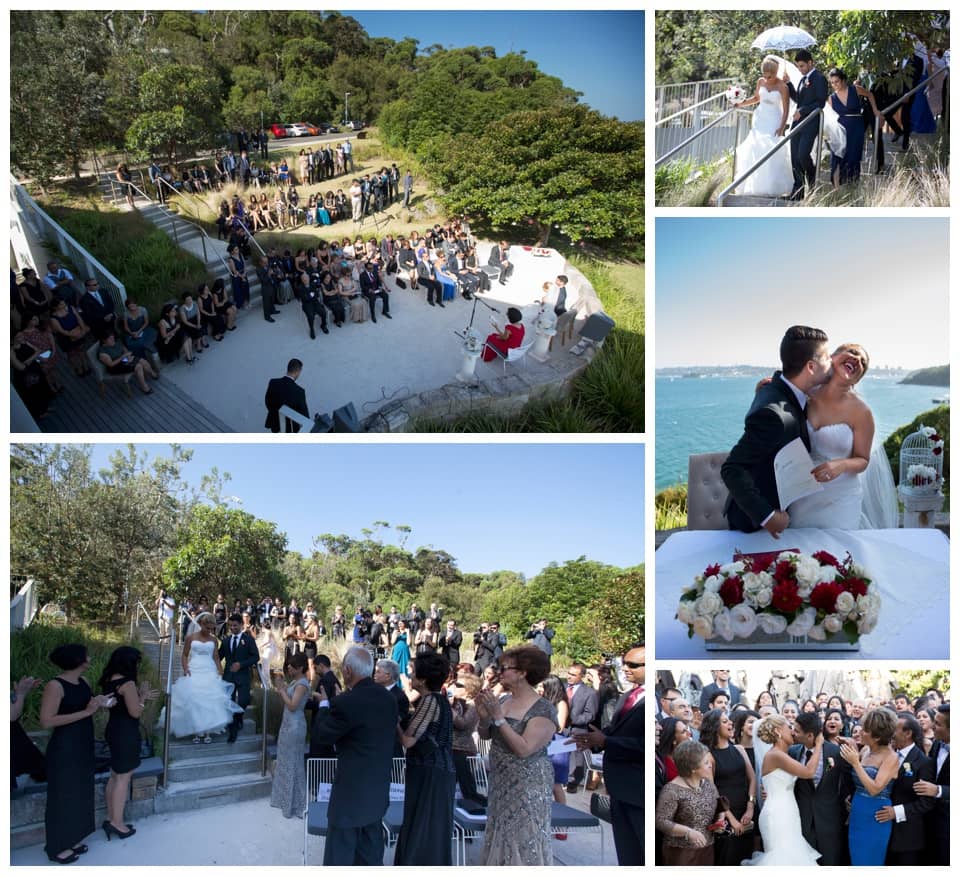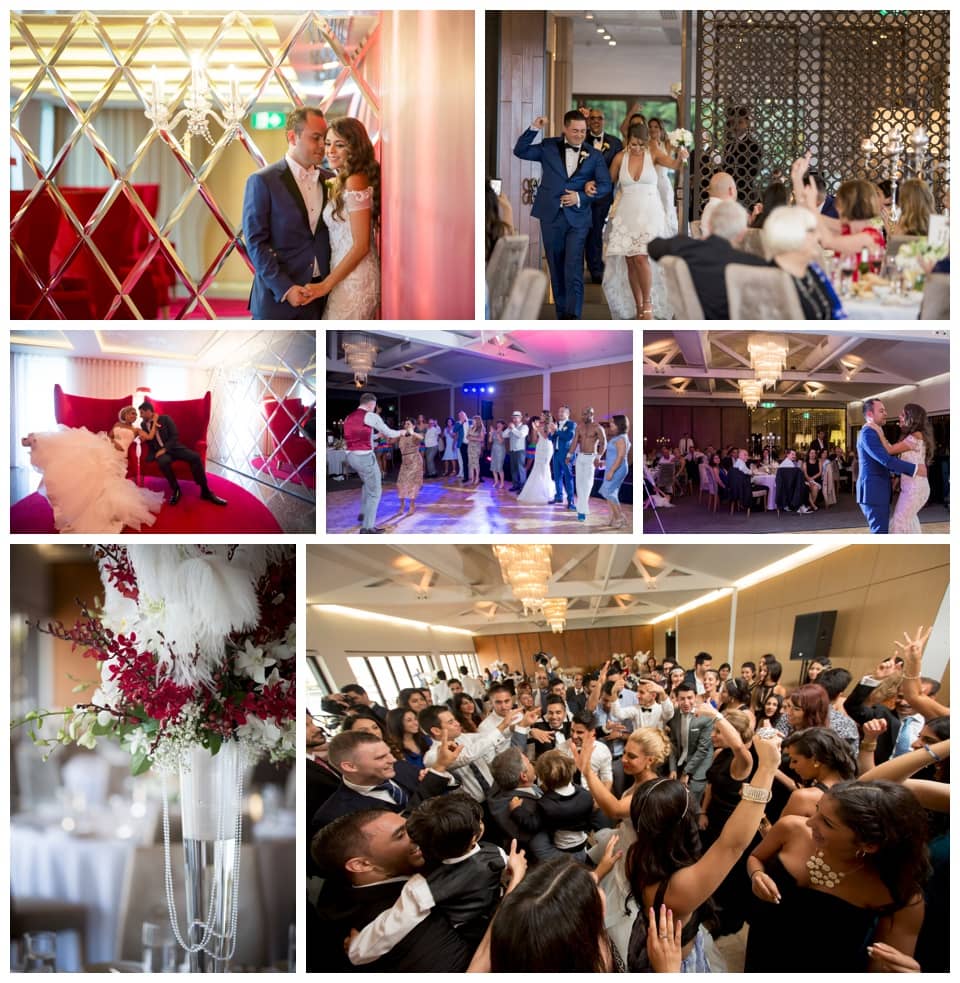 Gunners Barracks
Here is another wedding venue with a beautiful view of the Sydney Harbour. Gunners Barracks is a charming sandstone building built in the late 1800's. Its stone walls and outdoor dance floor under the night sky give it an elegant character but still very much appropriate for a good party.
Things we like:
Located in Mosman - easily access to various great wedding locations like Gunners, Balmoral Beach, Bradleys Head, Clifton Gardens, etc.
Both wedding ceremony and reception at the same location - ceremony at the lawn or at the Georges Head Lookout overlooking the harbour.
The courtyard is another great wedding ceremony location or for your dance floor to dance under the stars!
Plenty of options for bridal portraits, around the building.
A special place in my heart - I got married there!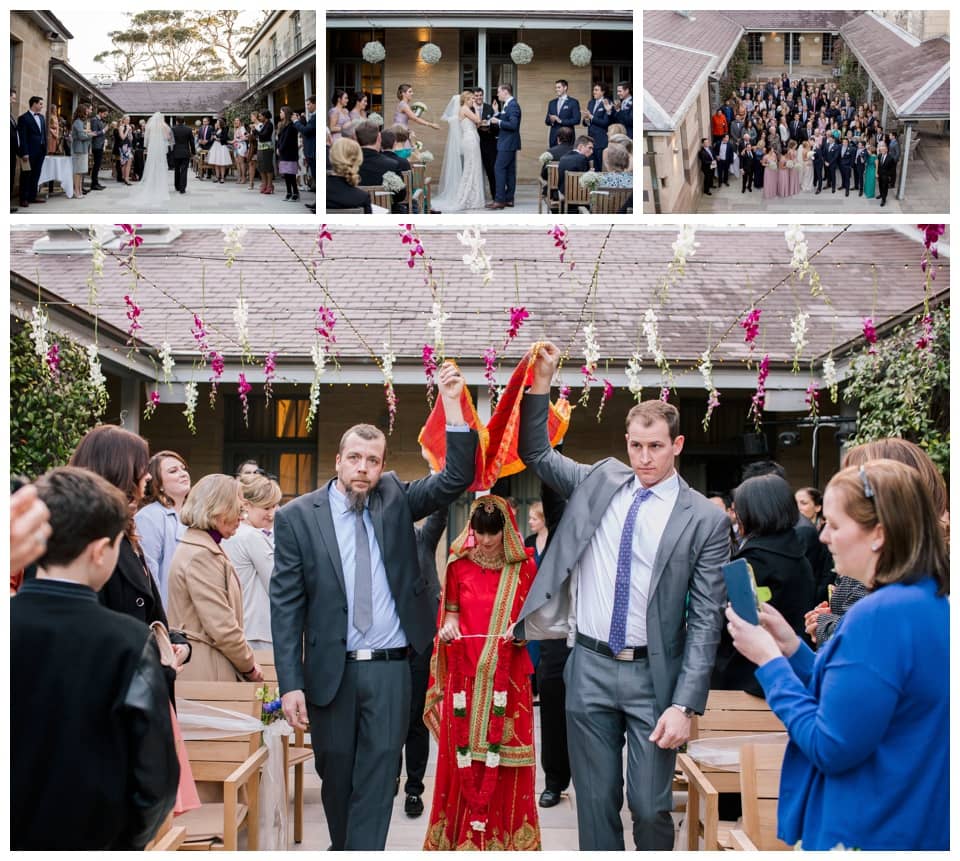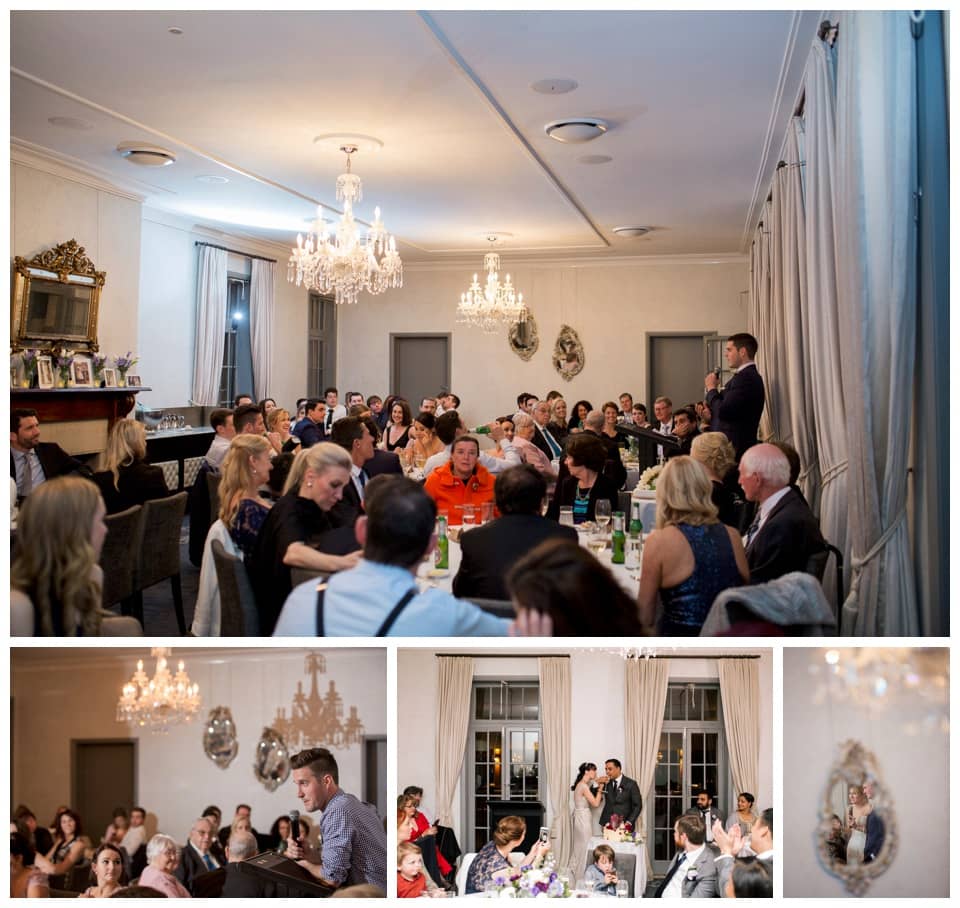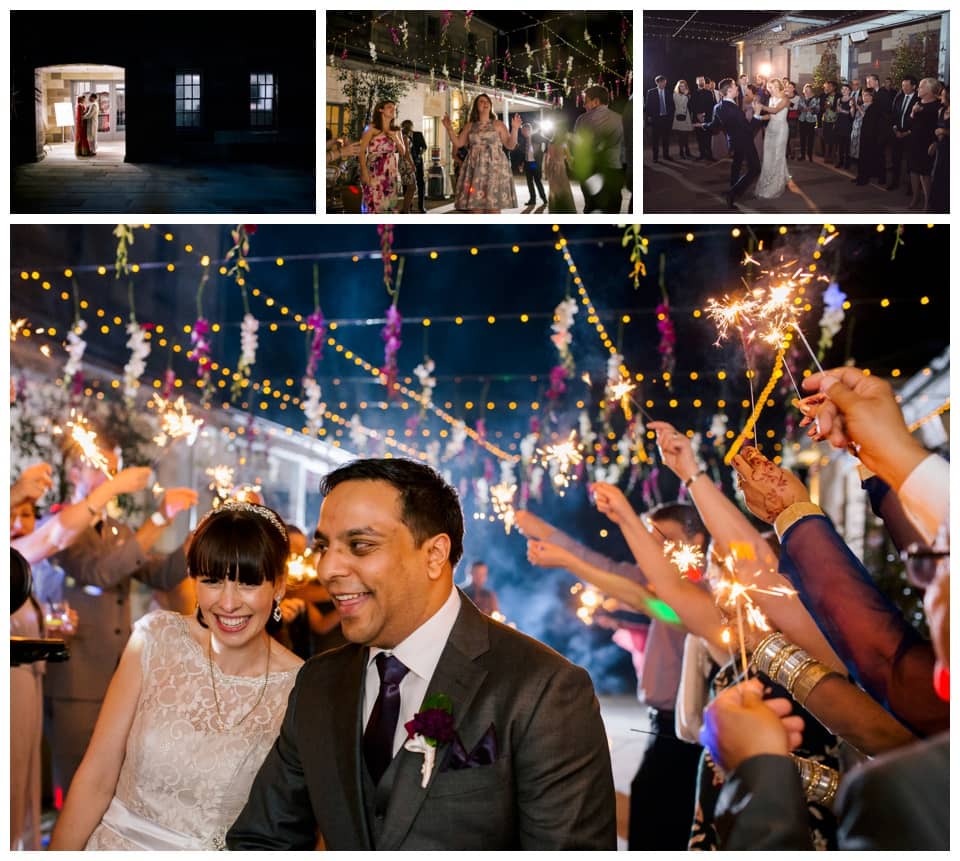 Luna Park
Luna Park is probably the most fun wedding venue on our list! If you and your partner are young at heart, then why not start your life together in a colourful and classic theme park? The contrast of wearing formal clothing in a casual setting always looks great, and being in a venue that is normally much more casual can ease up any nervousness or jitters that you or your spouse may have on your wedding day.
Things we like:
Perfect location for wedding couple who wants a fun-filled wedding.
Great for carnival themed wedding - supported by the look of the theme park and rides - can't miss the carousel and ferris wheel.
Time your day so that you and your bridal party can have a dance off with the famous Luna Park characters before the Park closes for the day.
Plenty of options for location shoots in walking distance - we often get golden hour and stunning sunset bridal shots along the boardwalk.
Close to Wendy's Secret Garden for couple who like garden backdrop for their wedding photos.
Get both Sydney icons - Harbour Bridge and Opera House in your bridal portrait.
Some nearby outdoor locations and churches like St Thomas Anglican Church for wedding ceremony.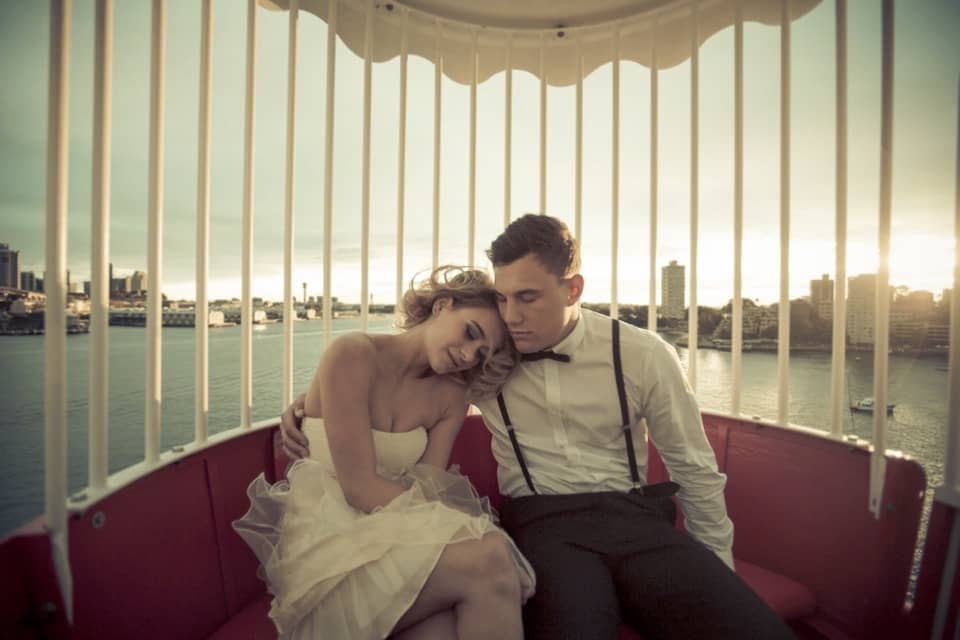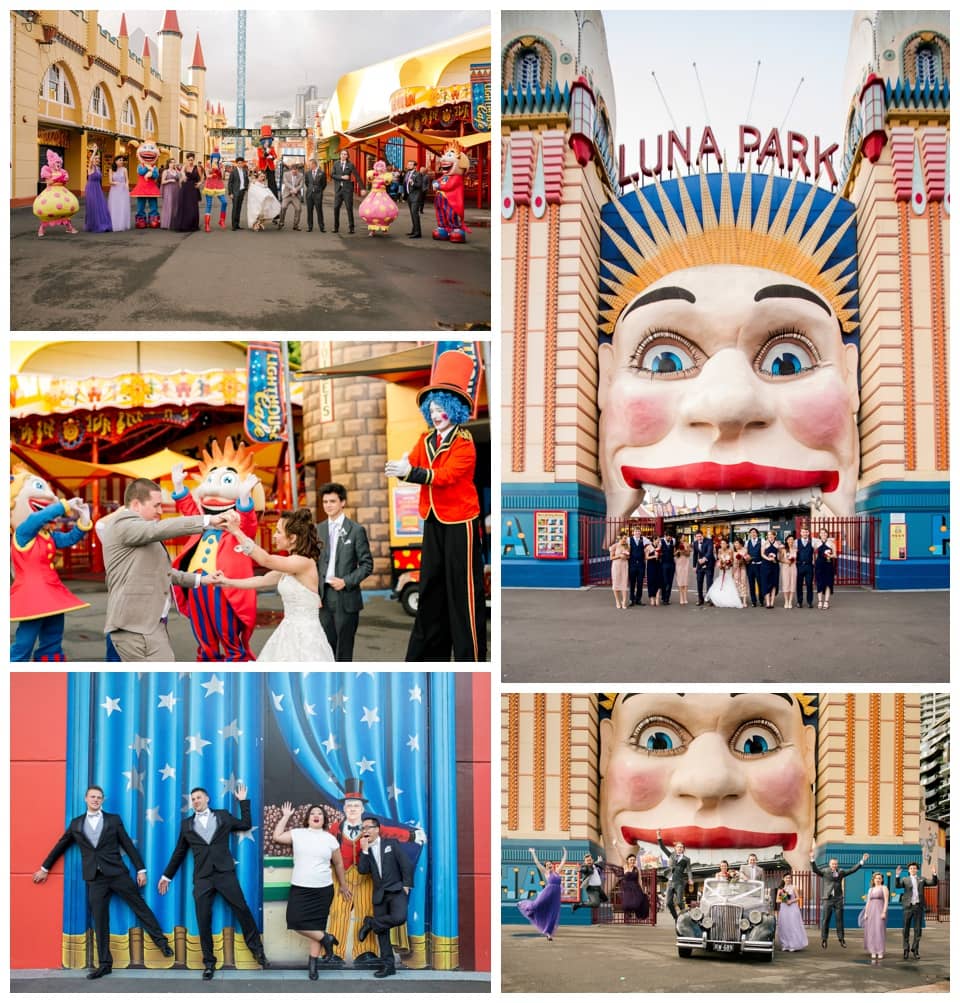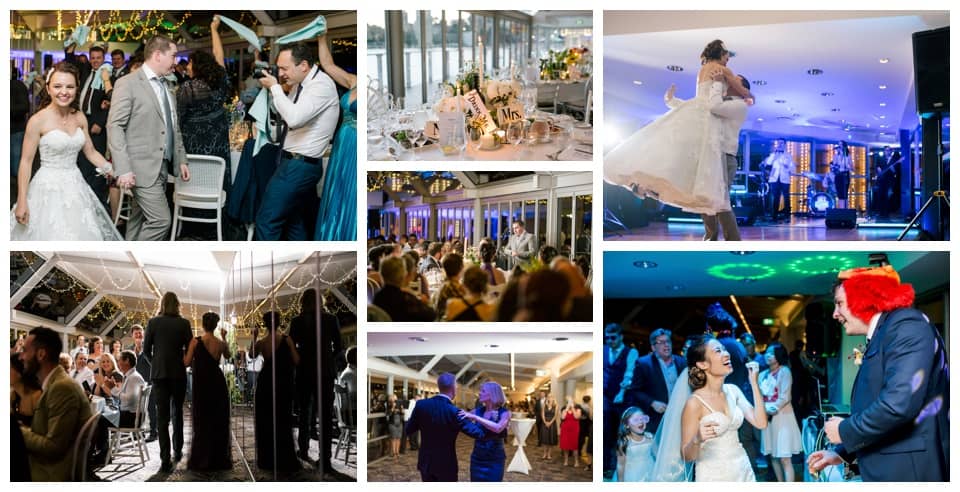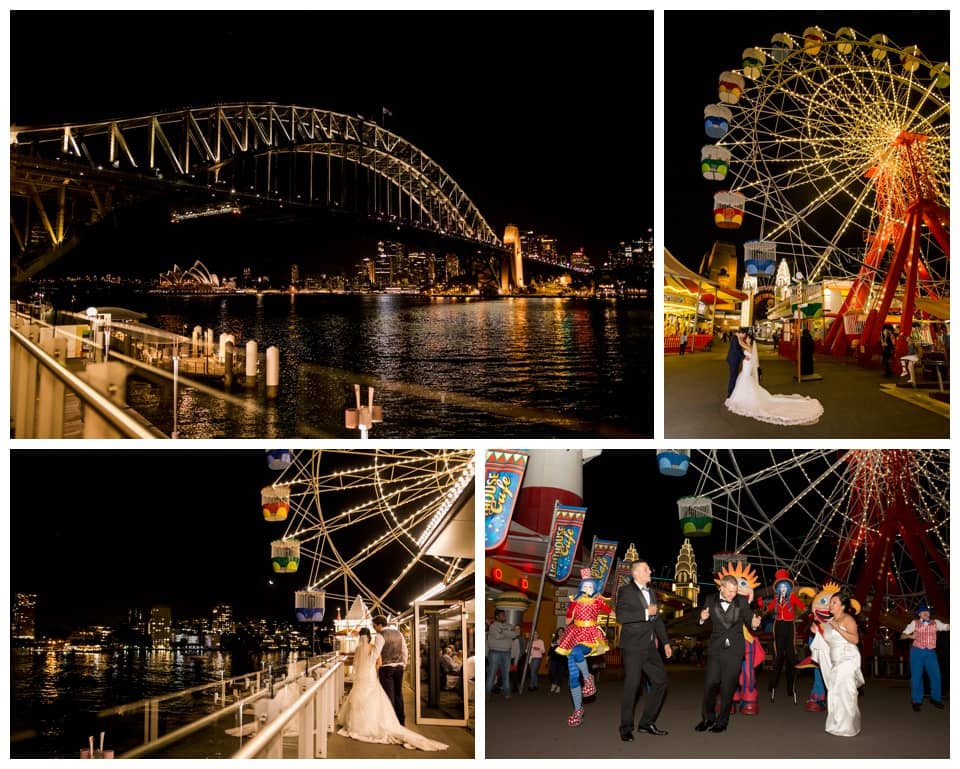 Oatlands House
Oatlands House is a beautiful wedding venue located in Parramatta. It is a Georgian and French inspired heritage landmark with five acres of land and its own vineyard. Sweeping staircases, French windows, and grand crystal chandeliers, among many other beautiful design details further enhance this beautiful space with an ambiance of old world glamour.
Things we like:
Both wedding ceremony and reception at the same location.
Plenty of options for location shoots, including in the building (no worries in wet weather). Like Curzon Hall, another Navarra's Venue, you don't need to leave the premises for location shoot.
The hall with the fireplace and piano is perfect for an epic bridal portrait.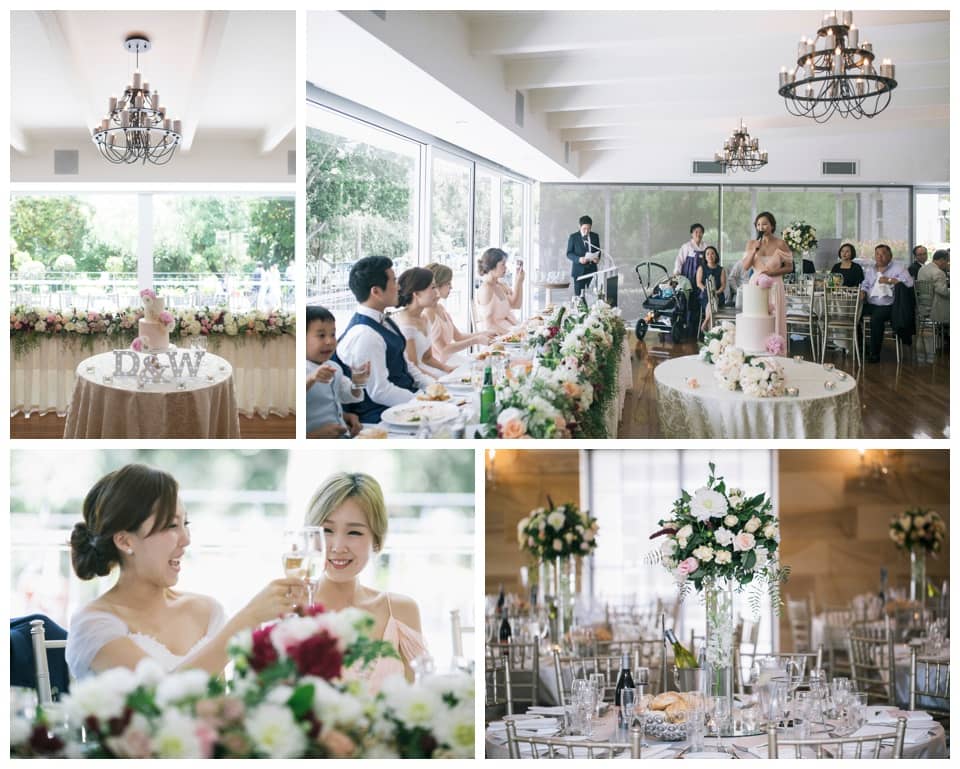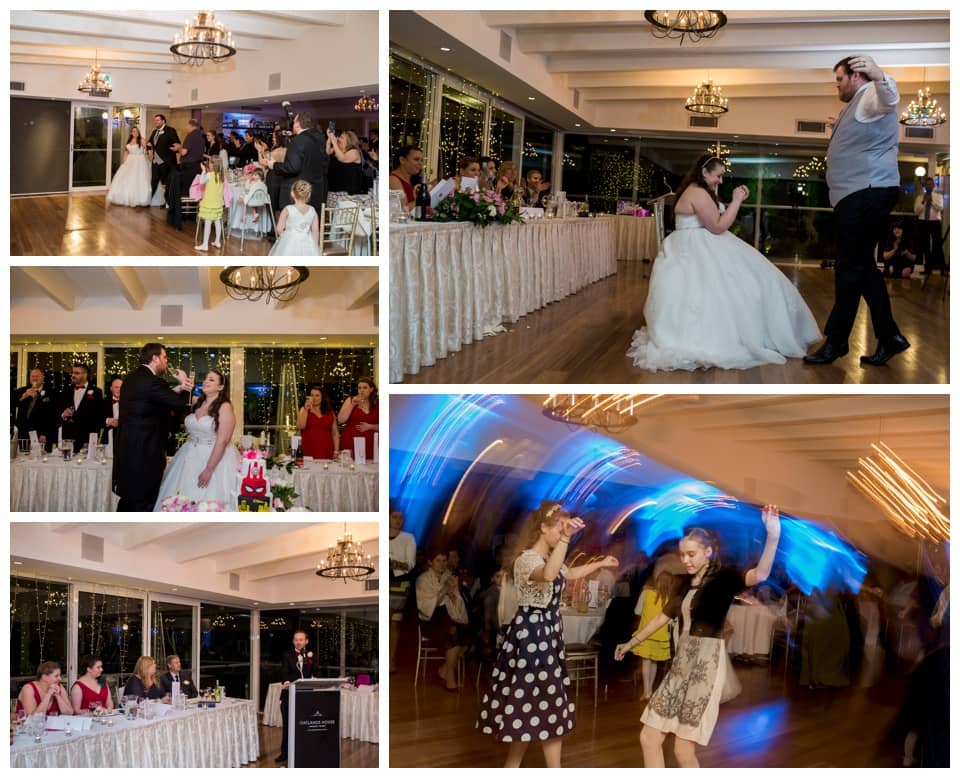 Dockside
Dockside is a simple, yet elegant wedding venue overlooking the picturesque Darling Harbour. What makes this wedding location so great is the flexibility to customise the space to your wedding day. Rooms are filled with natural light and large windows to capture views of the harbour, and there are up to five rooms you can use, whether one on its own or the whole venue for your wedding day.
Things we like:
Waterfront wedding venue located in Darling Harbour with plenty of lights at night.
Pick a right day to spoil your guests with fireworks display or Vivid display (another advantage for having a winter wedding apart of cheaper winter wedding reception packages)
Options: L'aqua for small wedding and Dockside for larger wedding.
Wedding photography locations just a stroll away in the city like Martin Place, Hyde Park. Short drive to The Rocks.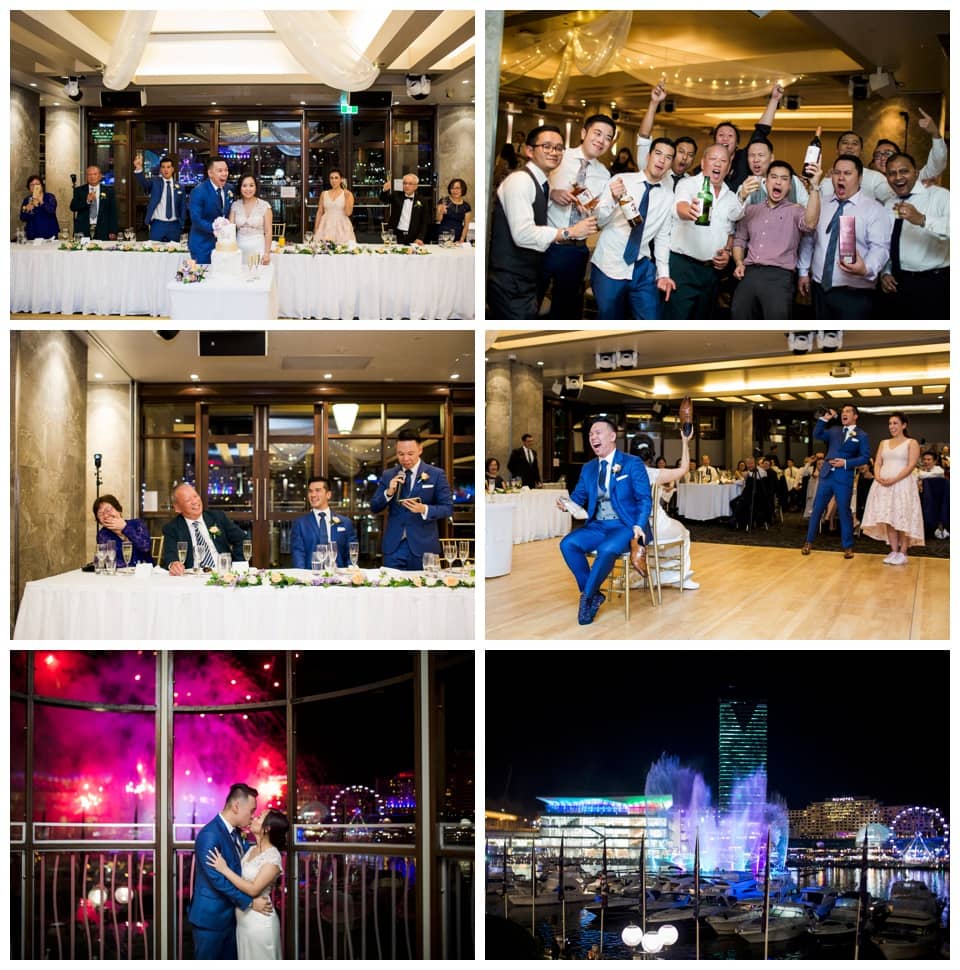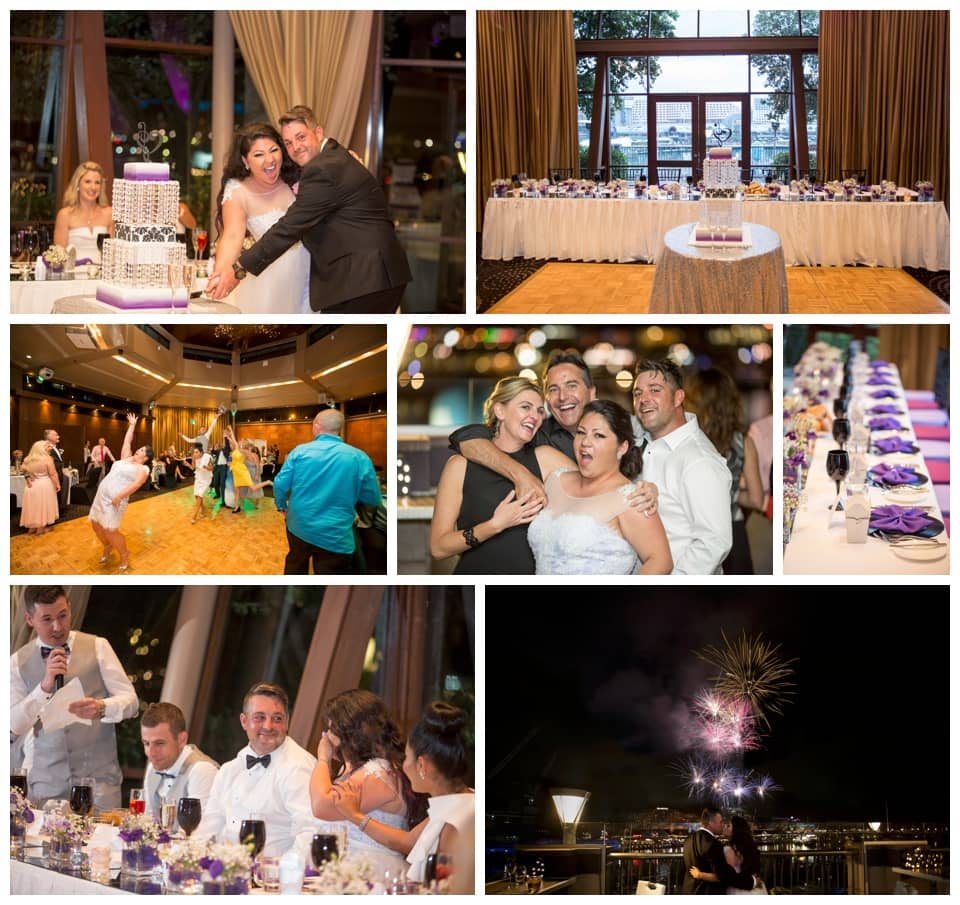 Dunbar House
Dunbar House is a vintage and chic waterfront wedding venue in Watson's Bay. With beautiful ornate wallpapers and hallways, and a location just steps away from the water, there is no shortage of beautiful backdrops here for an intimate wedding. The venue has a charming feel that makes you feel like you are in another era.
Things we like:
Waterfront wedding venue located in Watsons Bay.
Photoshoot locations just a stroll away along the beach, short drive to Camp Cove, and the Lighthouse.
Perfect location for small and intimate wedding.
Beautiful hallway and the antic room downstairs for wedding photos.
At the right angle, we can still do the bridal portraits in wet weather on the verandah with the park in the background!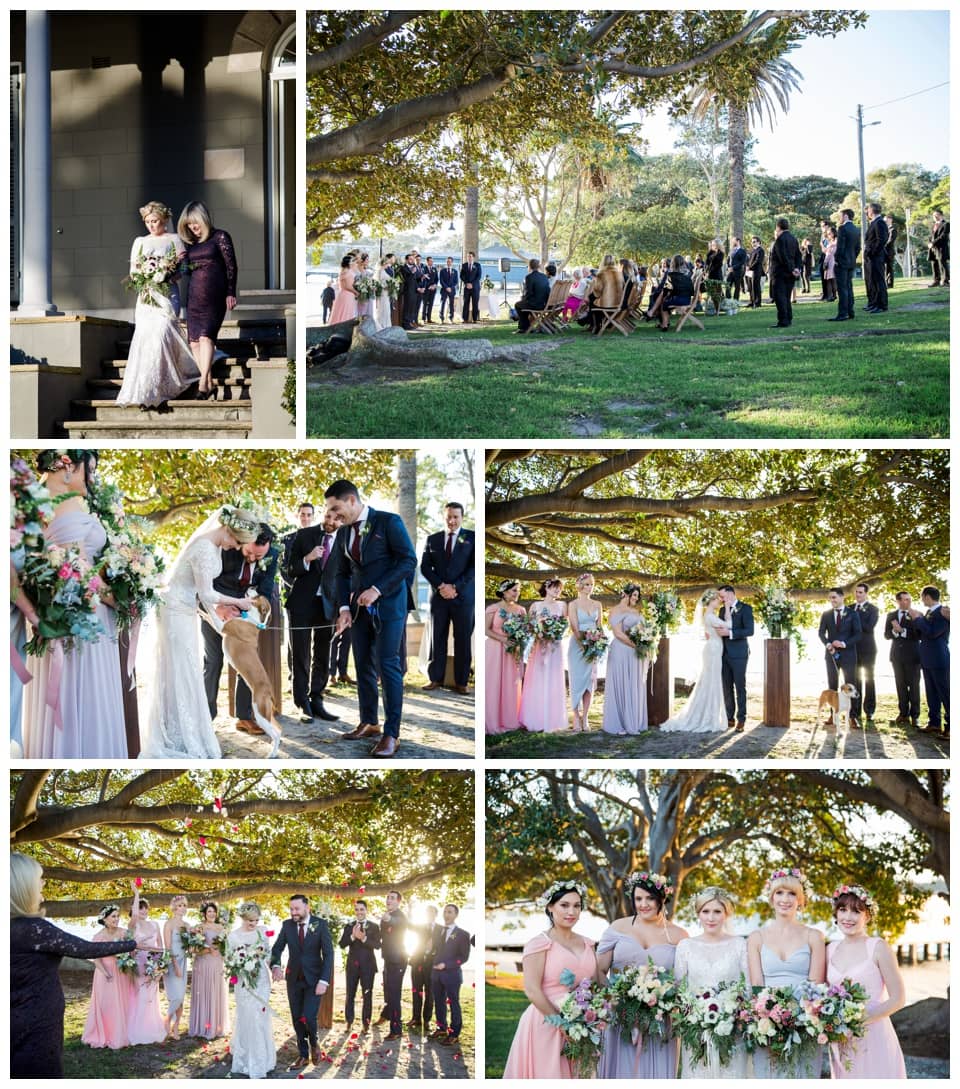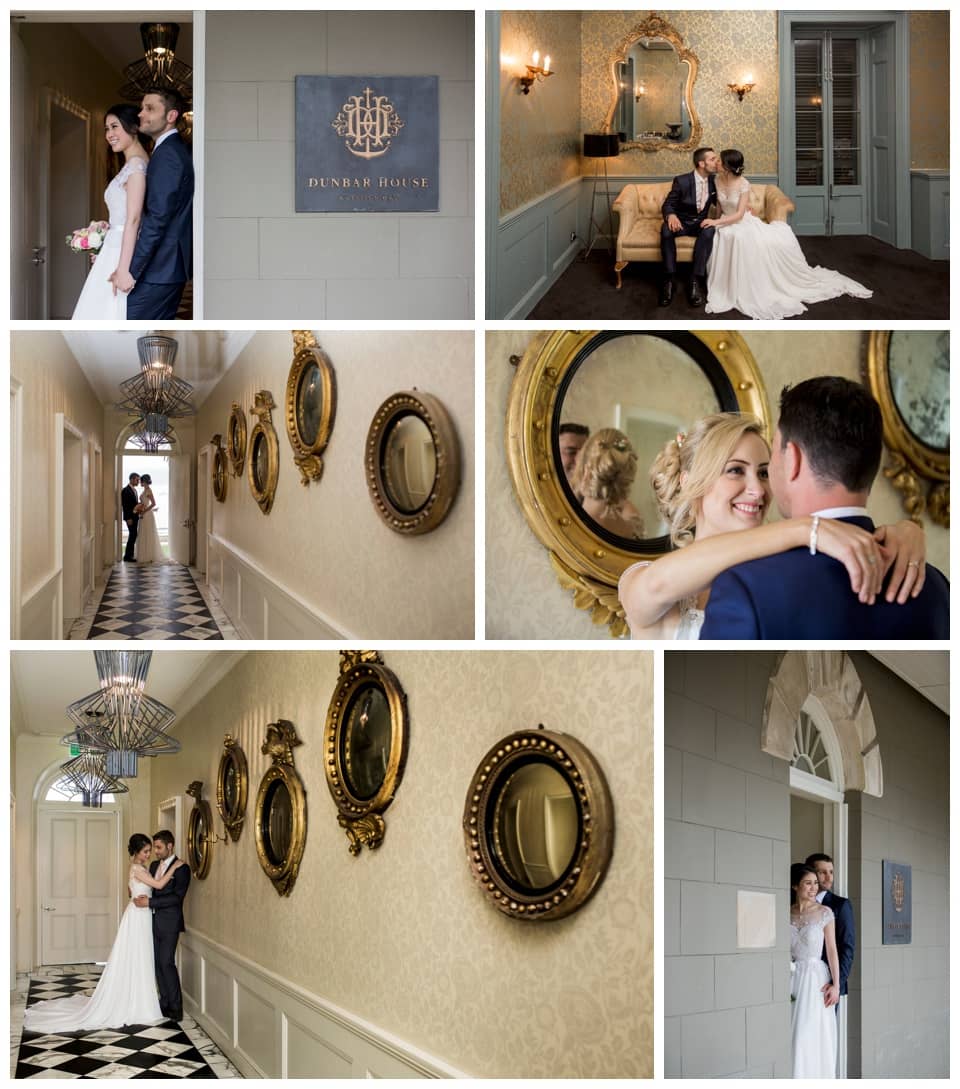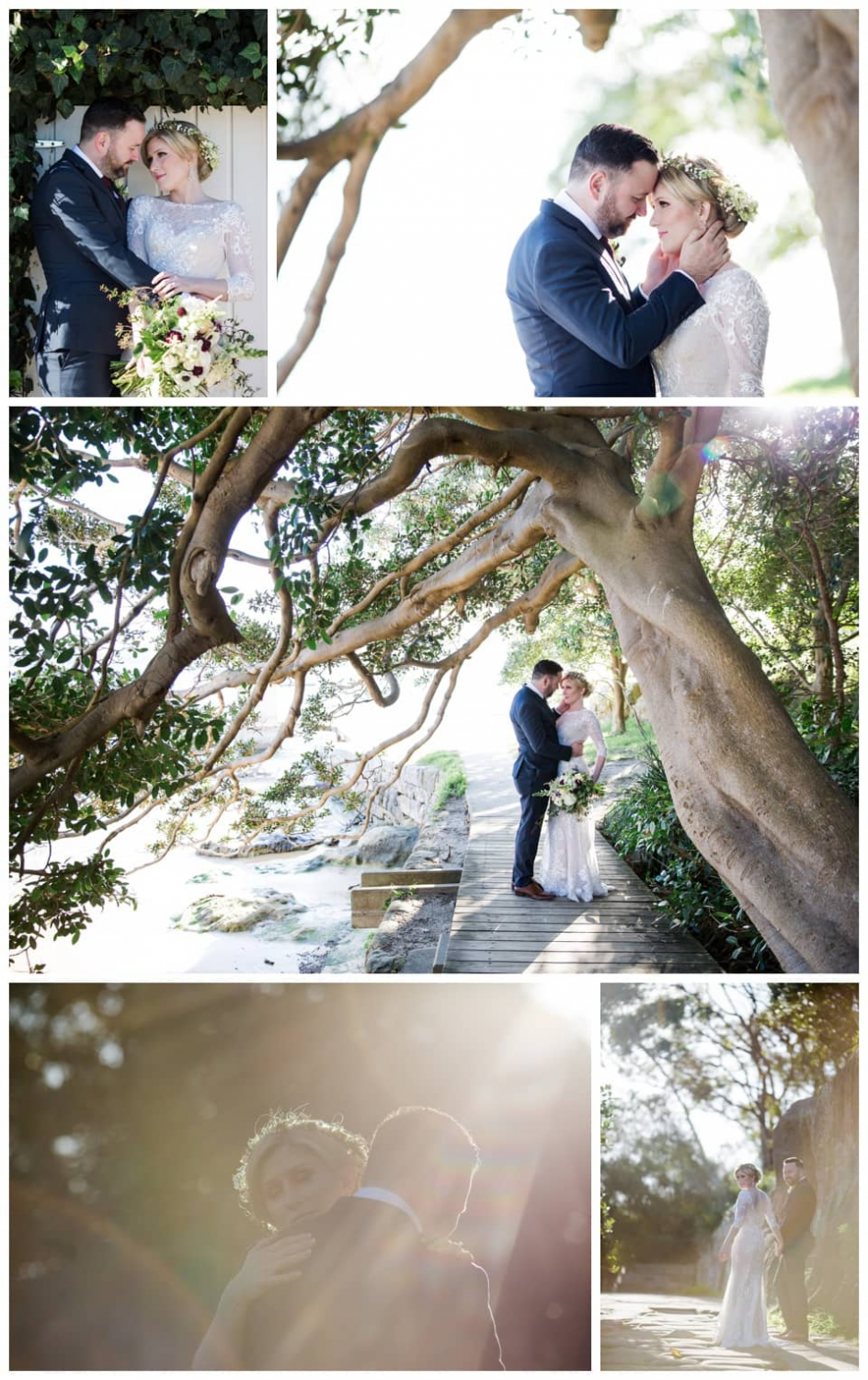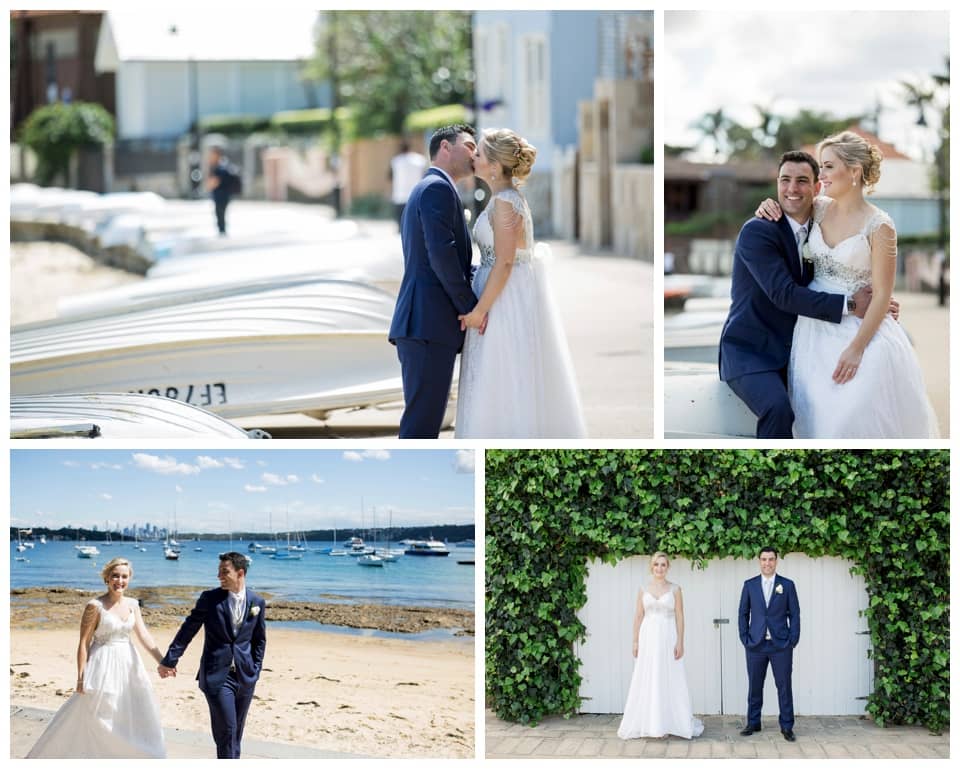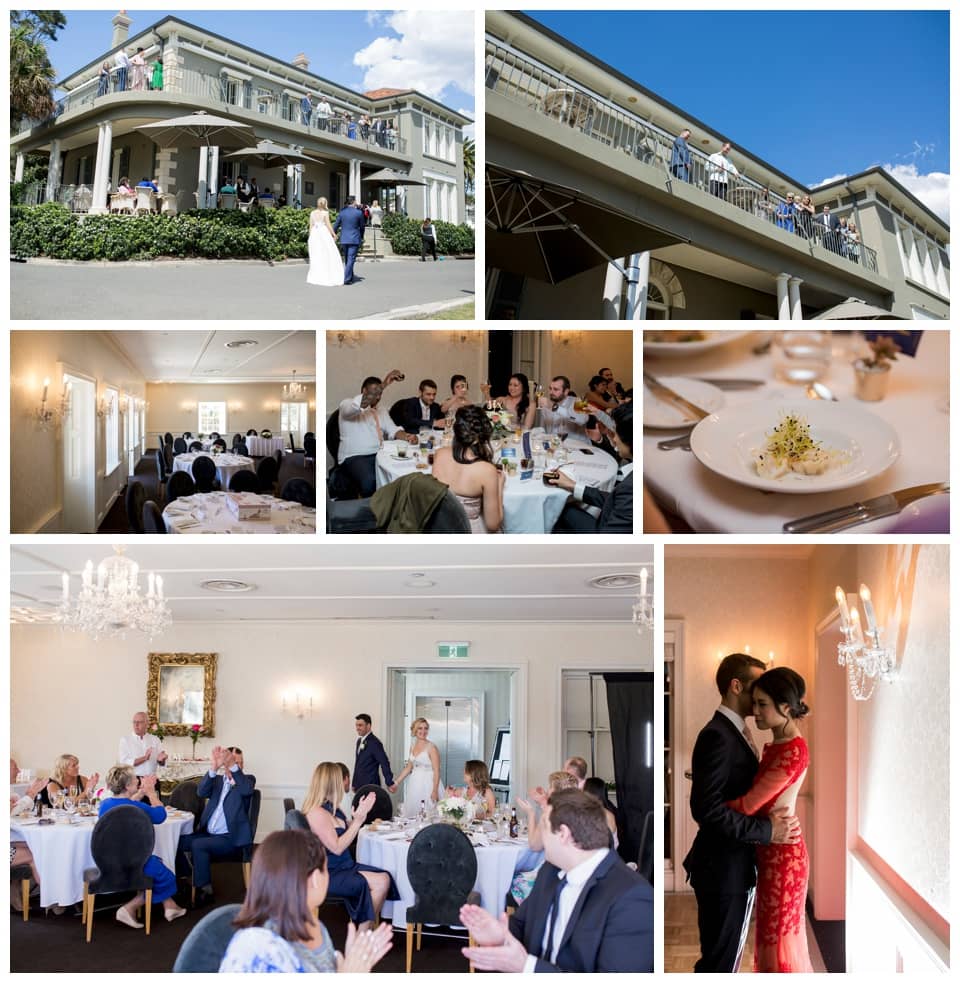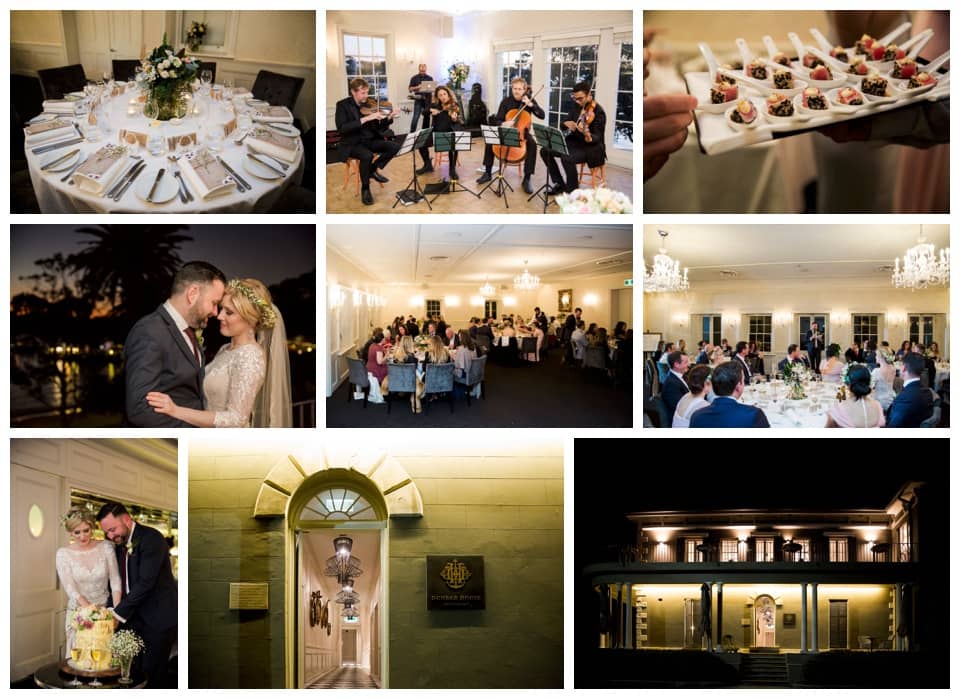 Le Montage
Le Montage is a beautiful wedding venue in Lilyfield with both historical and cultural significance. It has a close association to the Italian community there and has ties that go back as far as World War Two. This premier venue is perfect larger wedding parties, with rooms that can accommodate up to 2500 people but still be in a lavish private space.
Things we like:
Modern looking wedding reception hall with plenty of rooms to choose from - to fit your wedding size.
Beautiful wedding ceremony location overlooking the water with a roof - no sweat in wet weather.
The lighting along the water is simply beautiful on a sunny day.
The staircase, the lobby, and the garden are also great for wedding photography.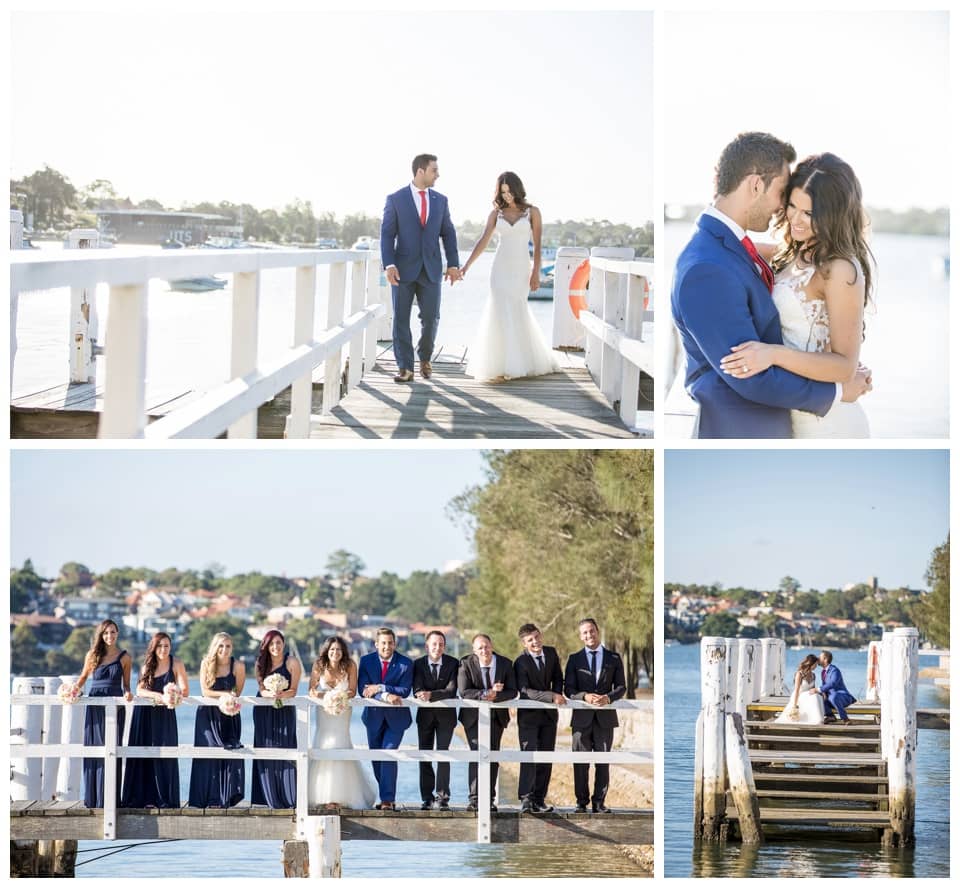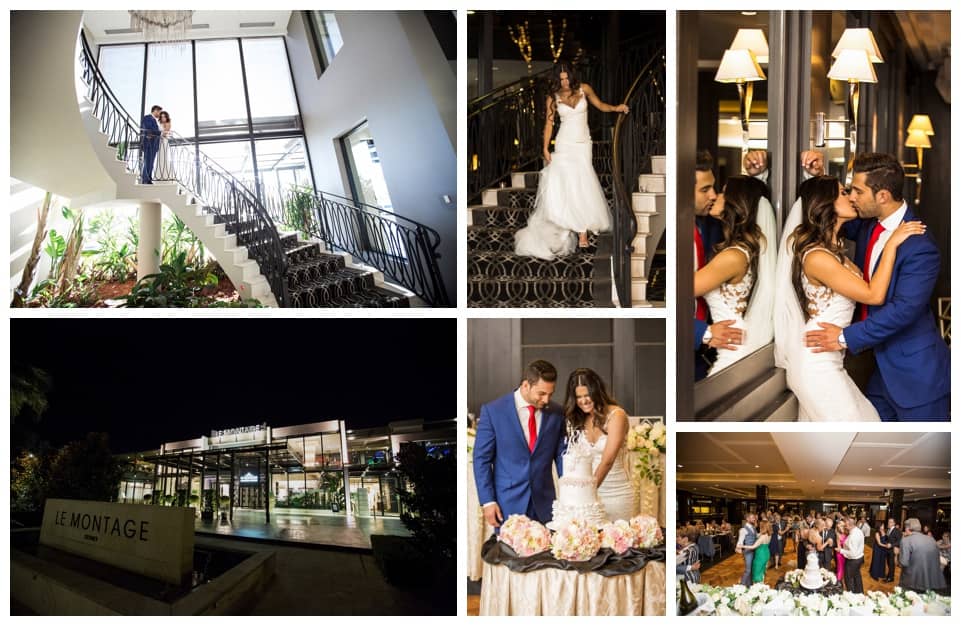 Starship
As a boat that takes you around the Harbour, the Starship is our most unique wedding venue on the list. It is a spacious modern glass vessel with a quiet engine and 360 degree views of the harbour surrounding you and your guests. Any wedding here would truly be a one of a kind experience that no one will forget.
Things we like:
Spoil your guests with our stunning Sydney Harbour.
We saw how excited the guests were waiting for the boat at the wharf next to the Opera House. Their expression of indulging in the harbour view was just priceless.
Sydney harbour also famous for its sunset view and wedding photography. So don't forget to allocate some time for twilight photoshoot during sunset.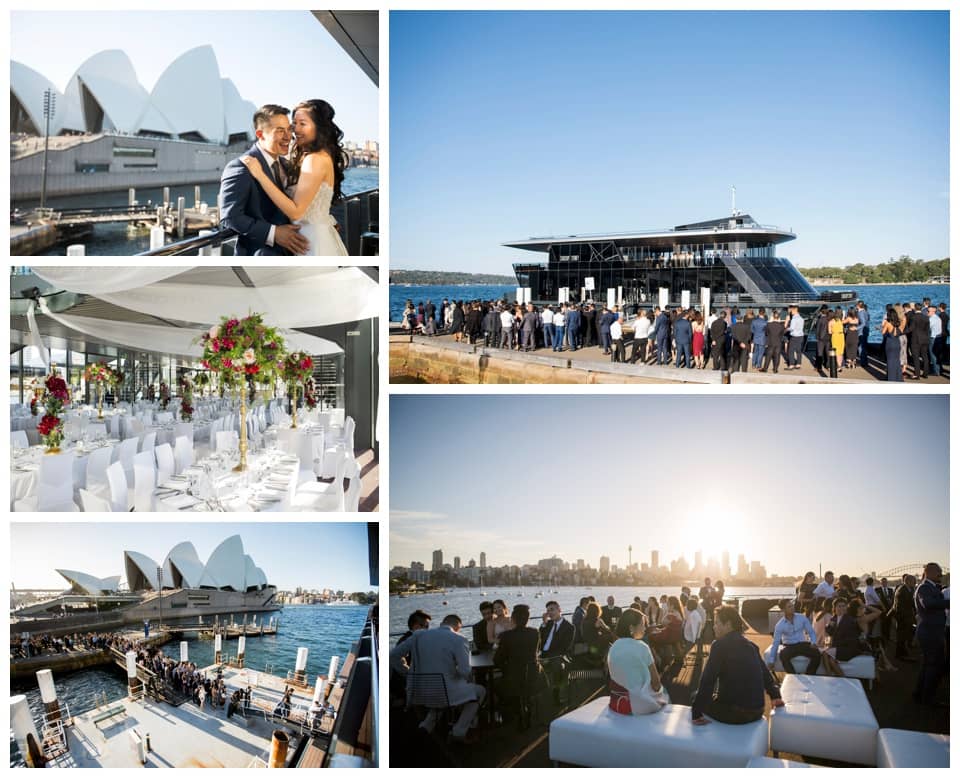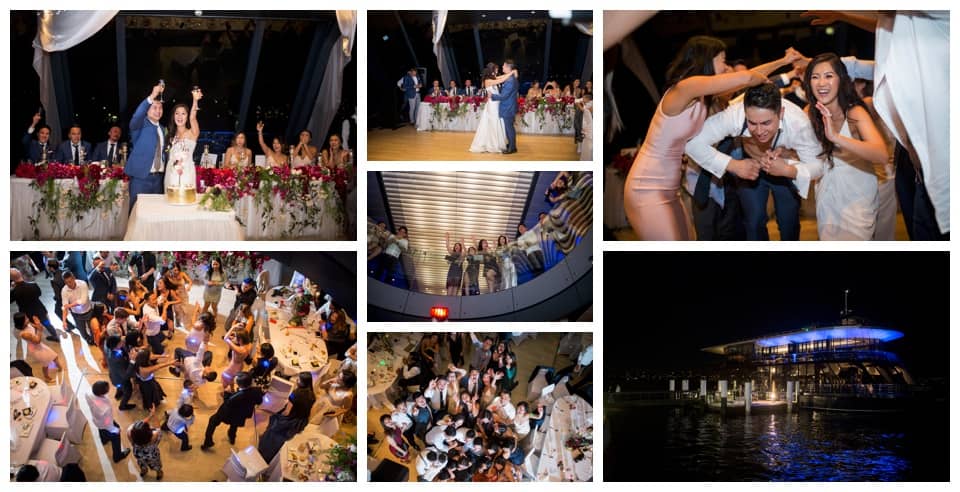 Doltone House Jones Bay Wharf
The industrial look of the Doltone House Jones Bay Wharf itself combined with both indoor and outdoor spaces allow you to customise this venue into whatever you would like. The location next to the historic wharf gives this place a nice, unique charm, especially if you are into sea life. The interior of Doltone House Jones Bay Wharf also offers you the flexibility for modern or luxury look wedding or rustic wedding theme.
Things we like:
Located in Pyrmont - just across the bridge from the city.
Plenty to photography locations - just stroll away like Darling Harbour, the city and Pyrmont itself, ie. Jones Bay wharf and the sandstone cliff opposite the wharf.
If the weather is good, you can get stunning sunset view at the wharf.
Can host up to 700 seated guests in the Heritage Wharf
Waterfront venue with views of the city.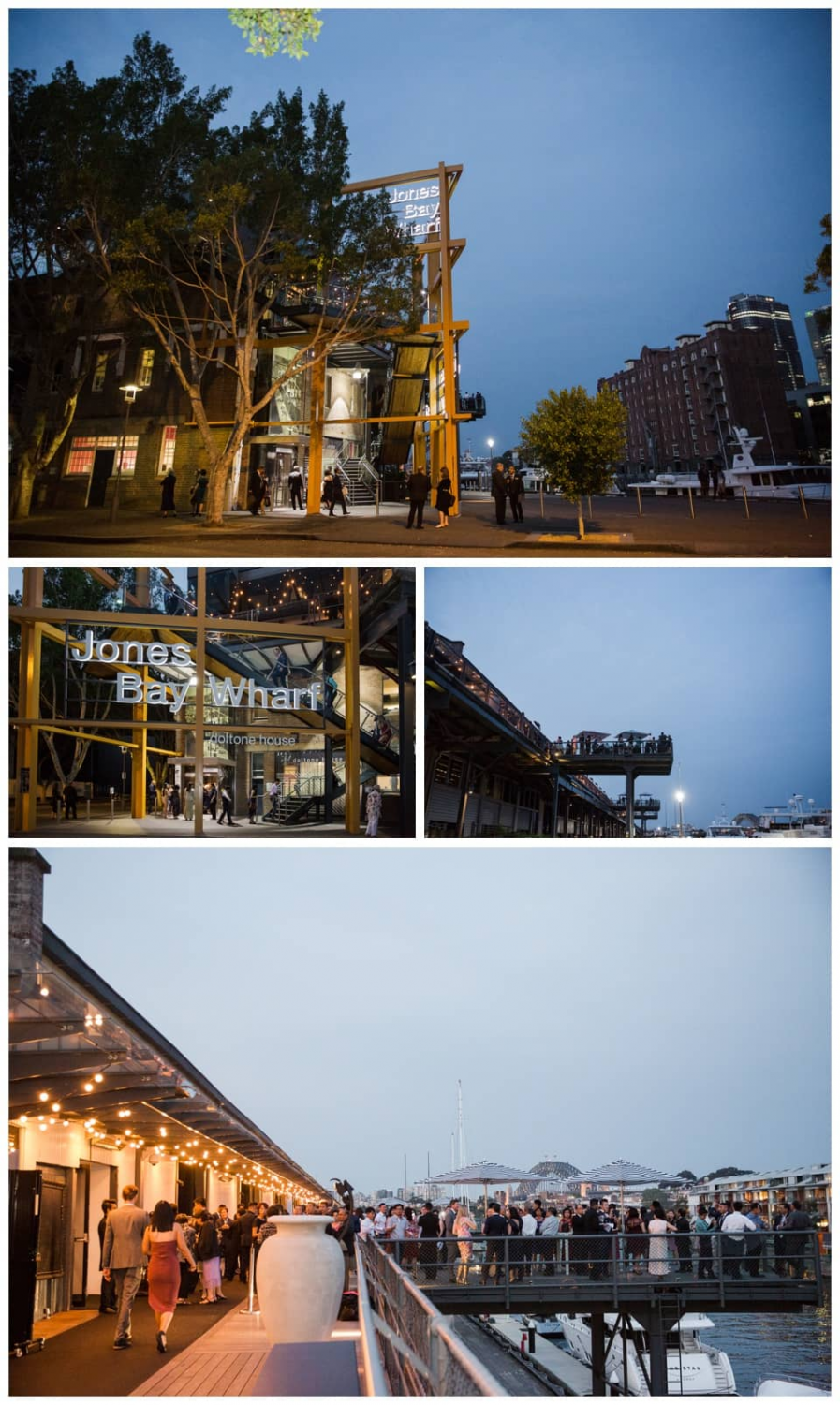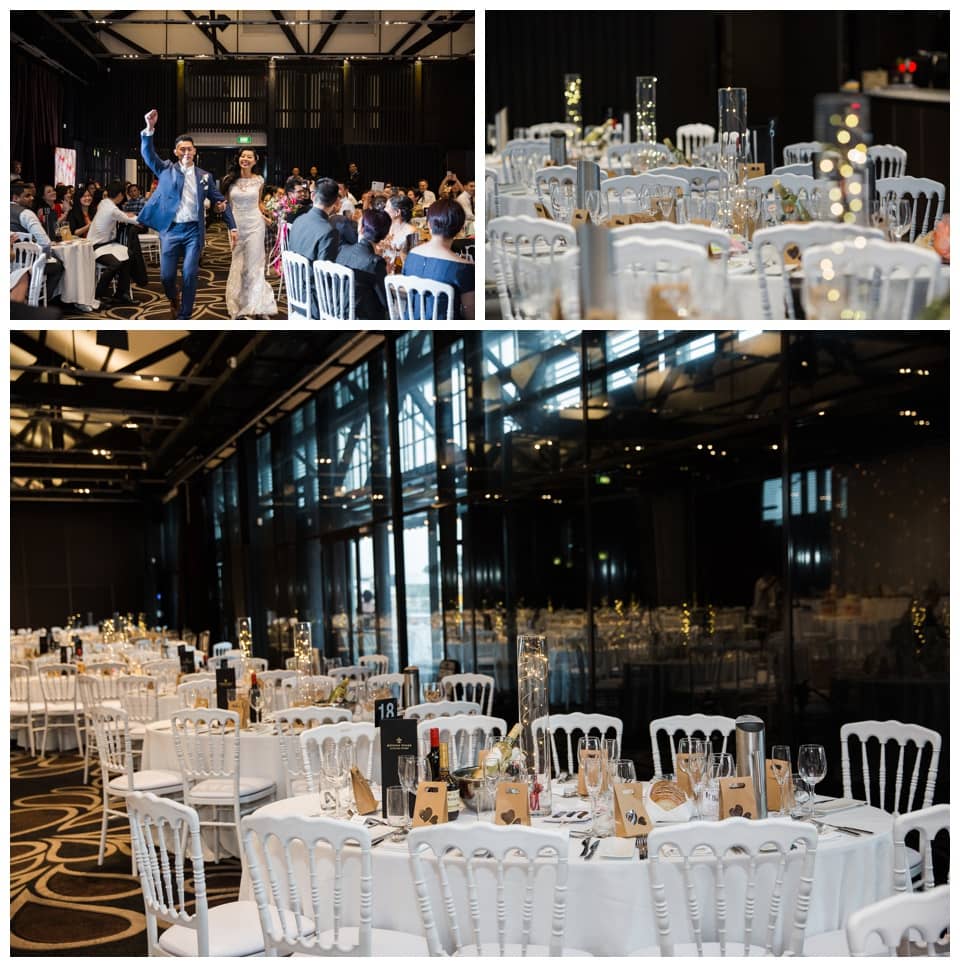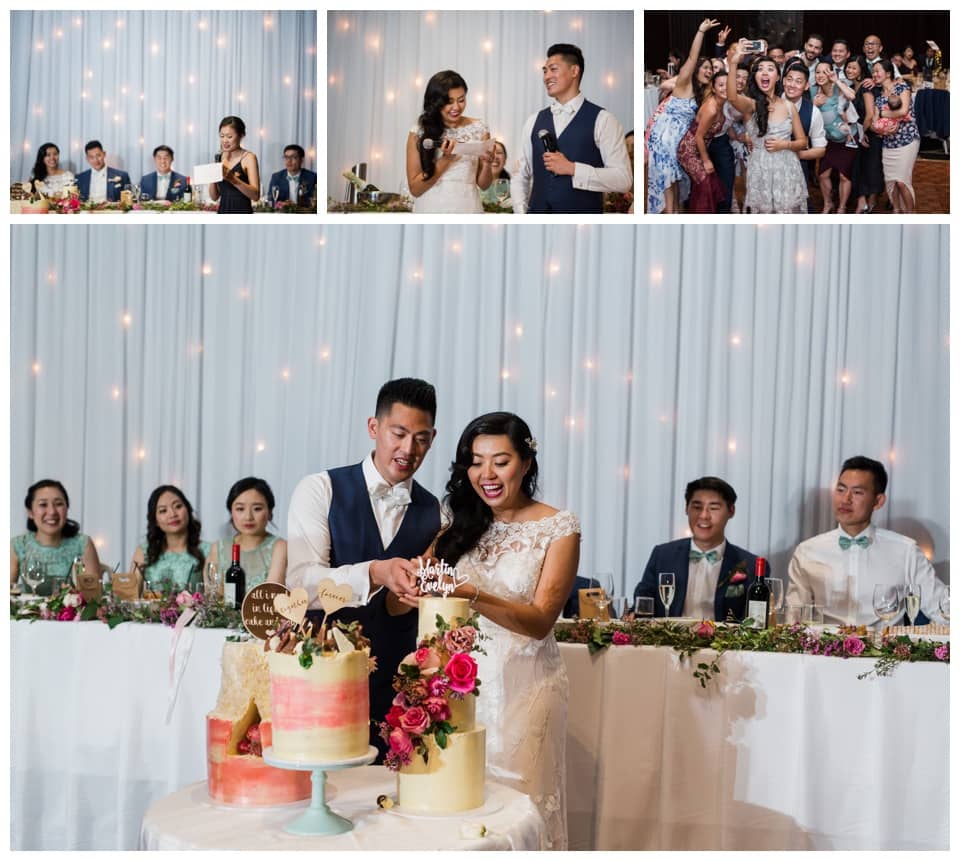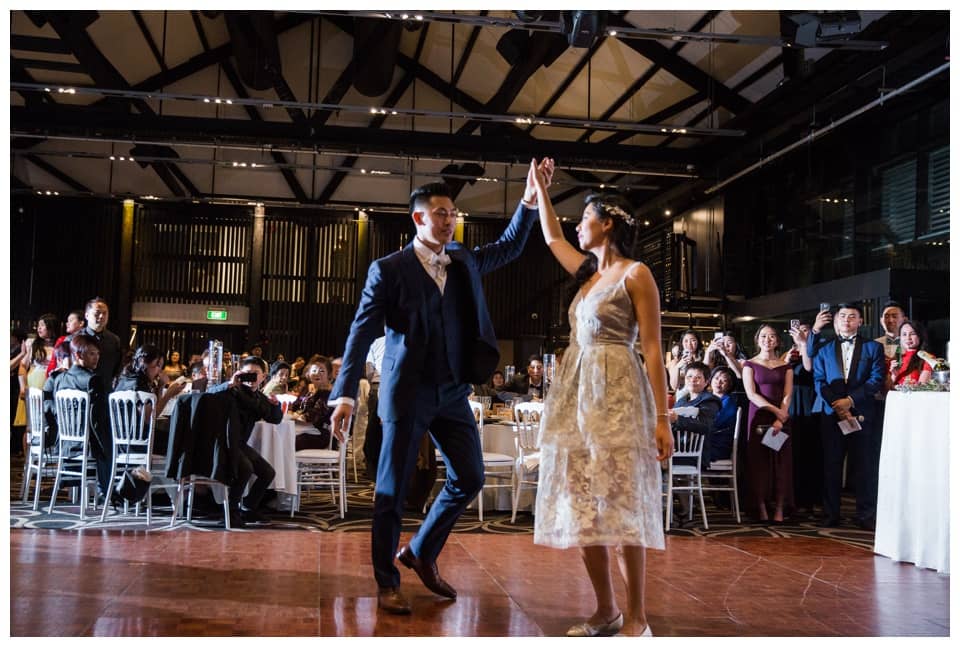 Cafe Sydney
Located in Circular Quay with views of Sydney Harbour and just steps away from the Opera House, Cafe Sydney is one of the most iconically Sydney locations on our list. Floor to ceiling views, dark timber from other demolished historical buildings, and lots of metalwork give an industrial feel that works so well in the city.
Things we like:
Overlook Harbour Bridge and Opera House.
Wrapped by a large terrace where you can use it for your dance floor.
Access to famous wedding photography locations like Opera House, Botanical Gardens and The Rocks.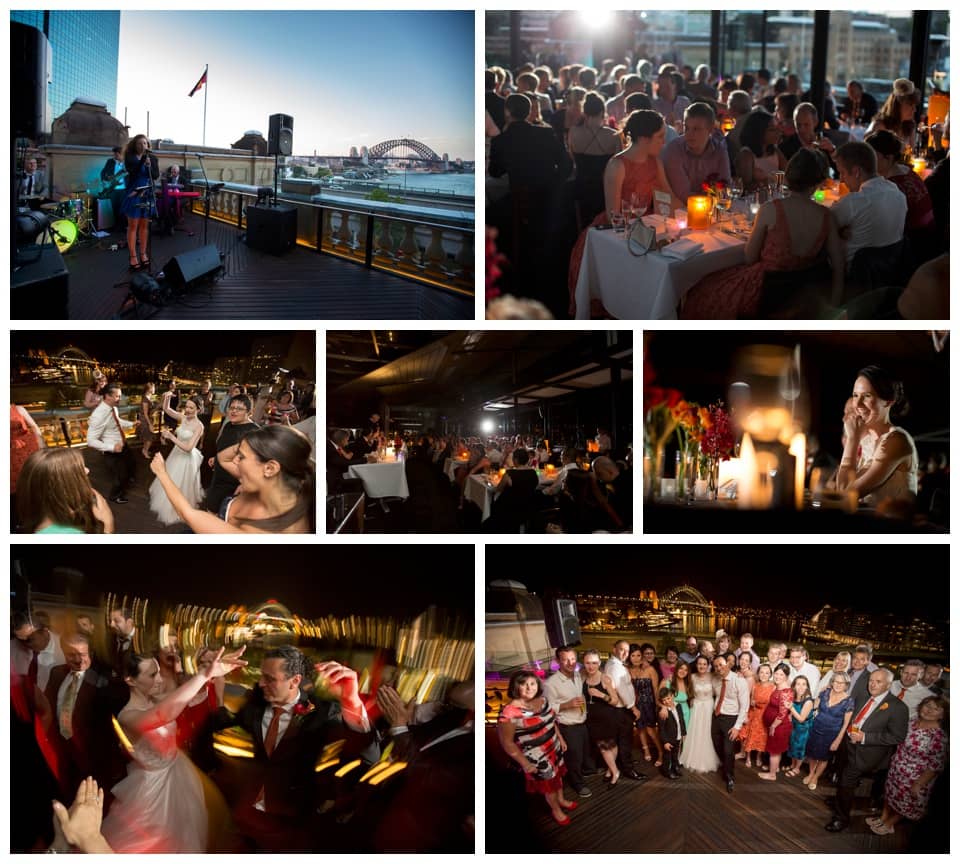 Jonah's, Palm Beach
Just an hour's drive north of Sydney, Jonah's is an intimate beach venue overlooking the stunning Whale Beach in Sydney's Northern Beaches. It's one of our top picks for small to medium wedding (guests under 120).
Things we like:
The cliff-top garden for its jaw-dropping views of the ocean.
The terrace for a more intimate ceremony.
Both the wedding ceremony and reception at the same location - outdoor ceremony overlooking the harbour ocean.
The beach, the cliff and ocean pool are great photography location.
Bride can get ready at the venue!
This particular wedding venue isn't in Sydney, but we loved this place so much that we had to include it into our roundup! If you want your wedding to also be a getaway for you and your guests, then Sebel Kirkton in Hunter Valley can definitely provide that for you without being too far from Sydney. Scenic views of the countryside and the homey feel of the venue make this wedding venue a winner for many couples.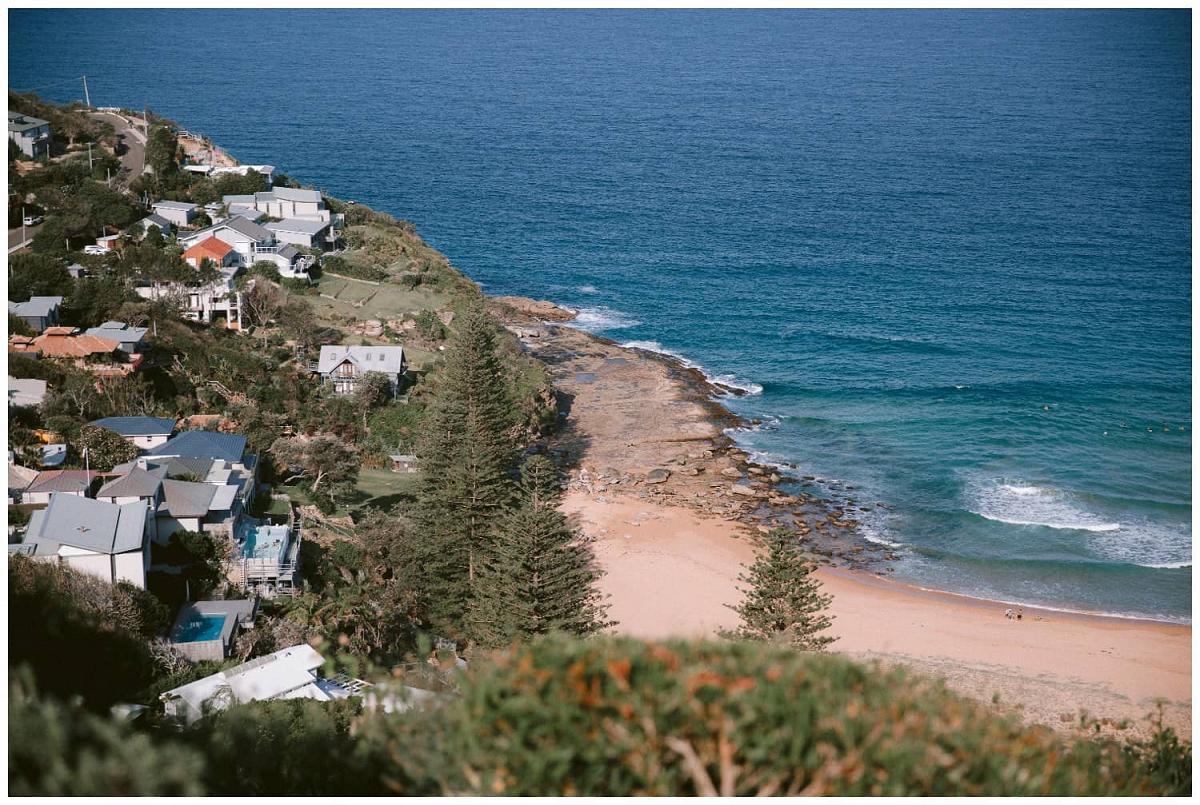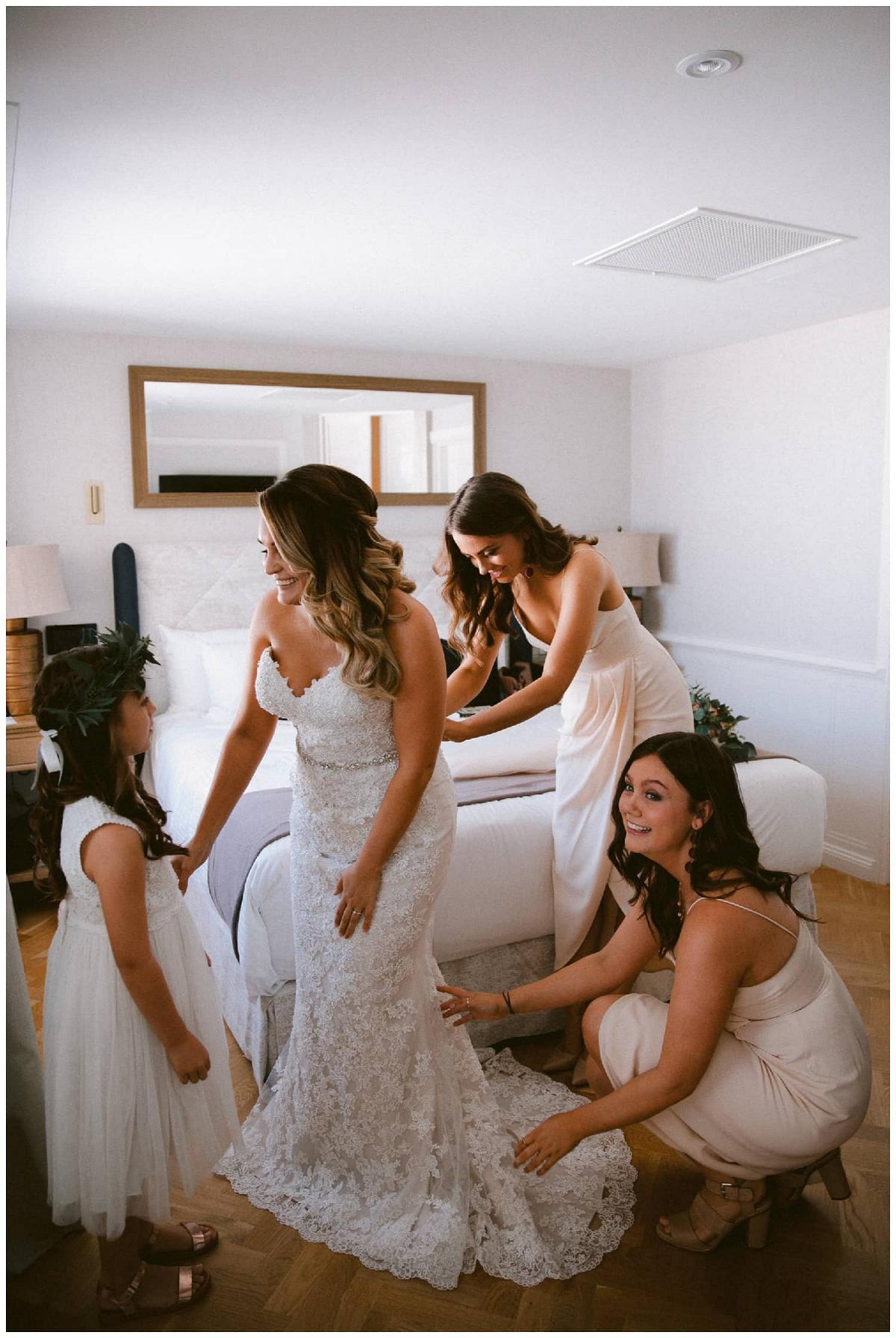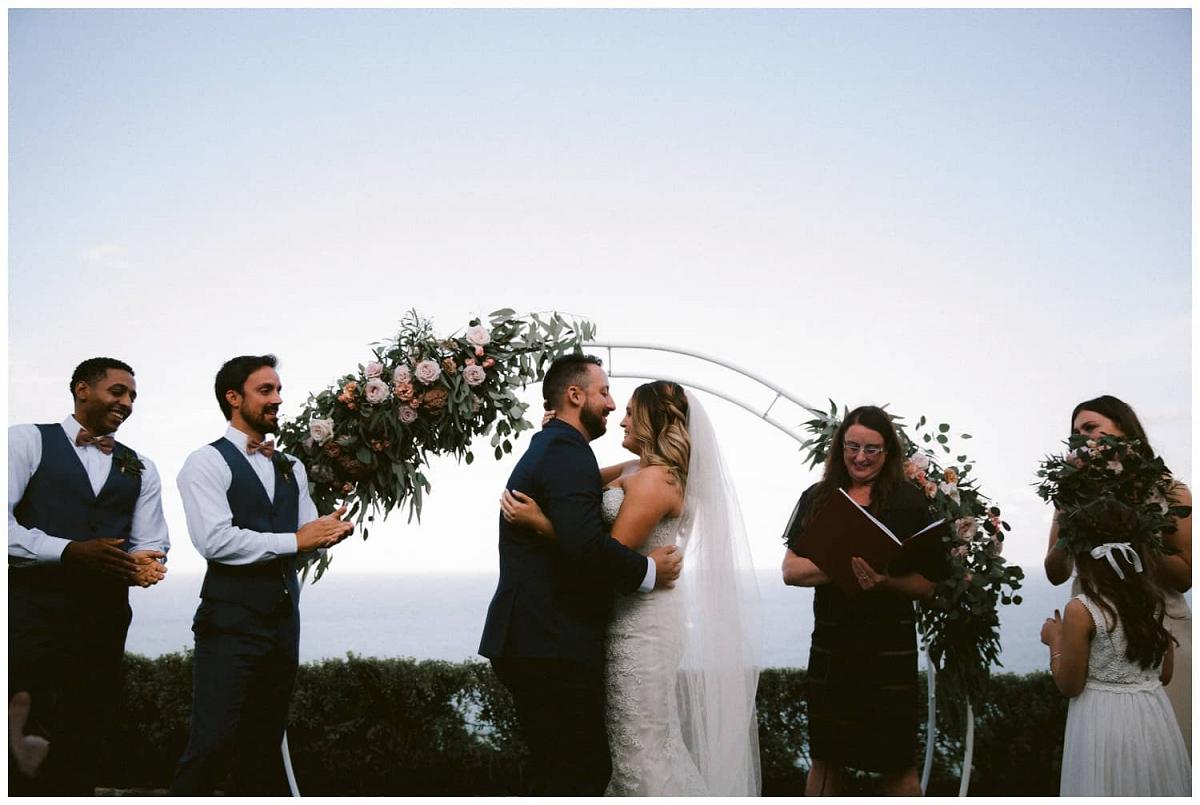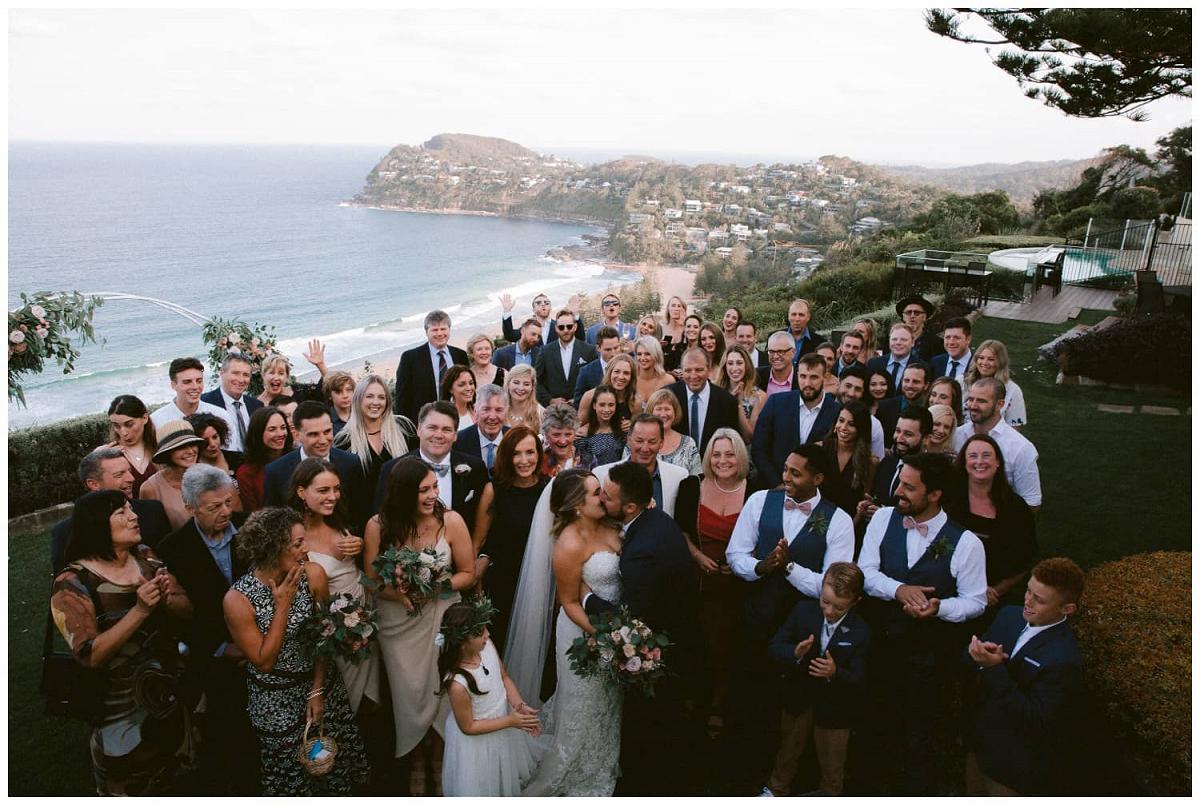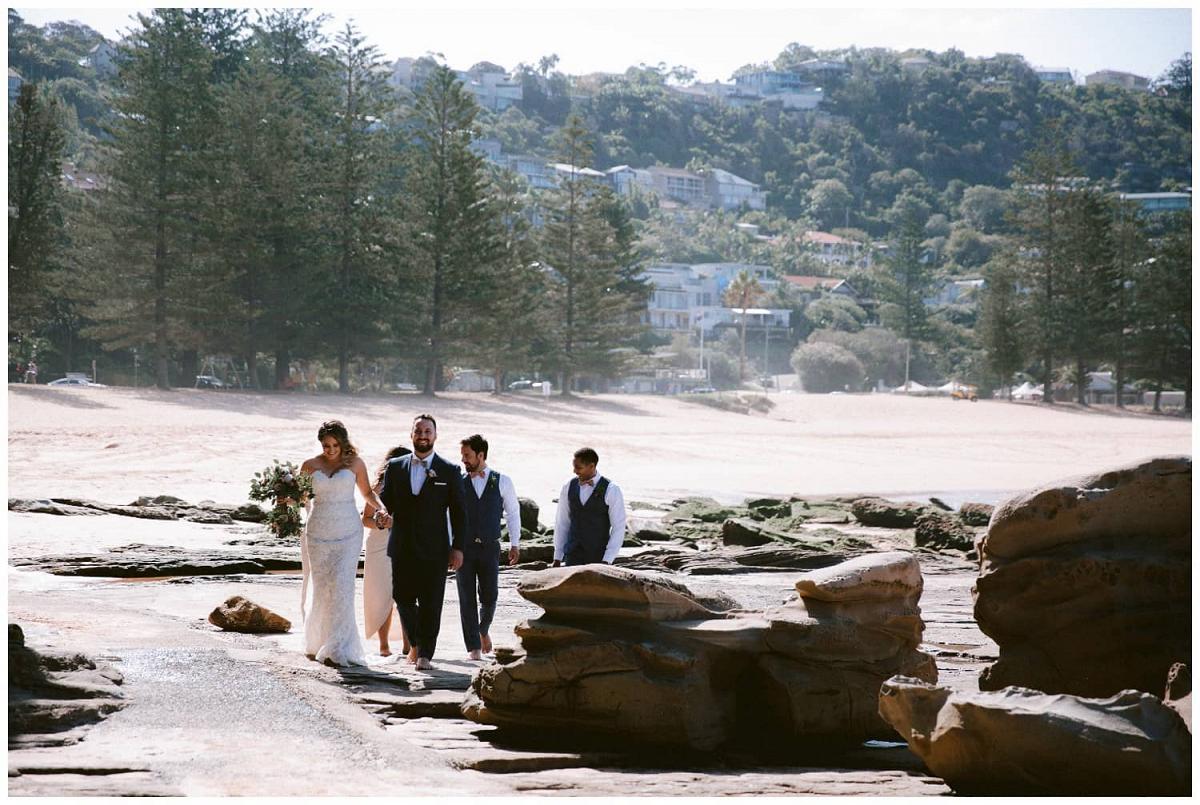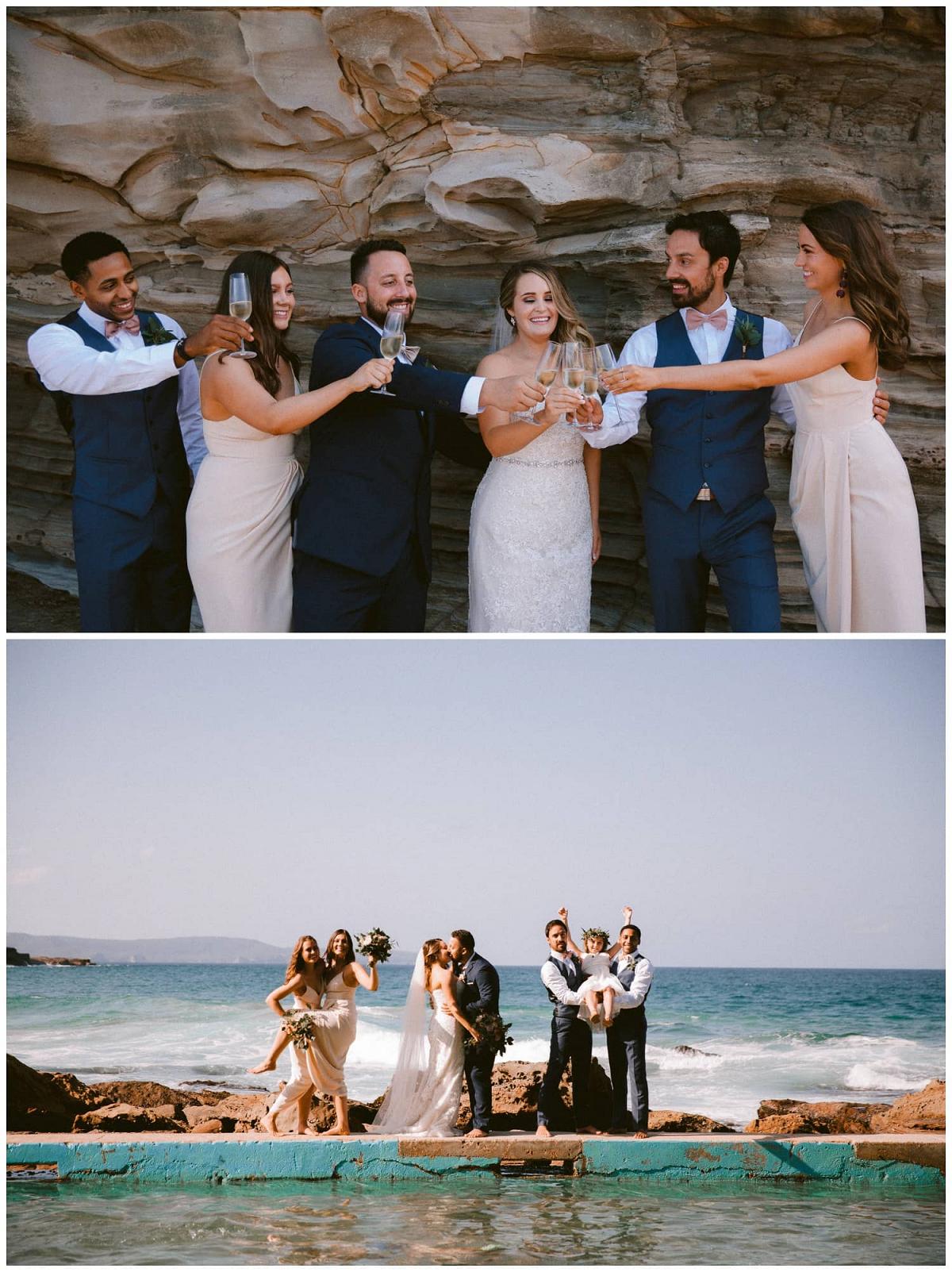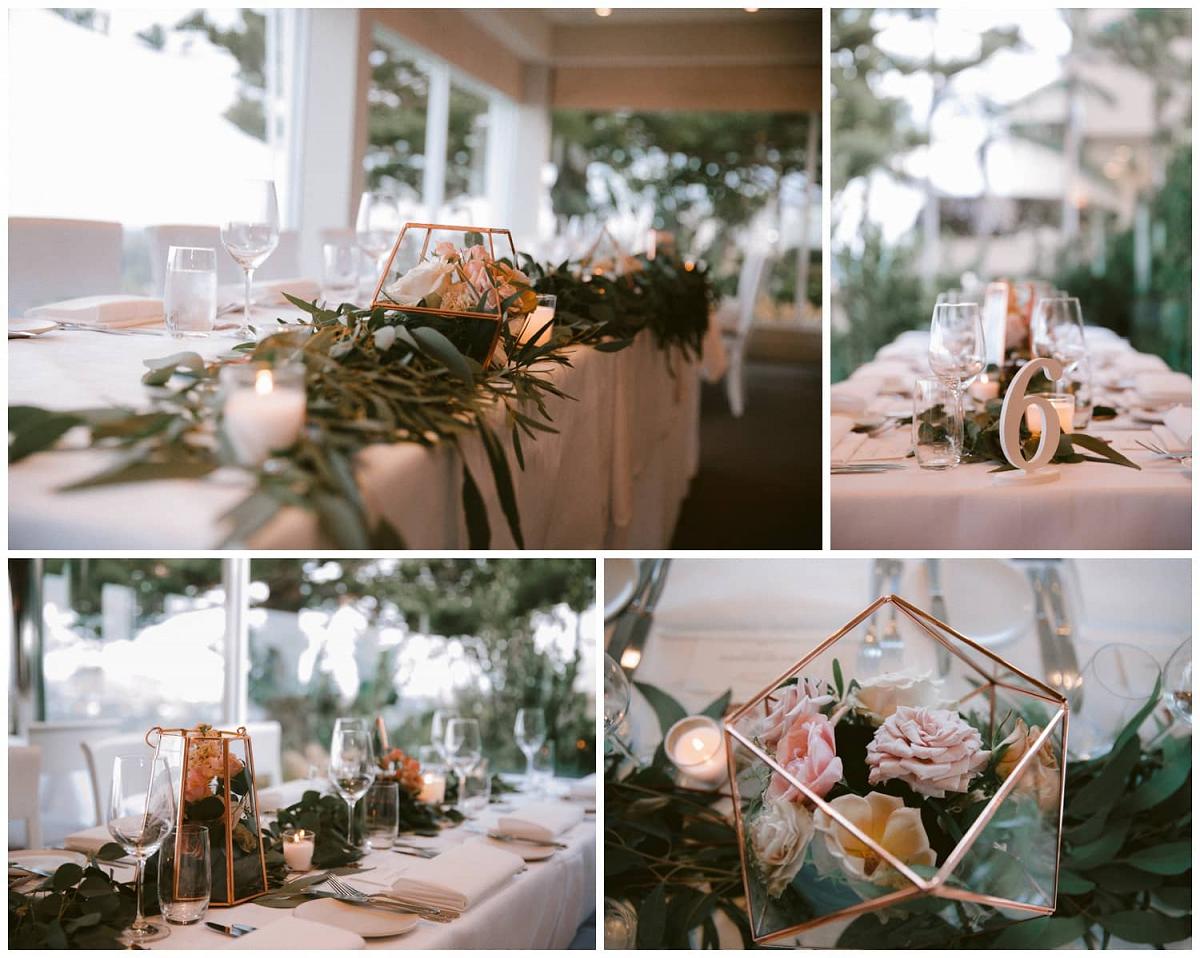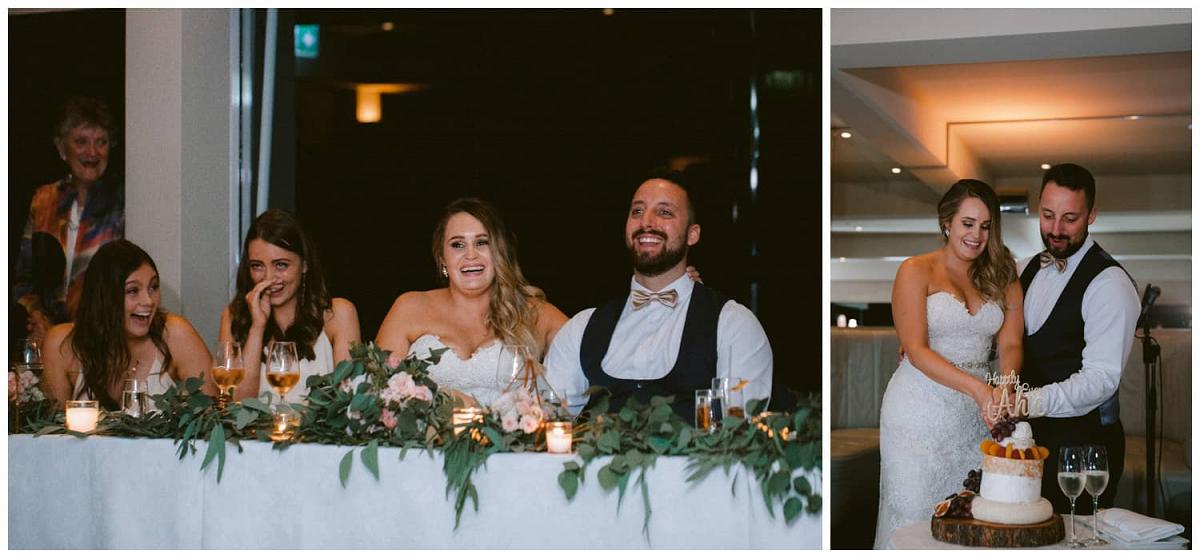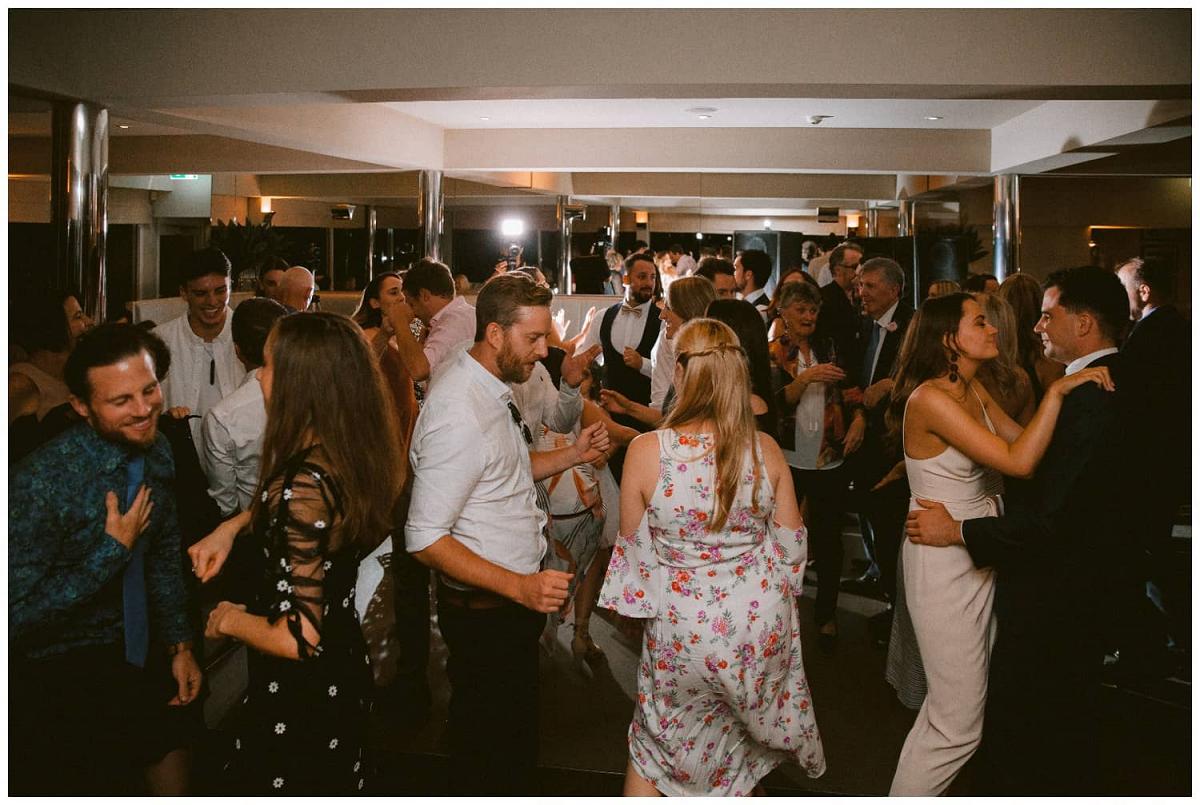 Sebel Kirkton Hunter Valley
Things we like:
This is a wedding location outside Sydney that we simply have to mention.
Located in Hunter Valley with picturesque landscape.
The boys can have so much fun at the pool before starting their day.
The boys and girls can get ready under the same roof and not seeing each other - we did some creative shots while we were there.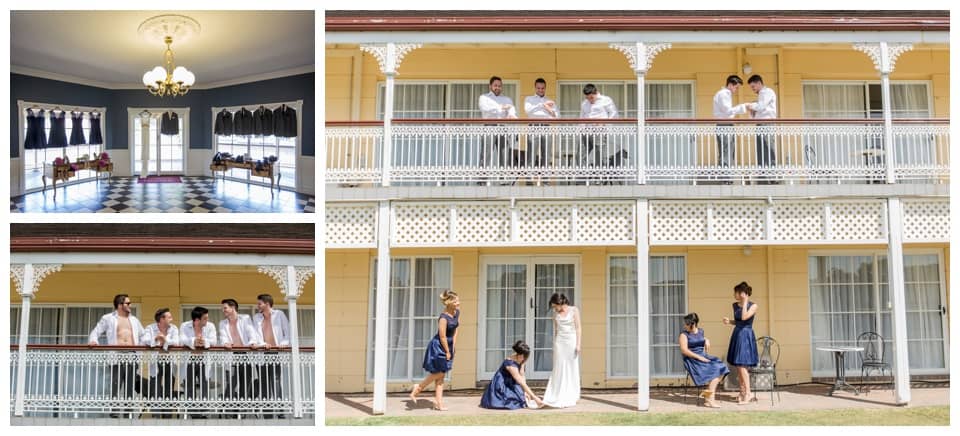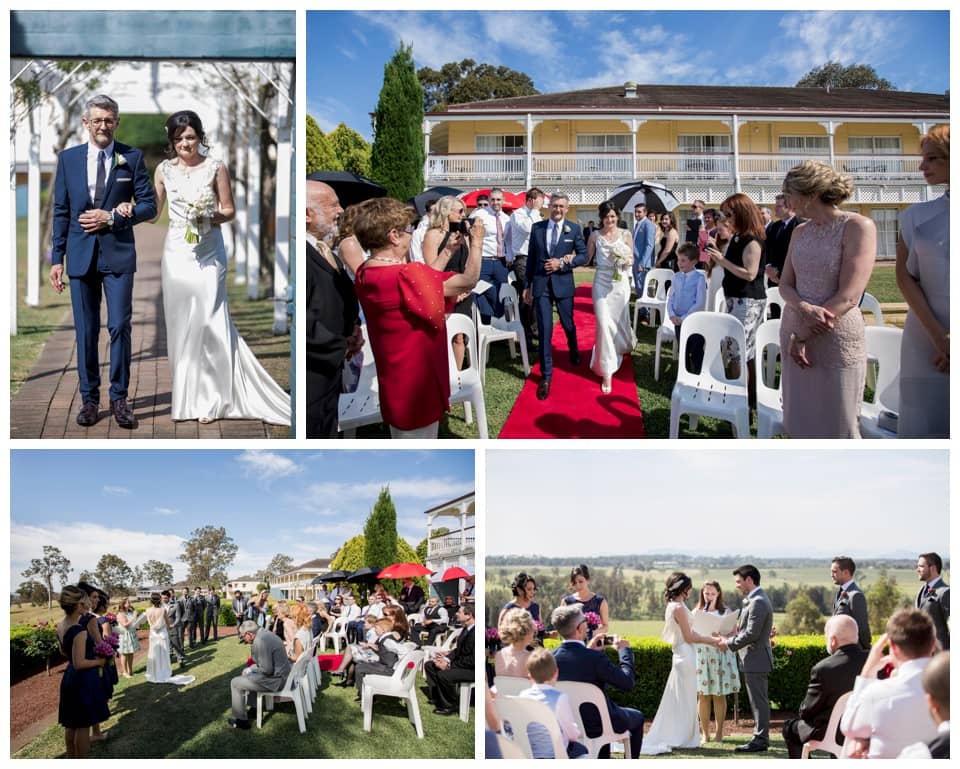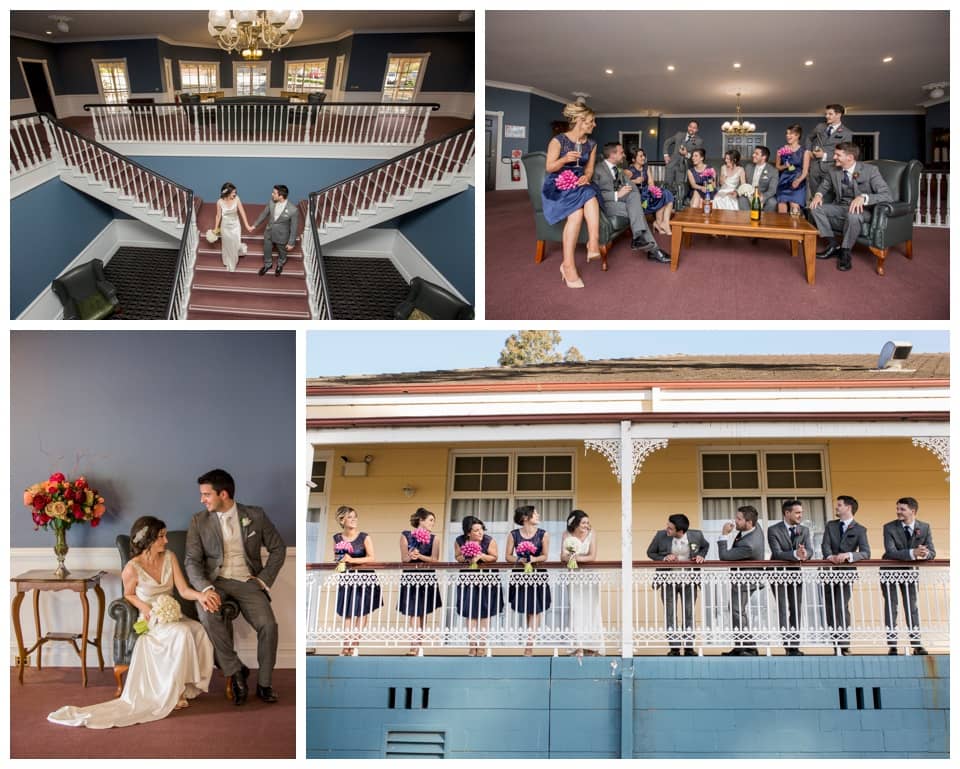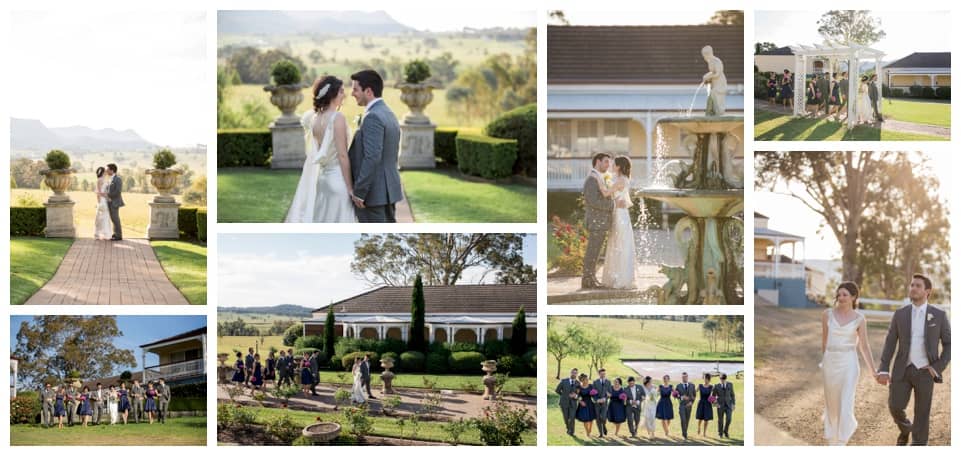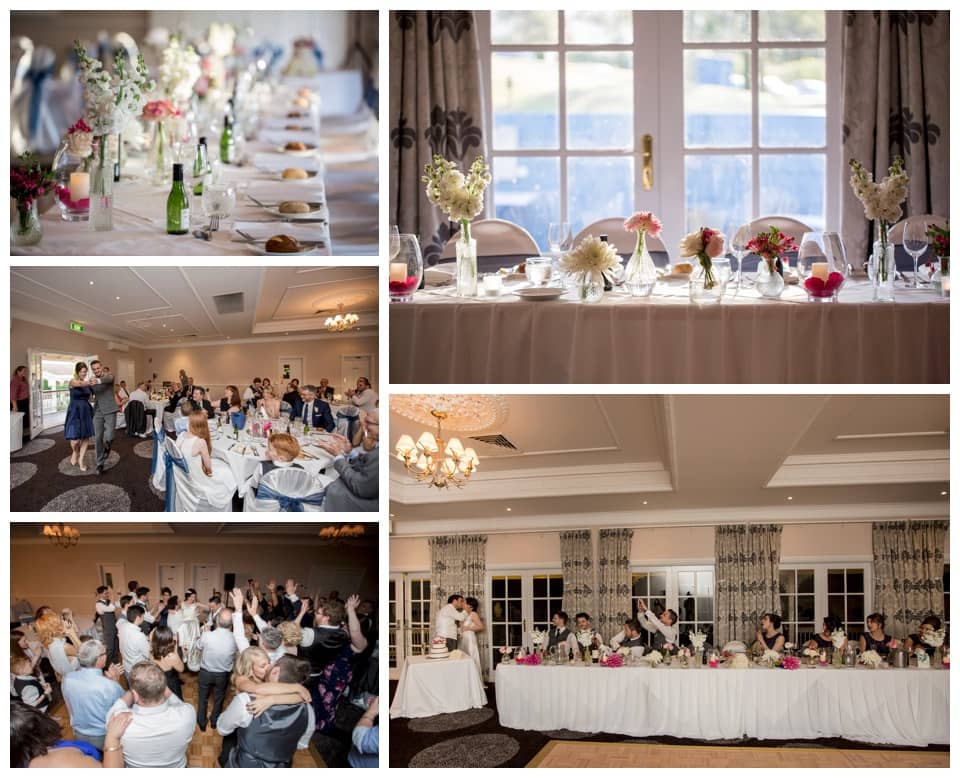 For more modern wedding inspiration, visit our Wedding Photography gallery.