Wedding photography is one of the most important parts of a wedding because it preserves timeless memories of your special day, and it captures you and your spouse at your best. Wedding photos are photos that you look on for years after they are taken, so they must look good, of course. We've gathered 10 most popular wedding photography location (and few hidden gems) in Sydney for your bridal portraits.
Sydney Opera House & Circular Quay 
Opera House and Circular Quay are classic photography locations with the iconic Opera House and the Harbour Bridge. If you love the city and its classic, famous landmarks, then you will love the variety you can get here. 
Things we like:
The Opera House and Harbour Bridge in the background
The black and white patterned floor at Dendy Cinemas at Circular Quay for timeless aerial photos of you. Photos feel even more grand if you have a long train or princess-style dress
The golden hour lighting and beautiful sunset we can often get when the sky is clear.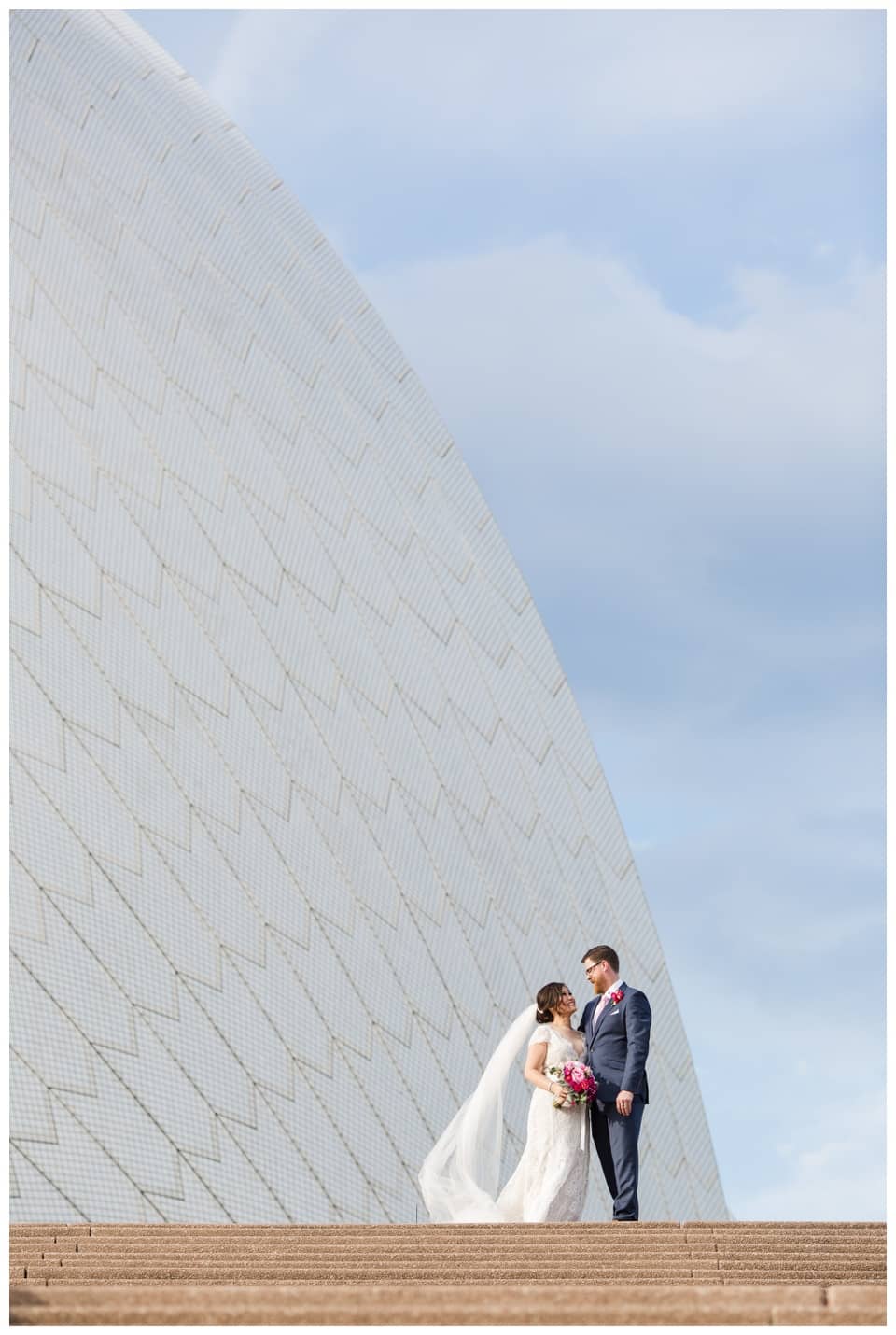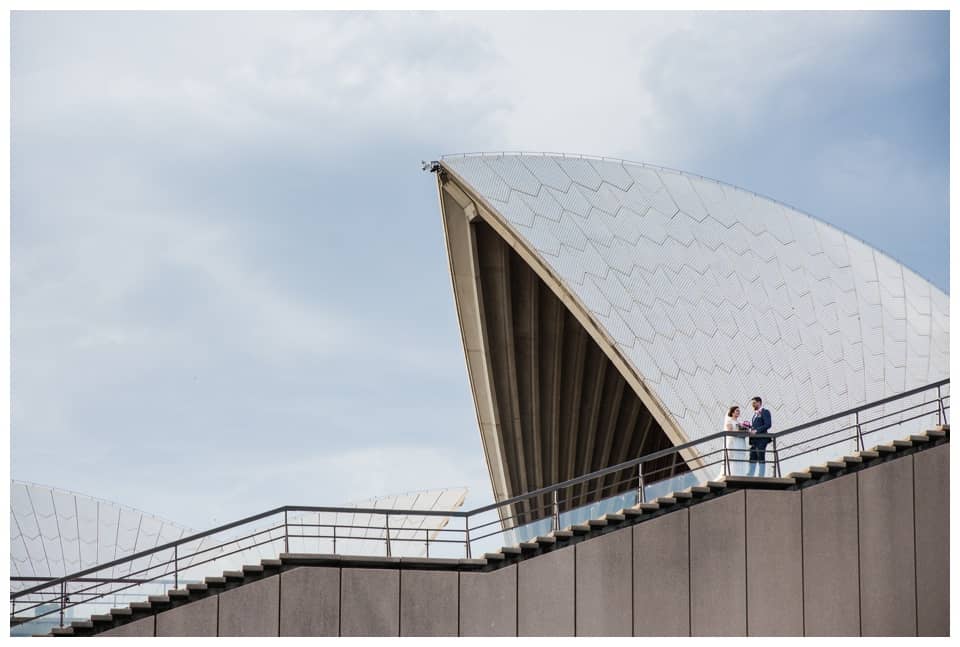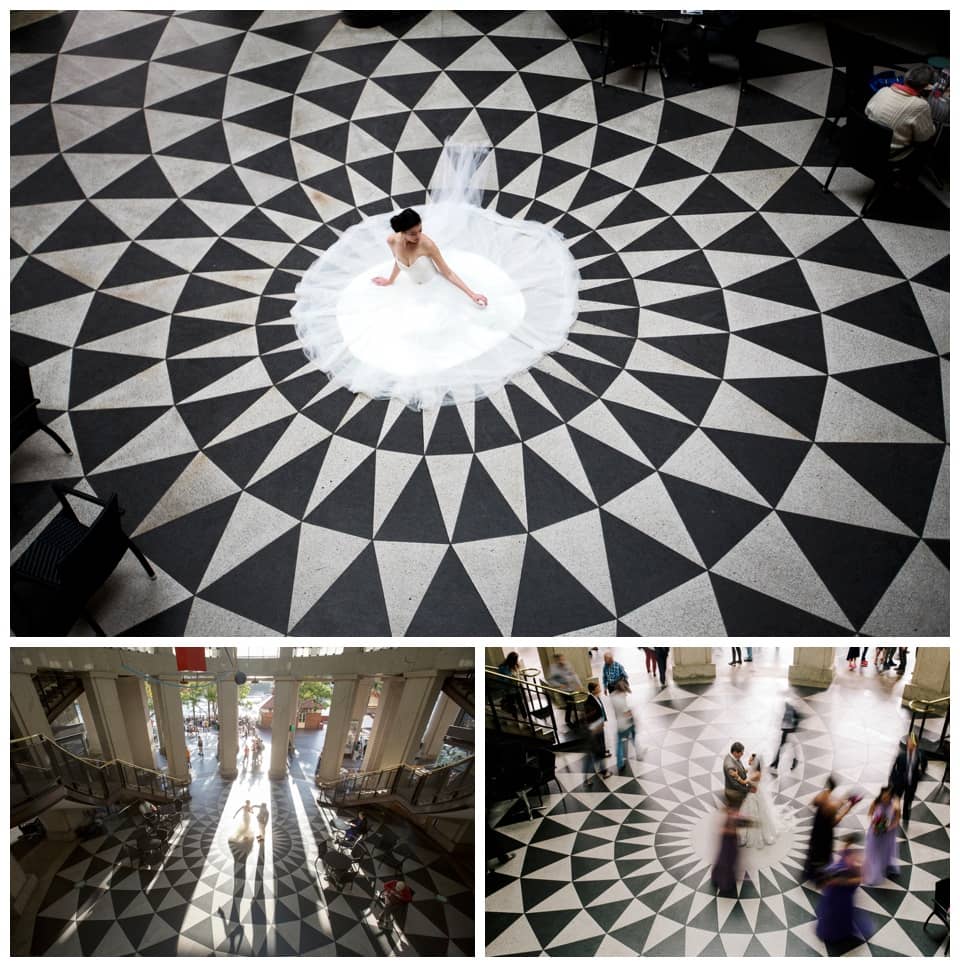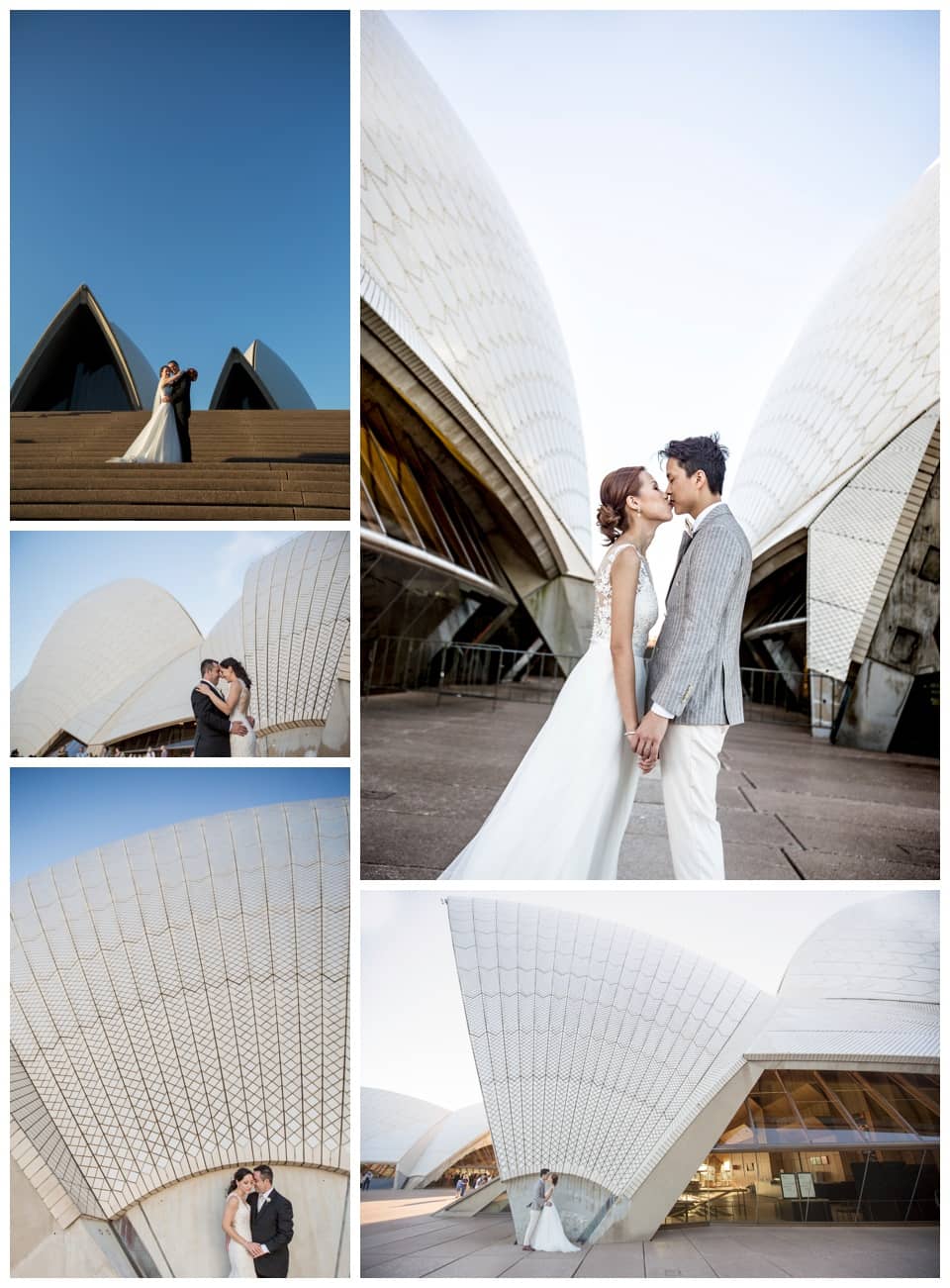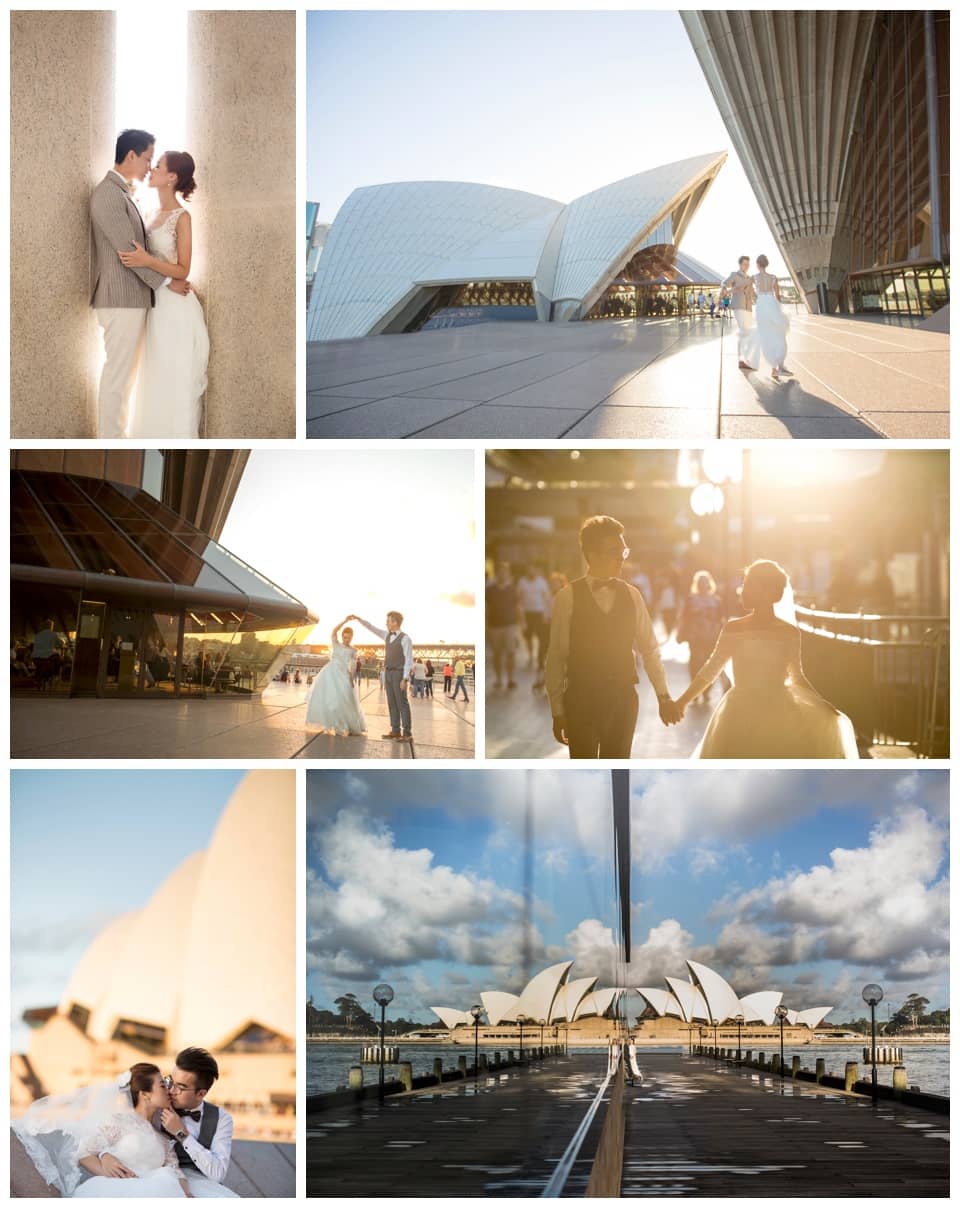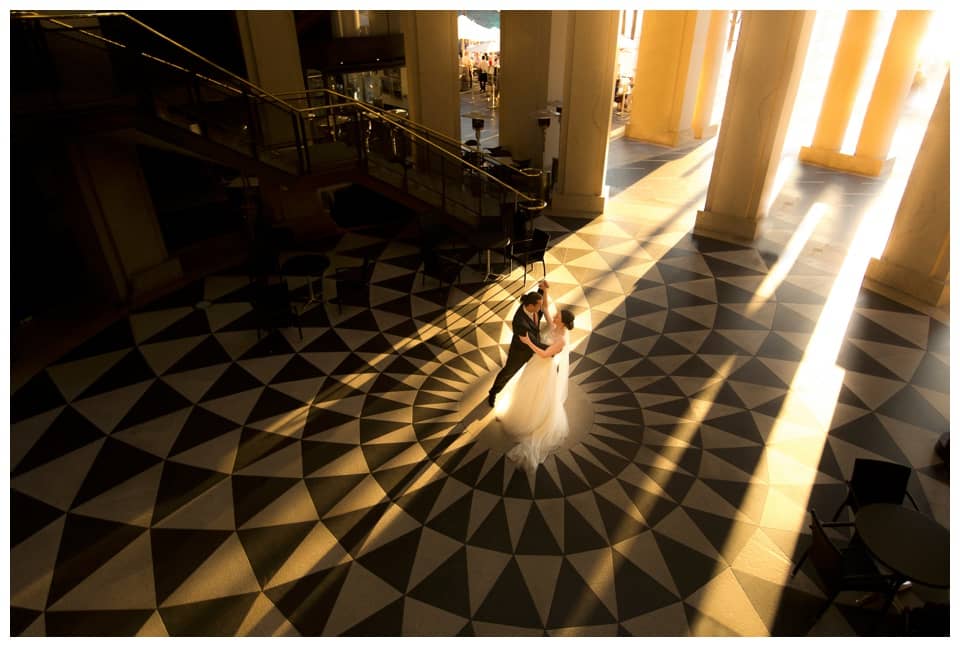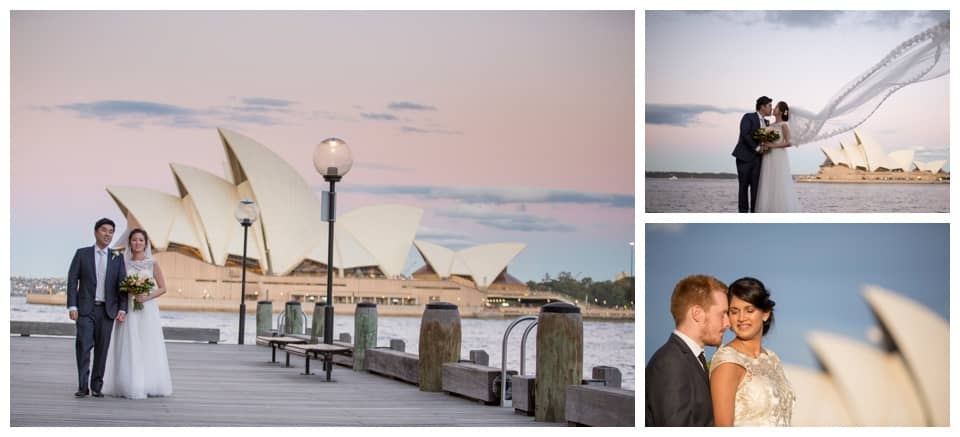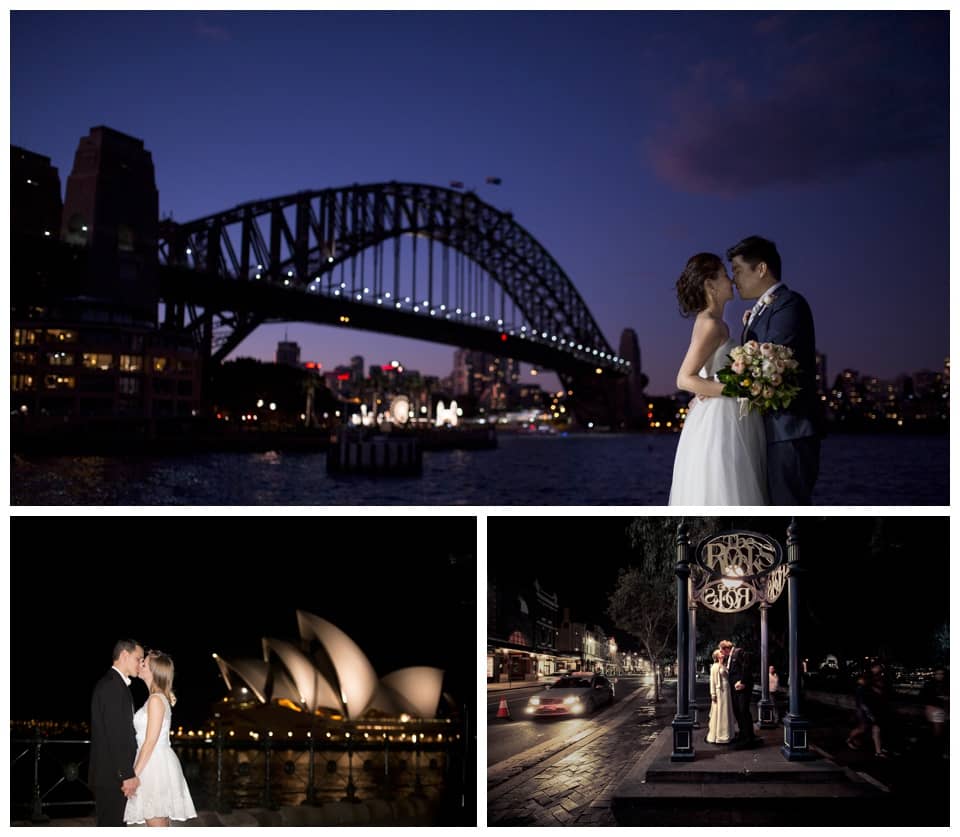 The Rocks 
The Rocks is almost one of the most photographed location in Sydney. Famous areas for wedding photography in The Rocks include The Observatory Hill, Lower Fort St, Argyle St, Dawes Point, Walsh Bay and some hidden alleyways. The Rocks area also a place where we can photograph a wedding from sunrise to sunset.
Things we like:
Lots of cute bars and cafes to give some character and can make for some unique shots (ex. Shooting a candid photo through a cafe window)

Alleyways with exposed brick give a rustic feel
Old buildings add some colour and quirks to your photos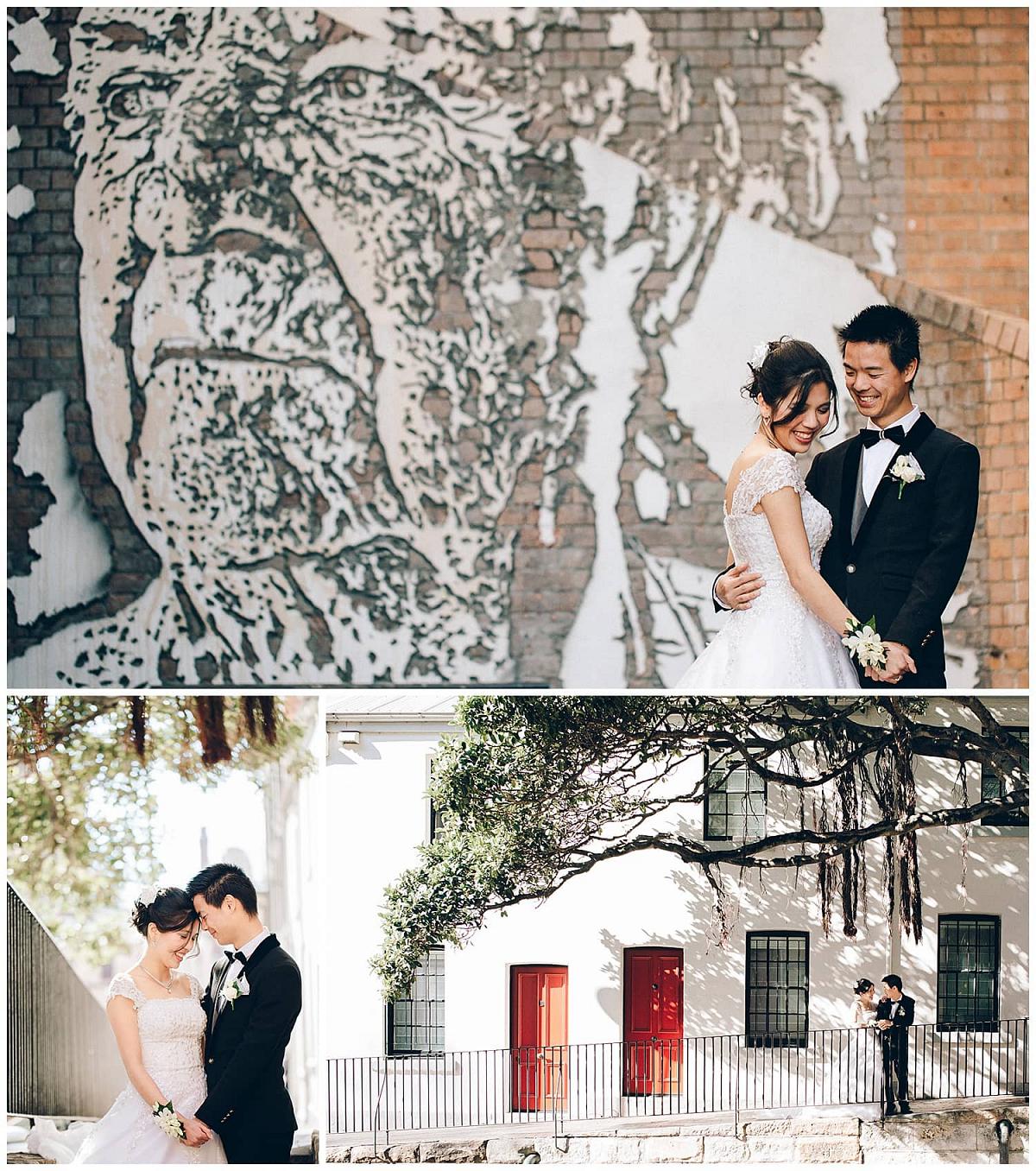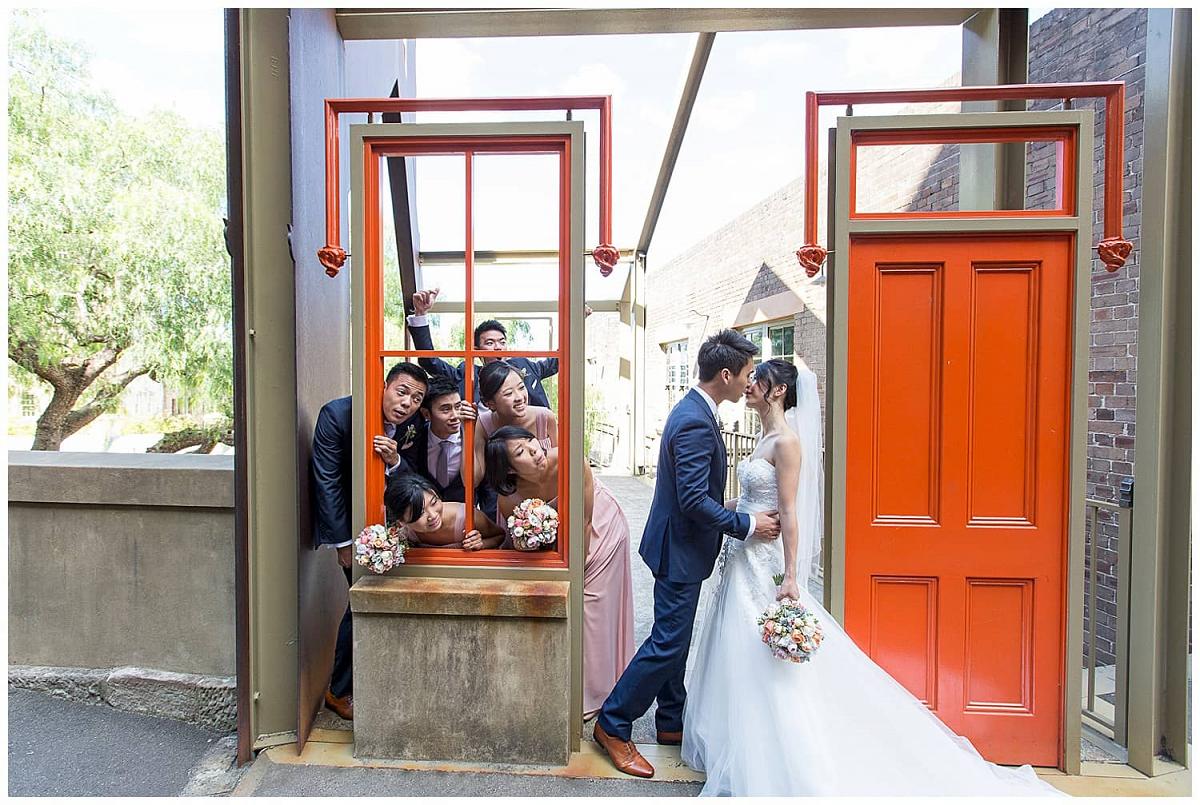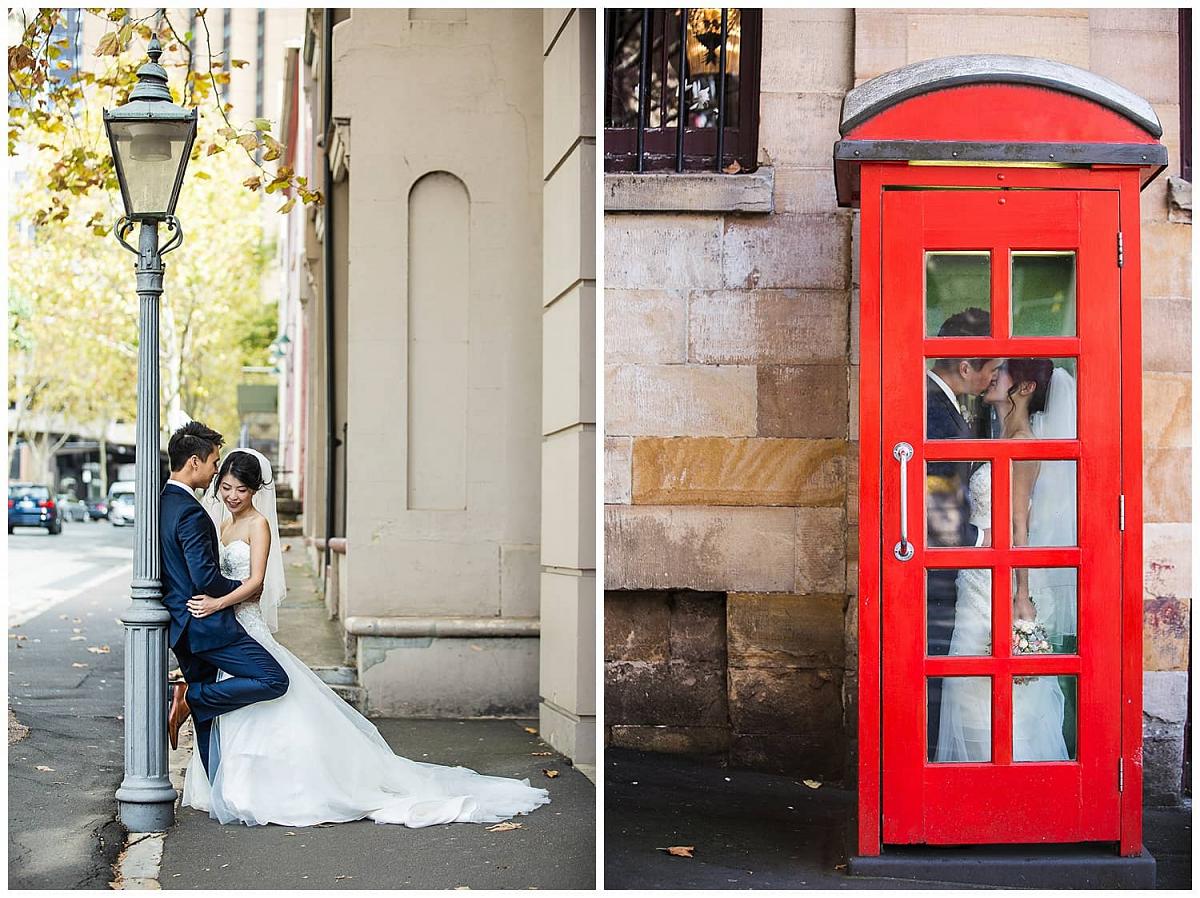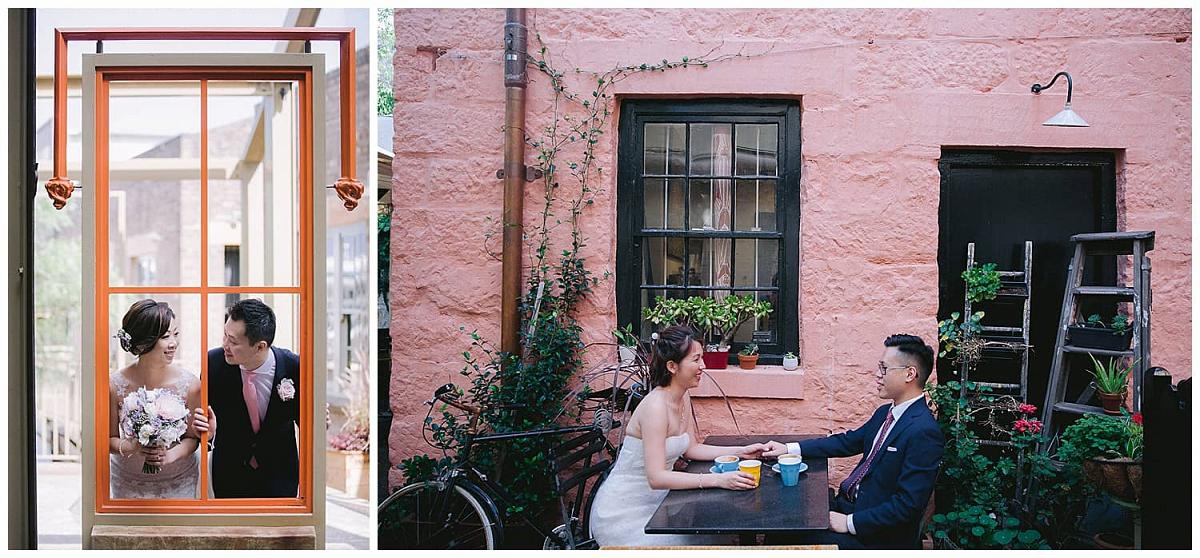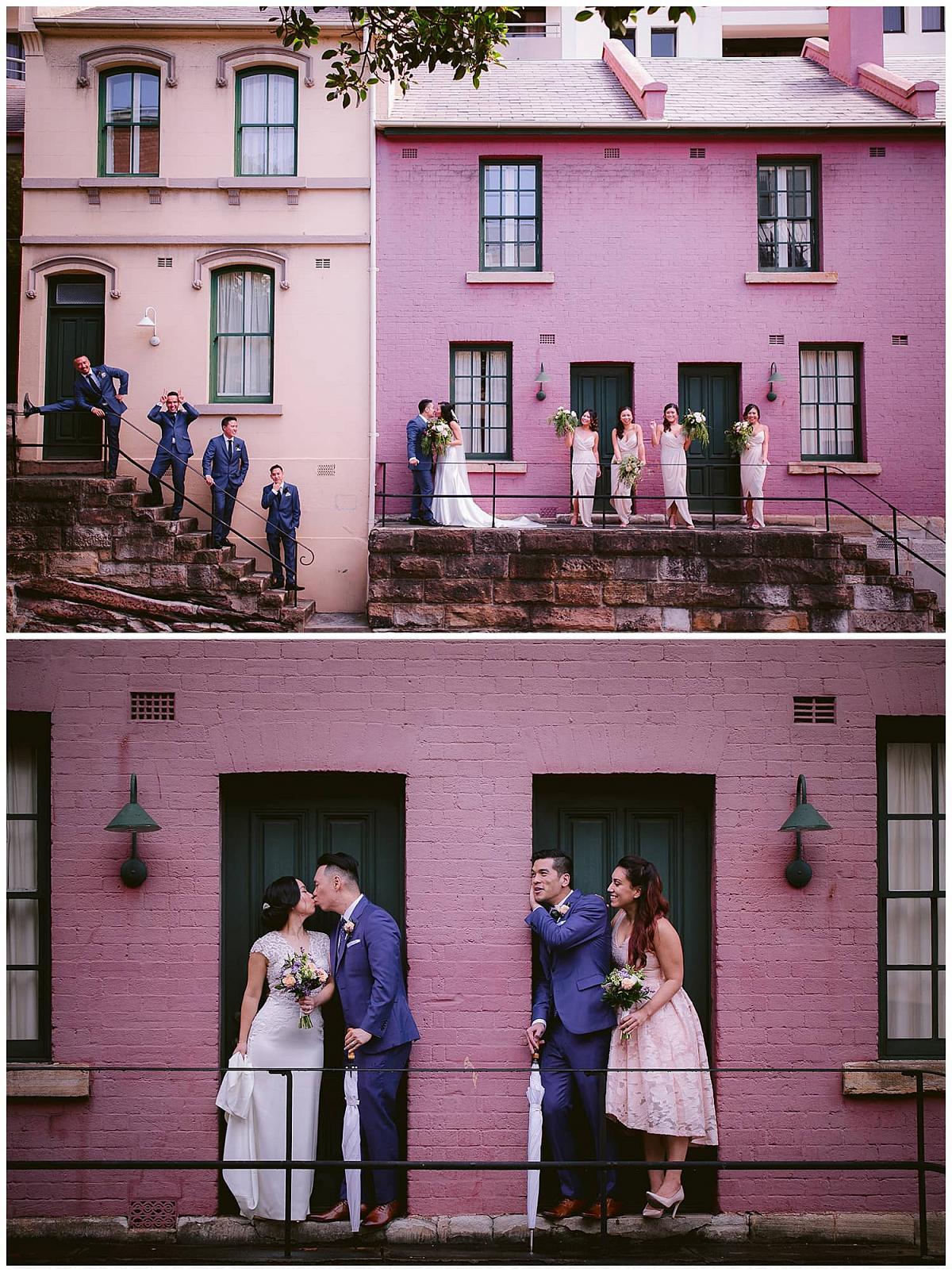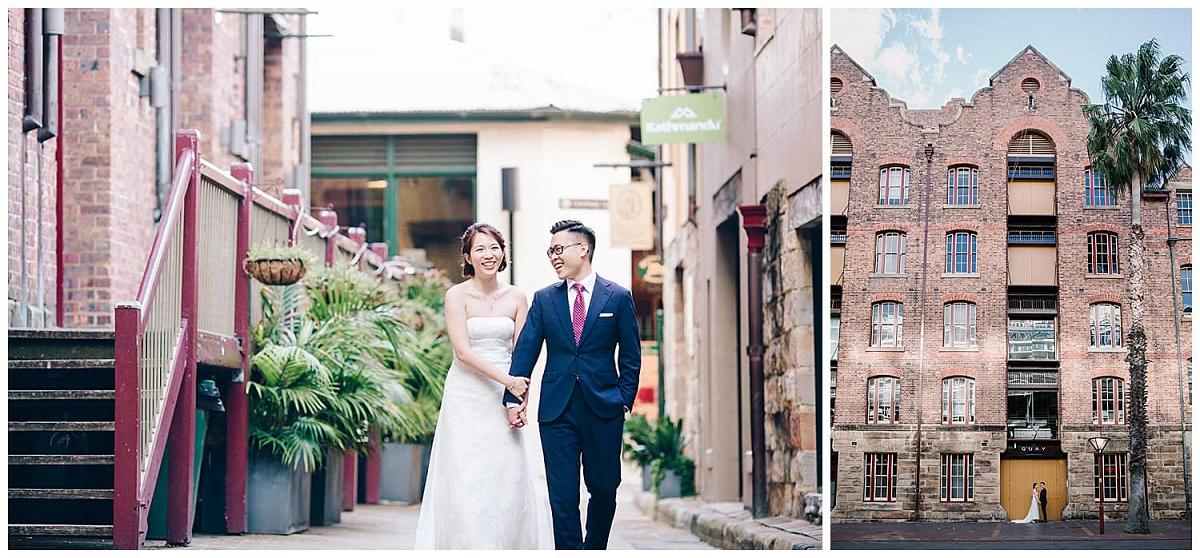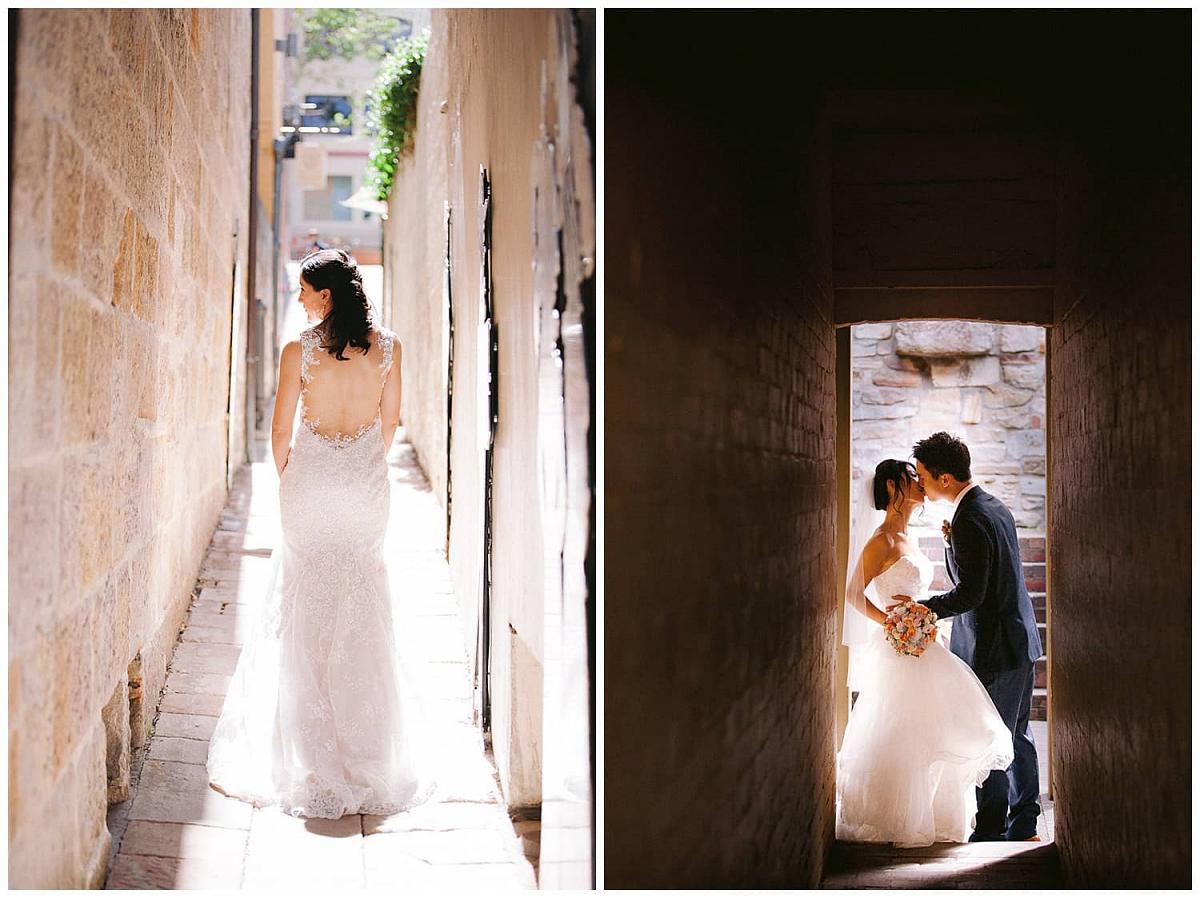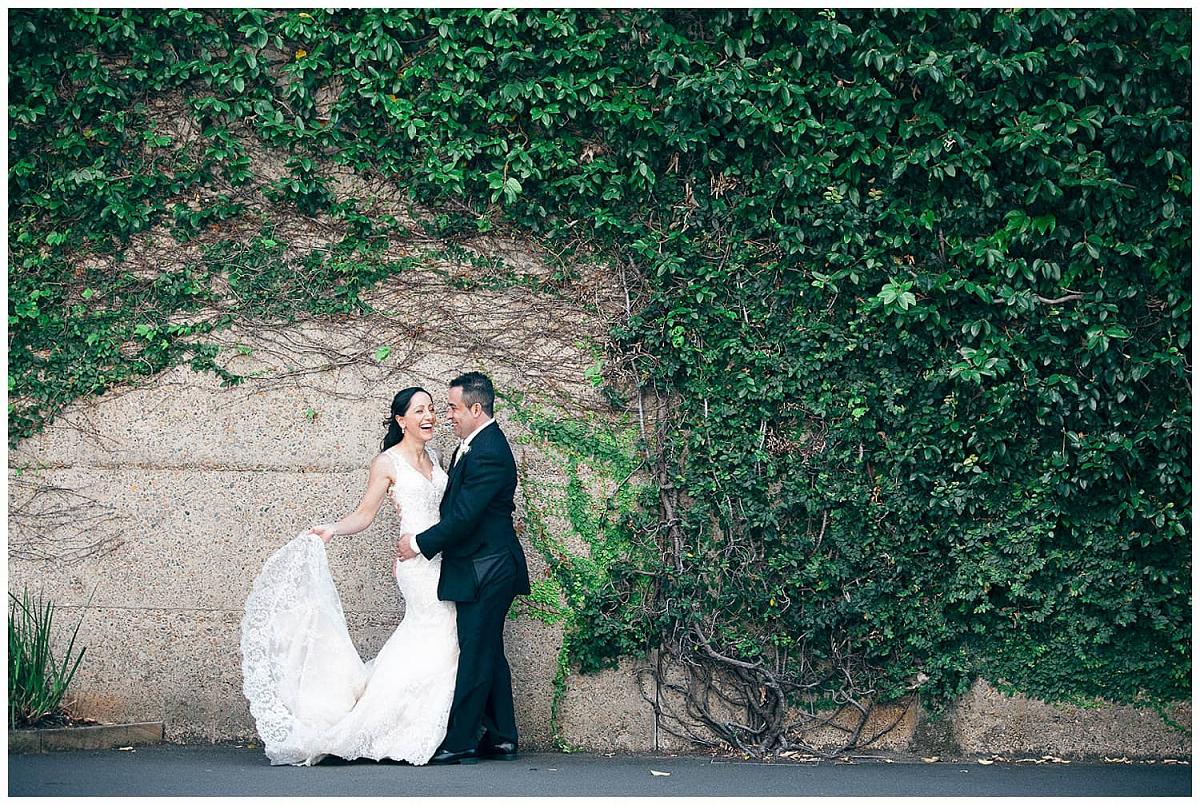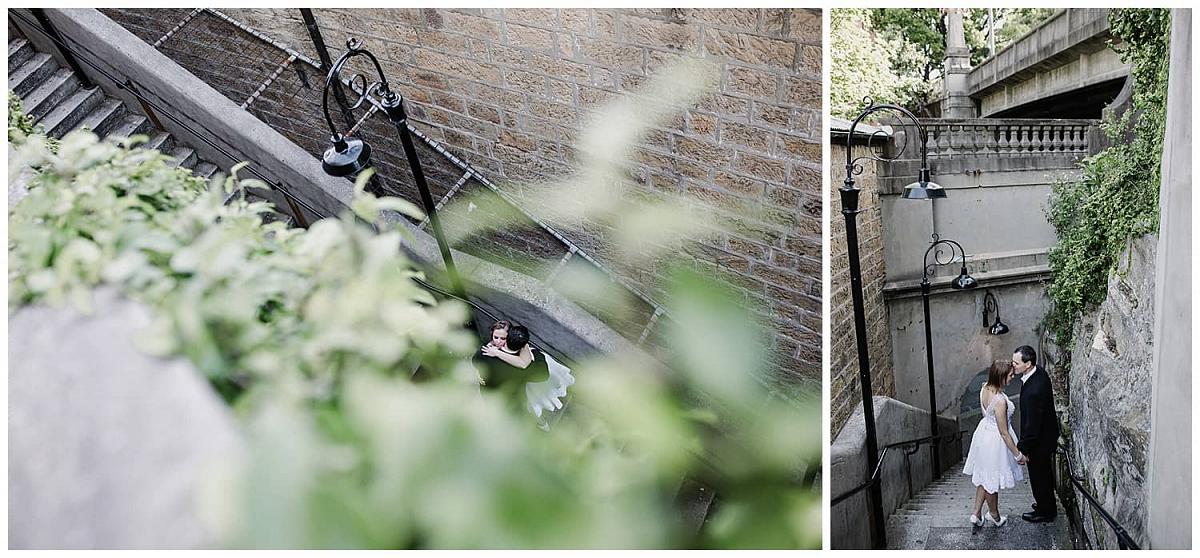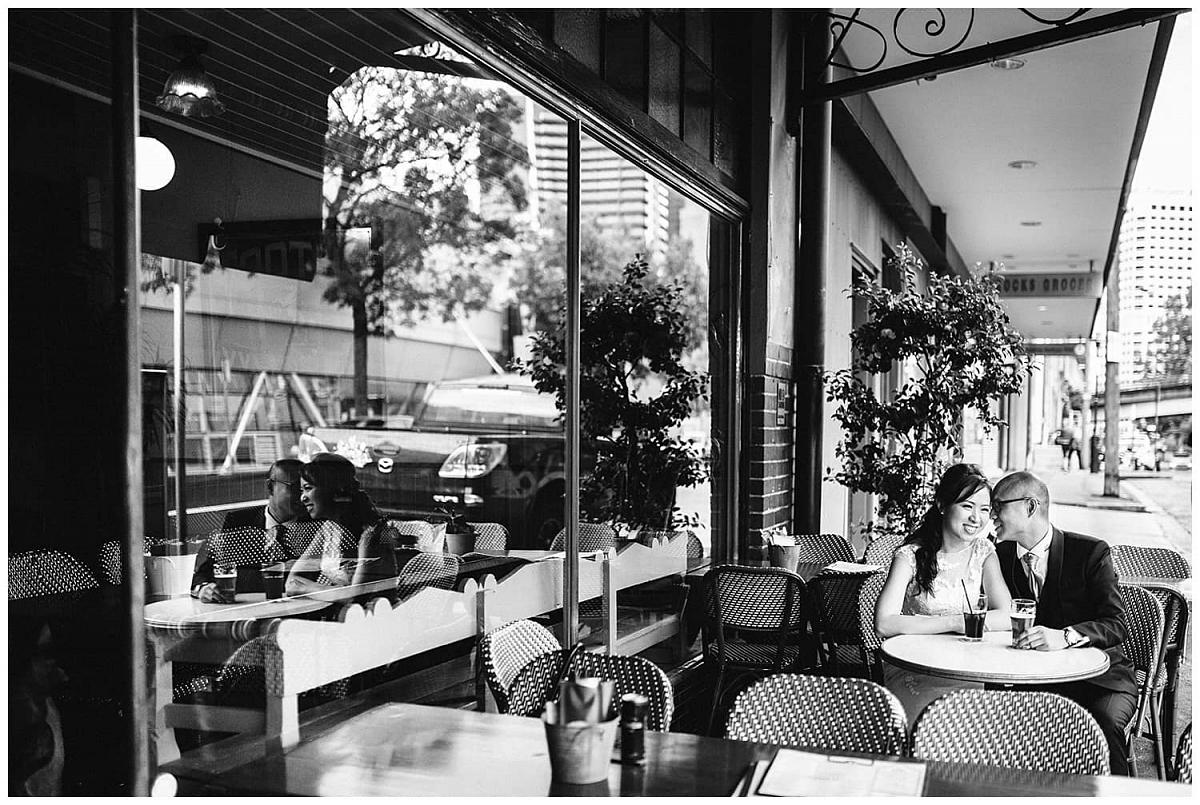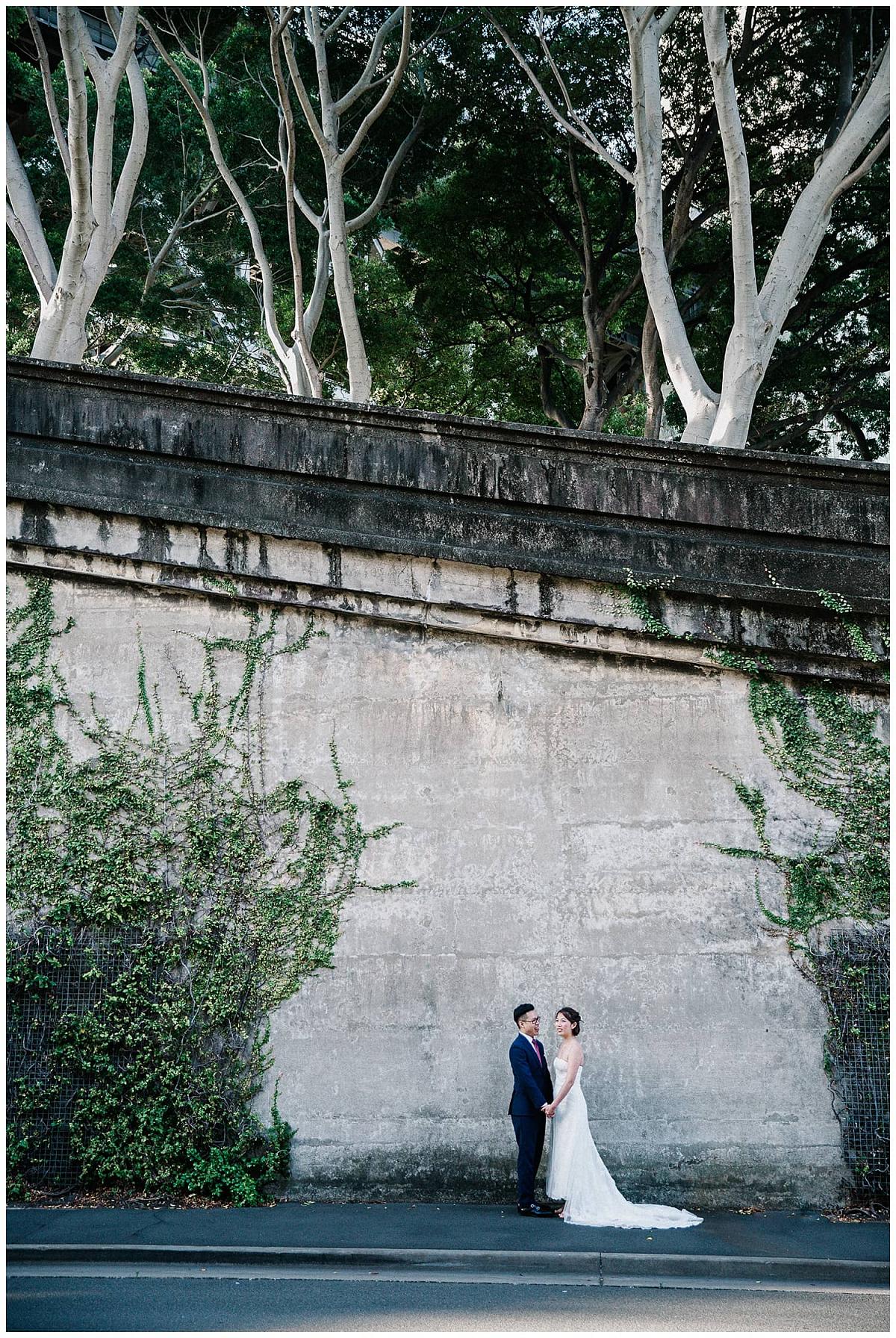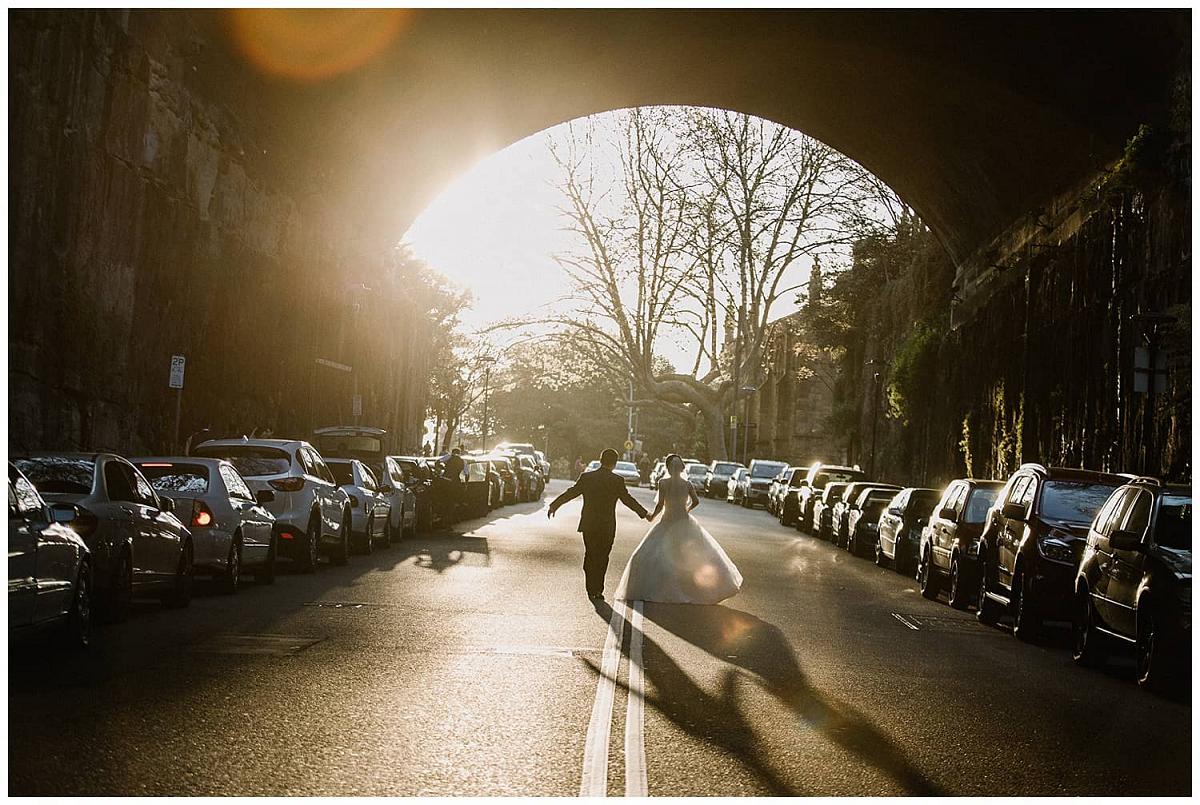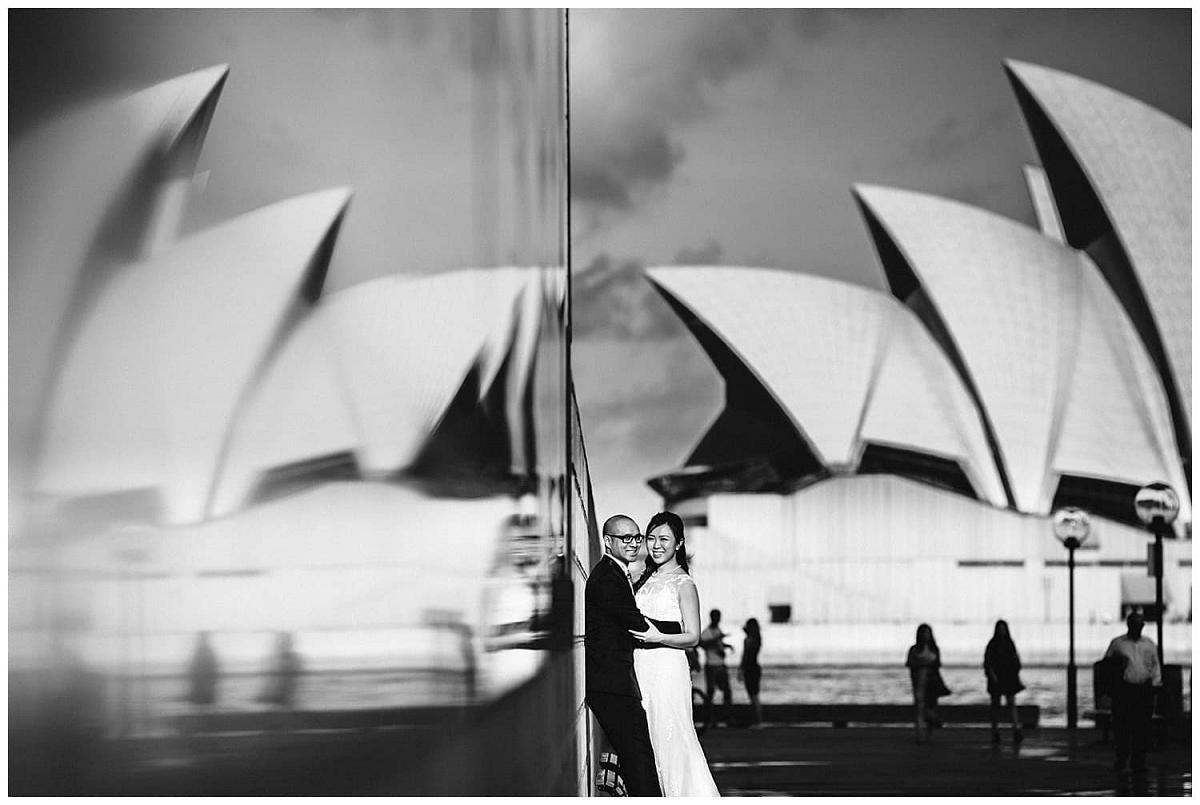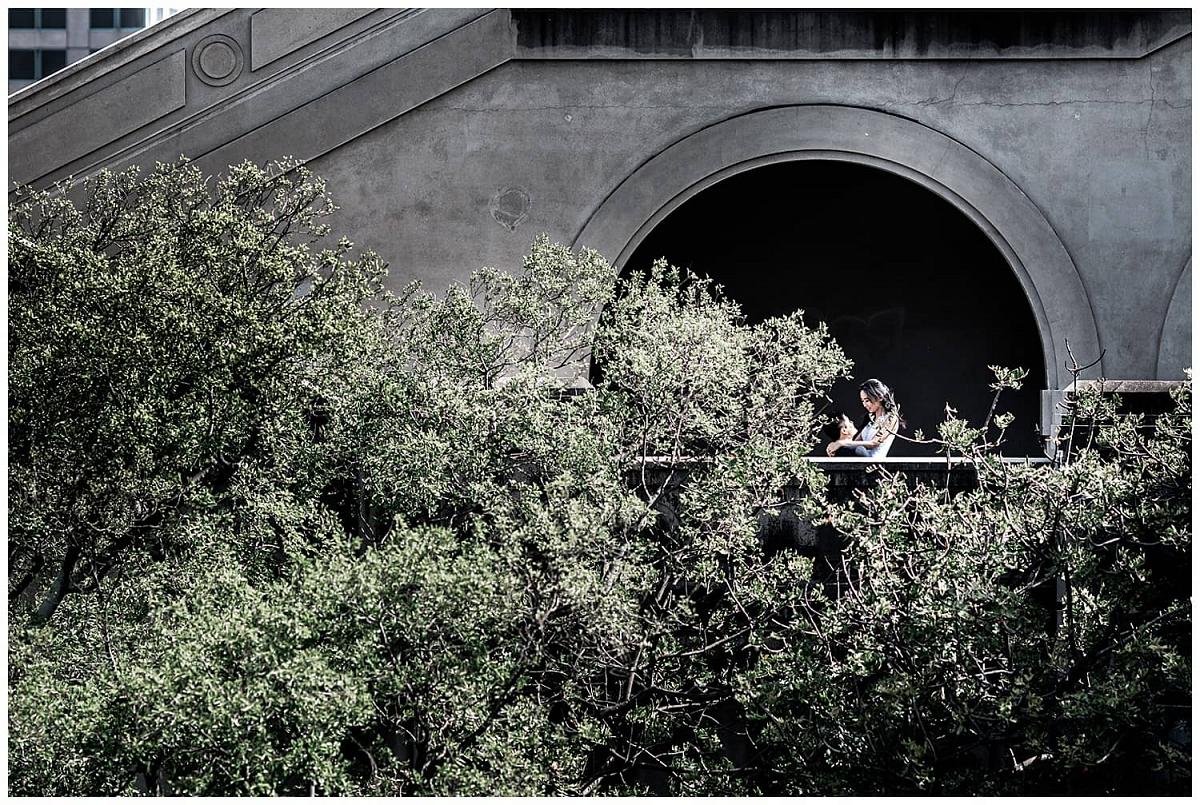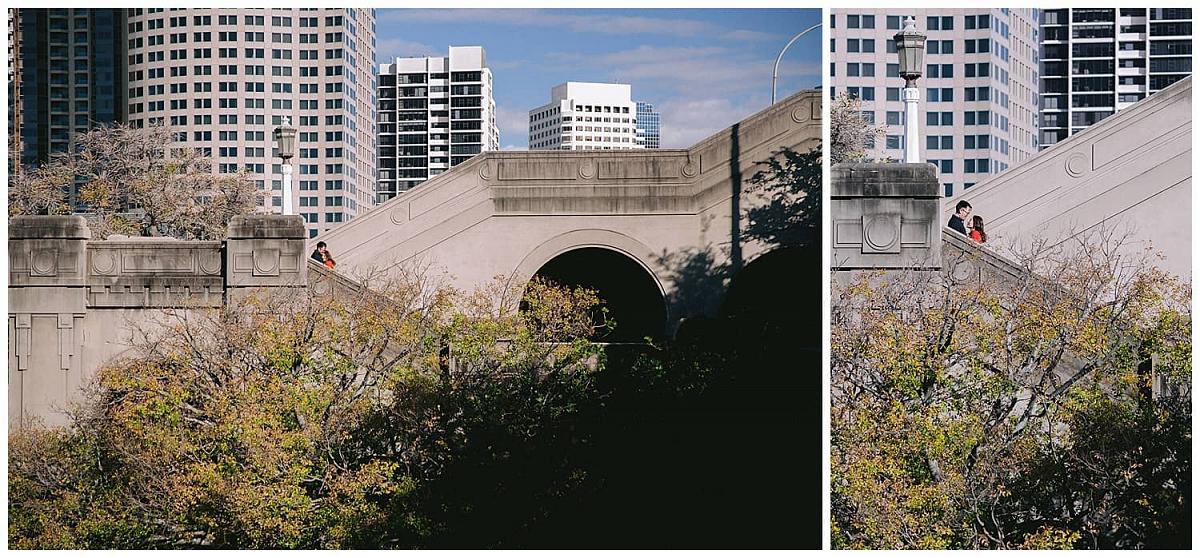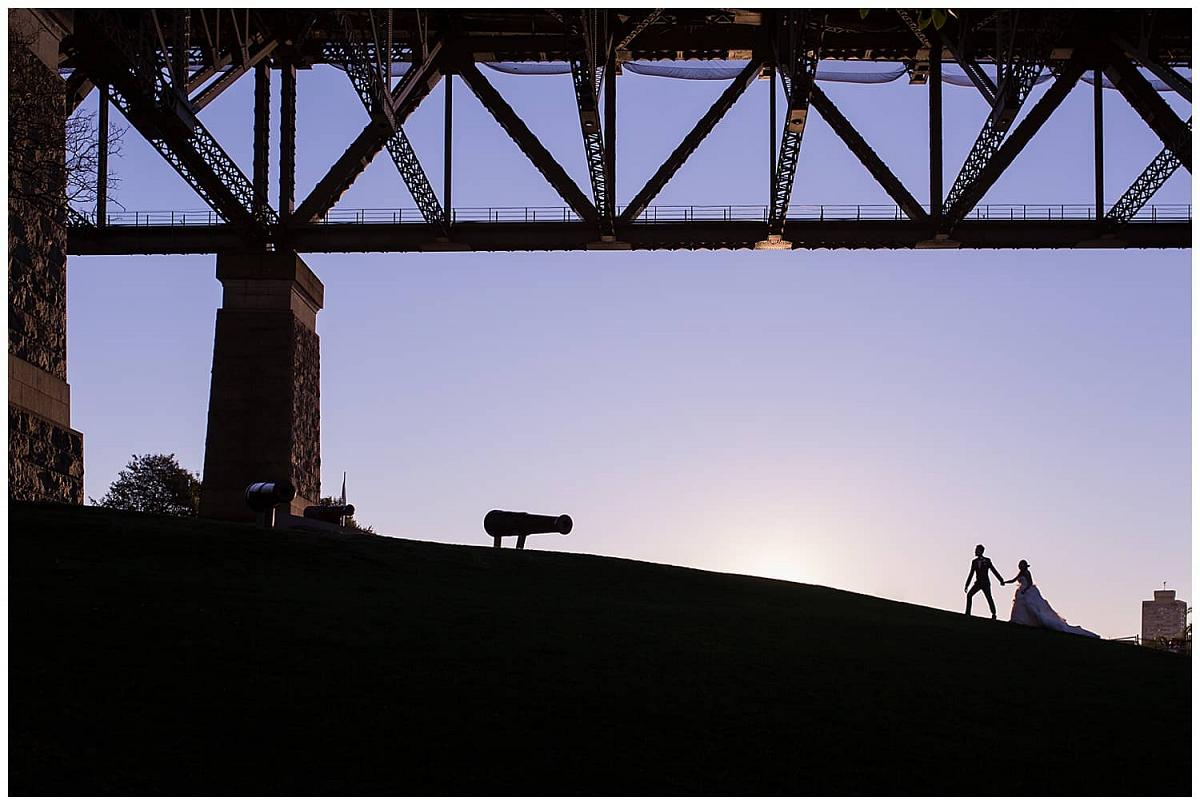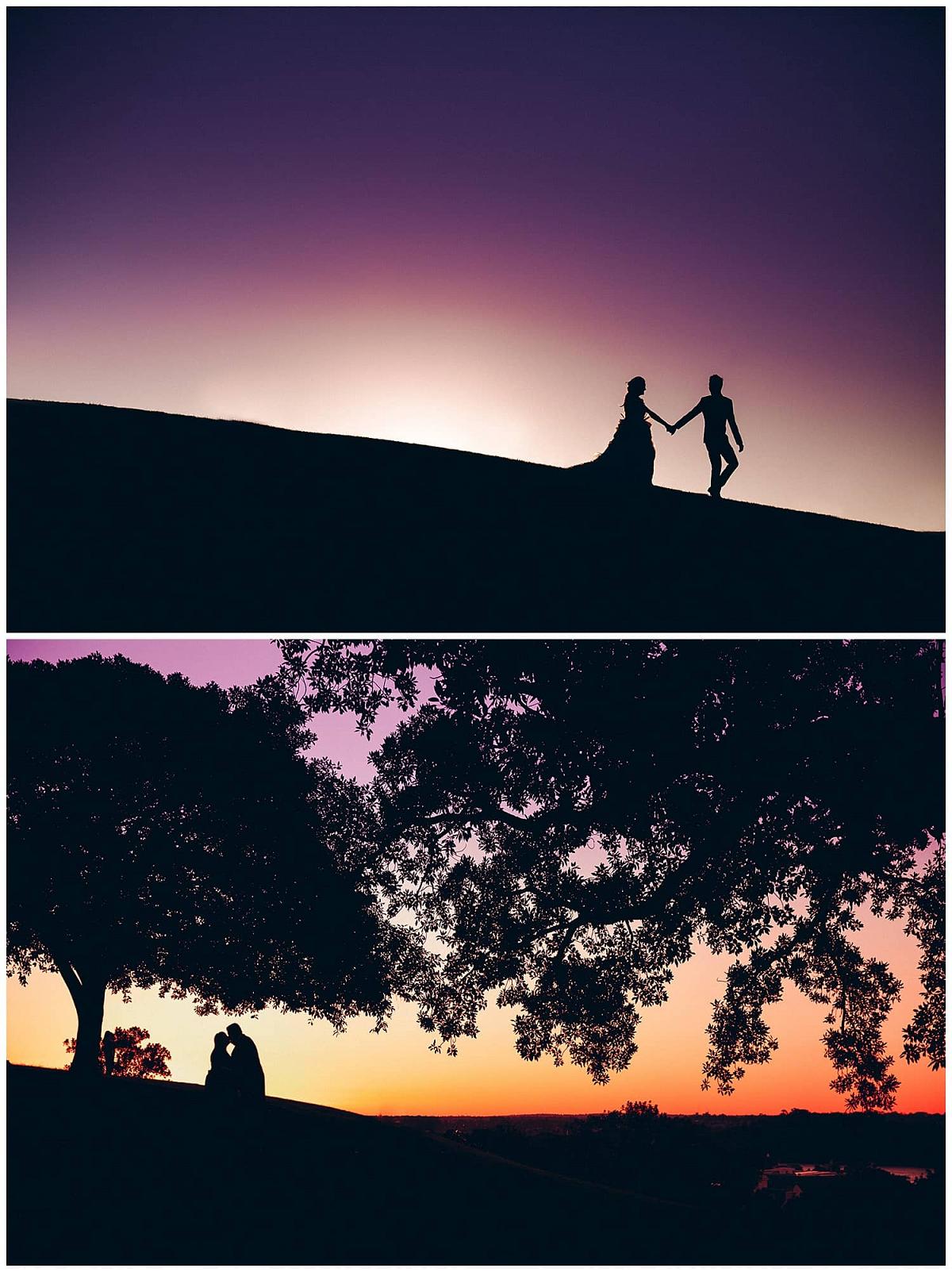 Observatory Hill 
Located in the central of The Rocks. With its panoramic Sydney Harbour views, Observatory Hill (Observatory Park) is a popular place for weddings and wedding photography.
Things we like:
Observatory Hill gives a nice mix of the city skyline and beautiful trees/ nature
Panoramic views of Sydney Harbour
It takes you up close to the Harbour Bridge.
The enormous Moreton Bay fig tree. 
Rustic feel of the walls surround the Sydney Observatory.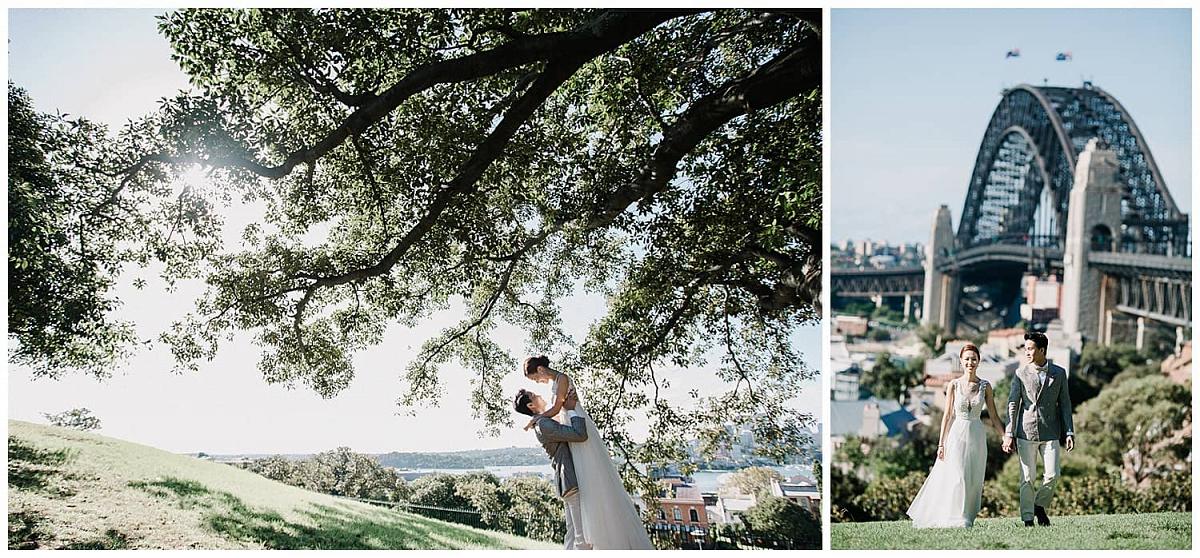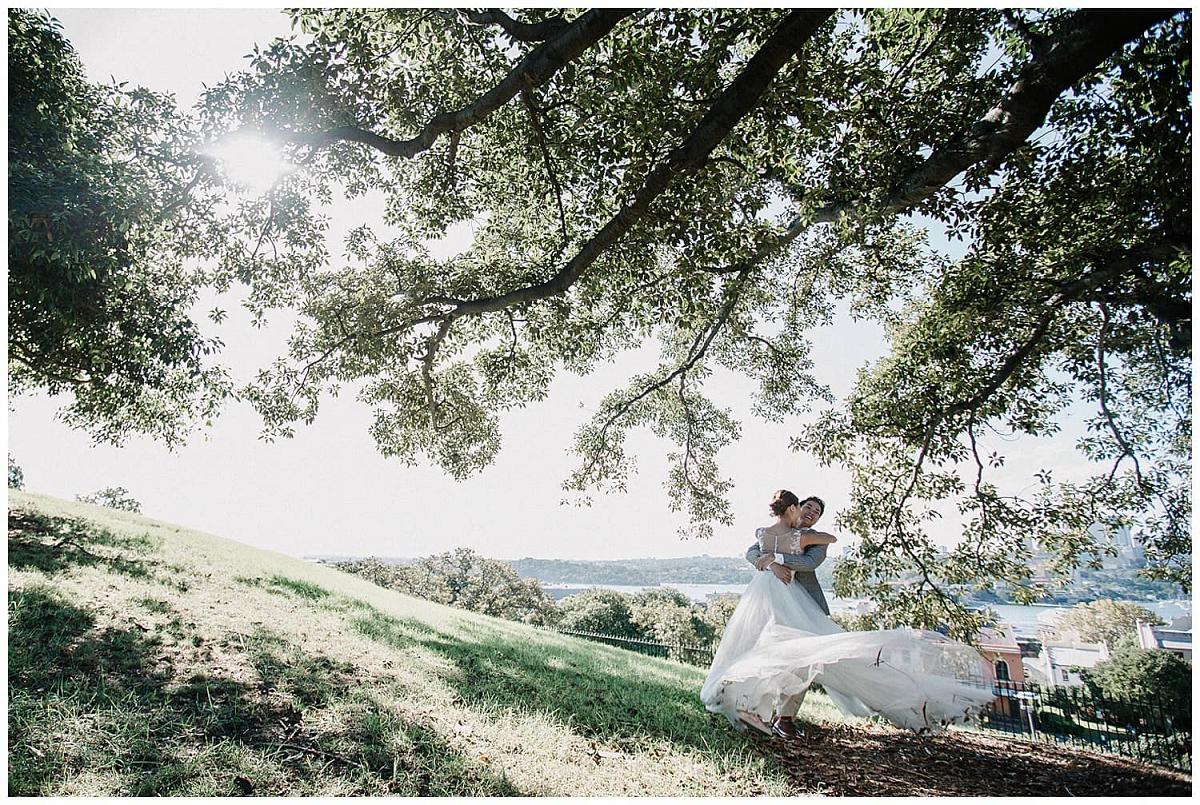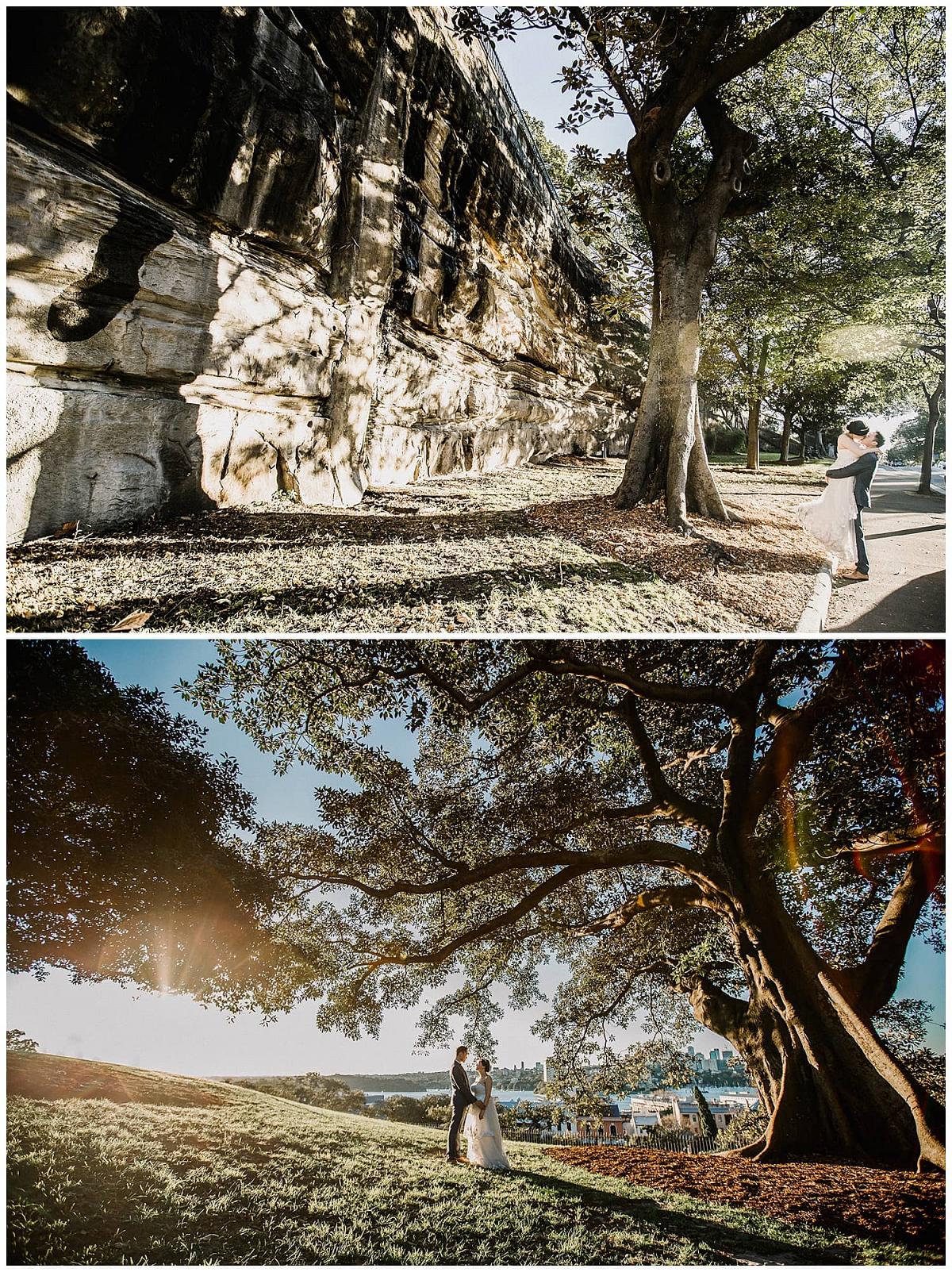 Centennial Park
On your way to Centennial Park, you may also want to swing by and the Paddington Reservoir. Exposed stone brick and archways at the Paddington Reservoir adds the rustic touch.
Things we like:
Great variety of landscapes - from Sandstone Ridge (white bark gumtrees), Pine Grove (Pines), Paperbark Grove (paperbark gumtrees) One More Shot Pond (Willows)  to South West Paddock and Ash Paddock (long grass); you will be amazed with the diversity of landscape and flora at Centennial Park.
Photos in the Grasslands or Paddock make it look like the world was made just for the two of you.
Weeping Willow trees at the ponds are so romantic, looking like a scene straight out of a movie.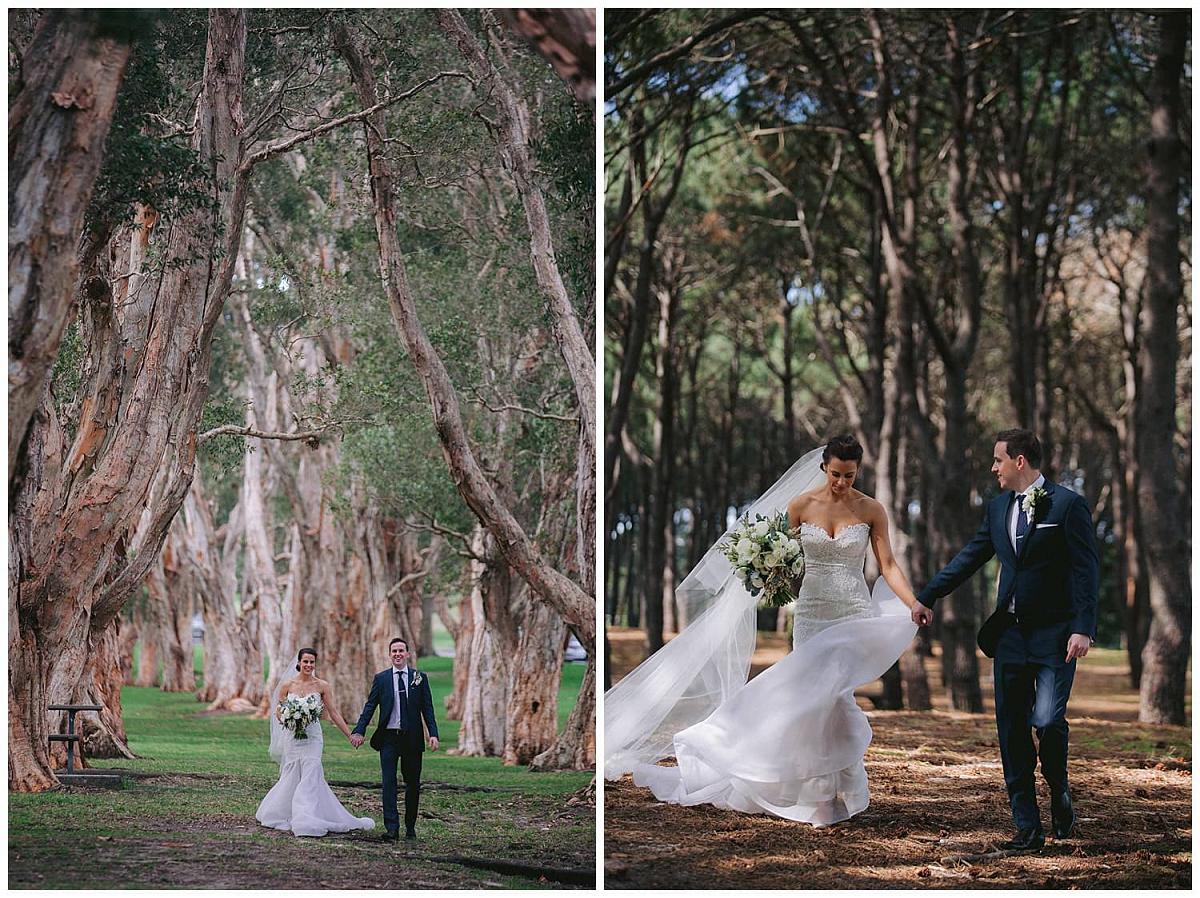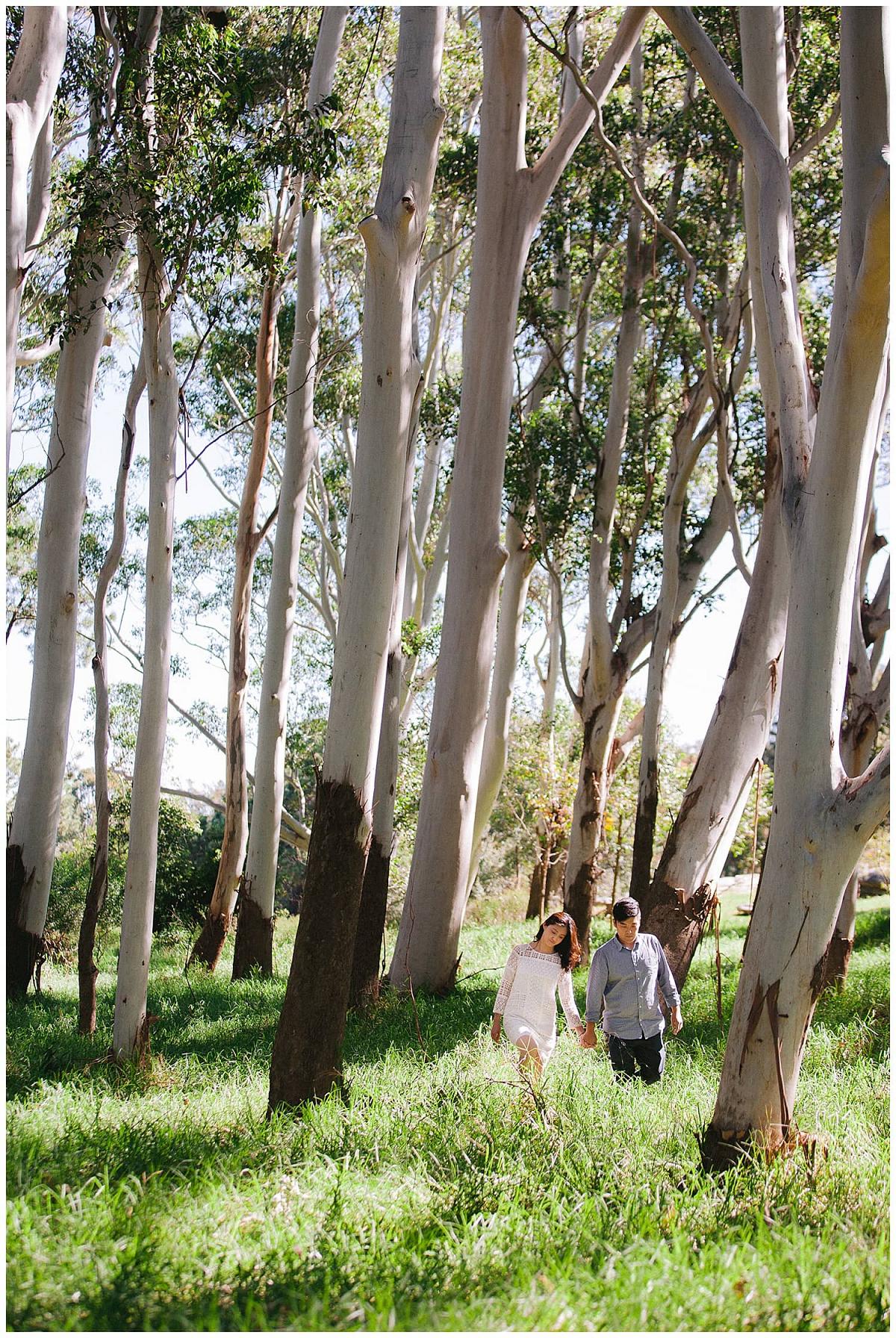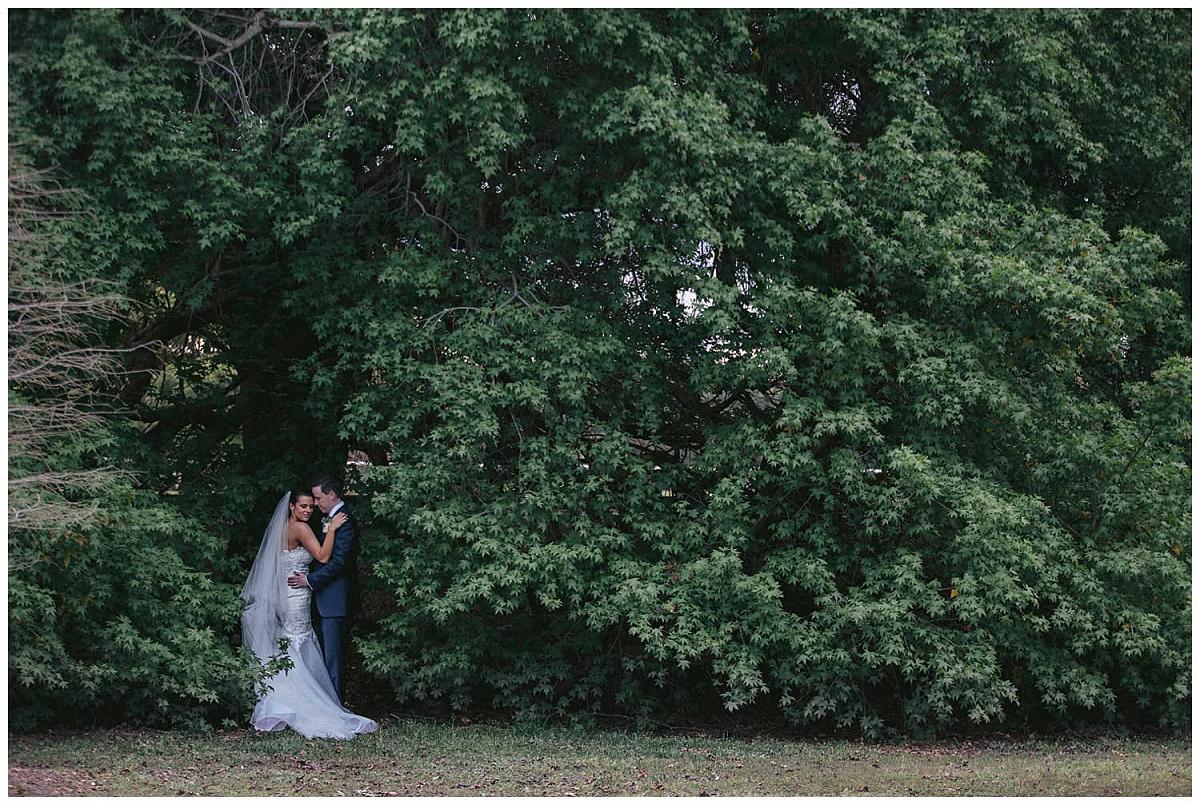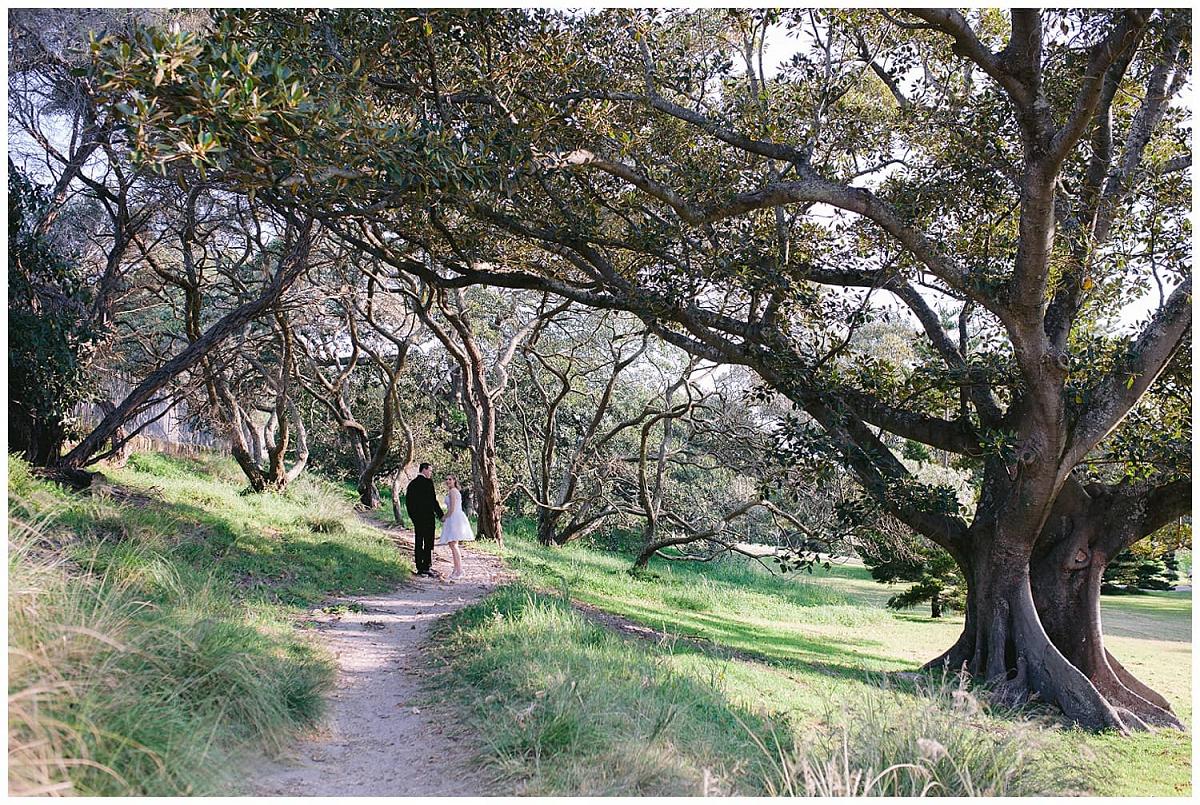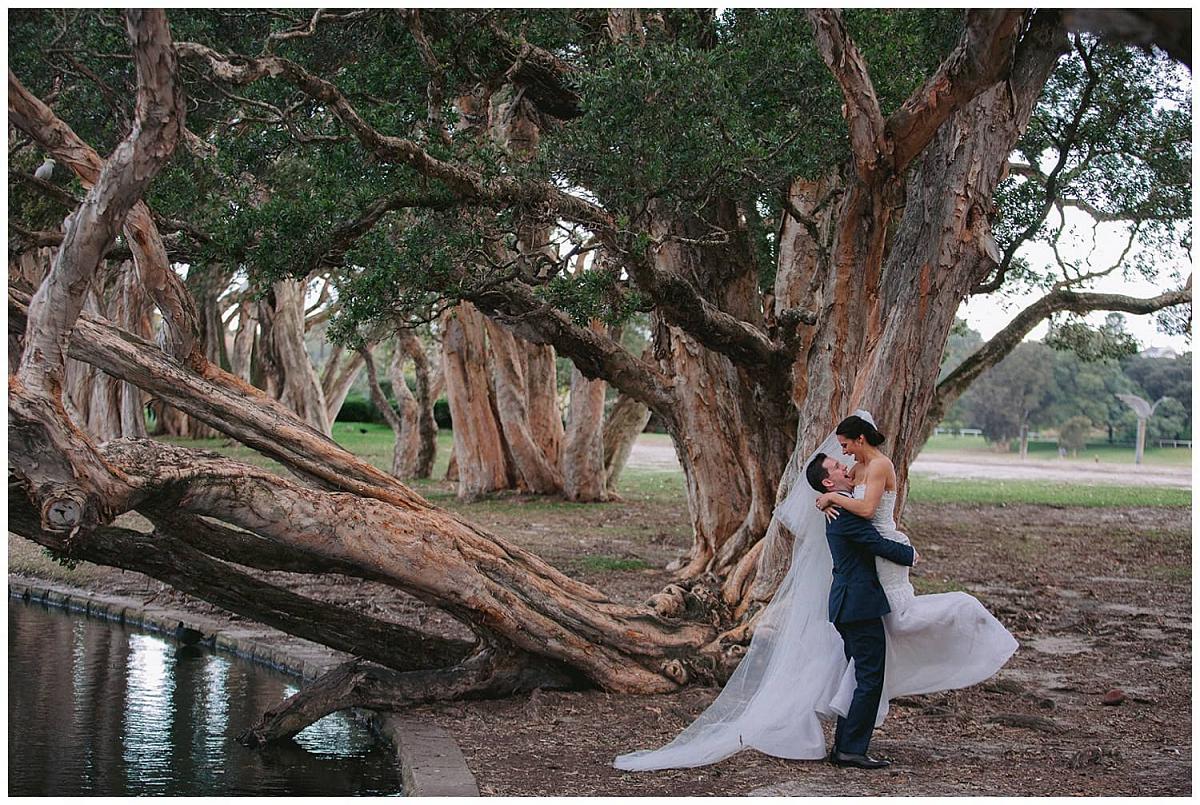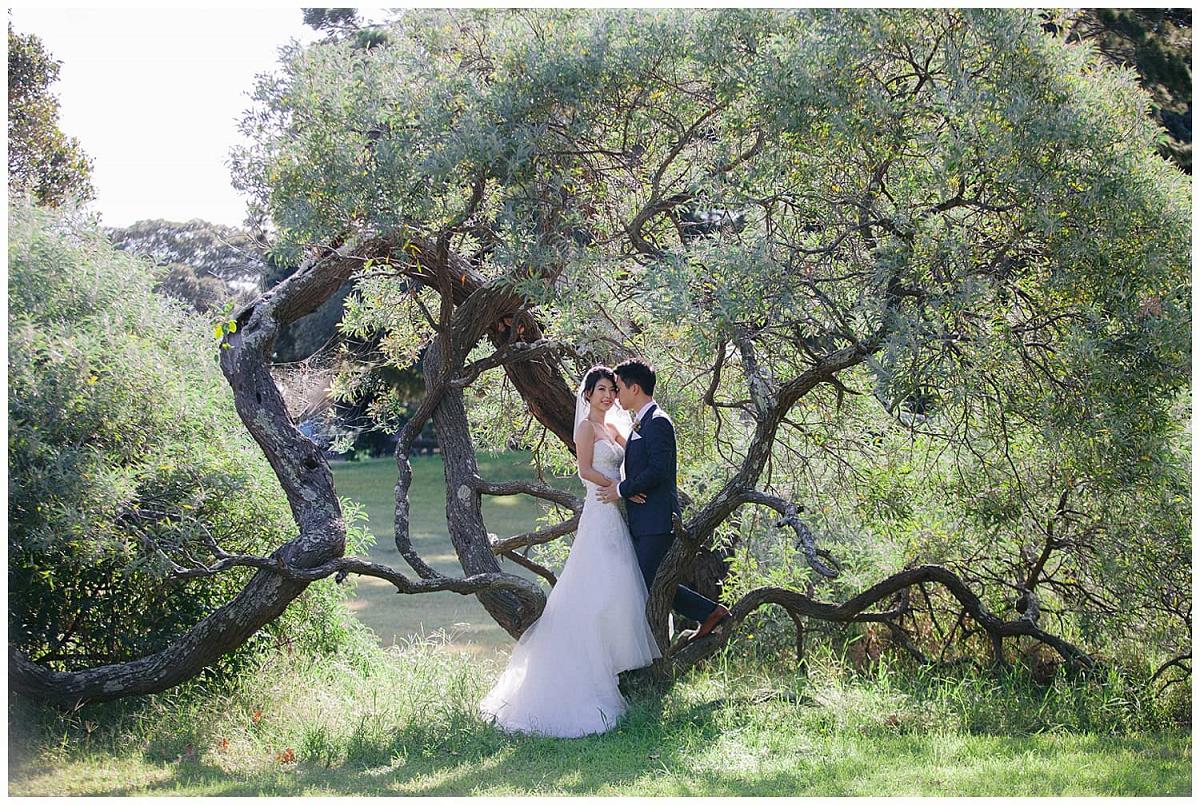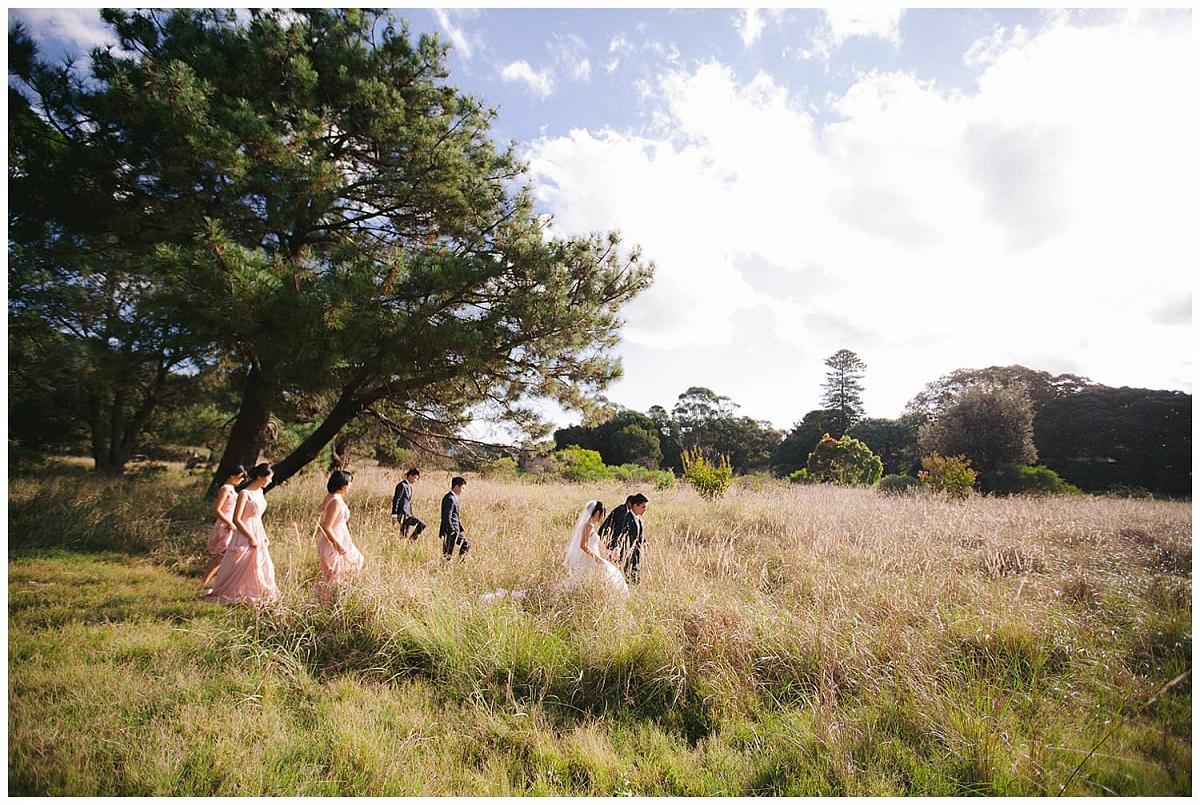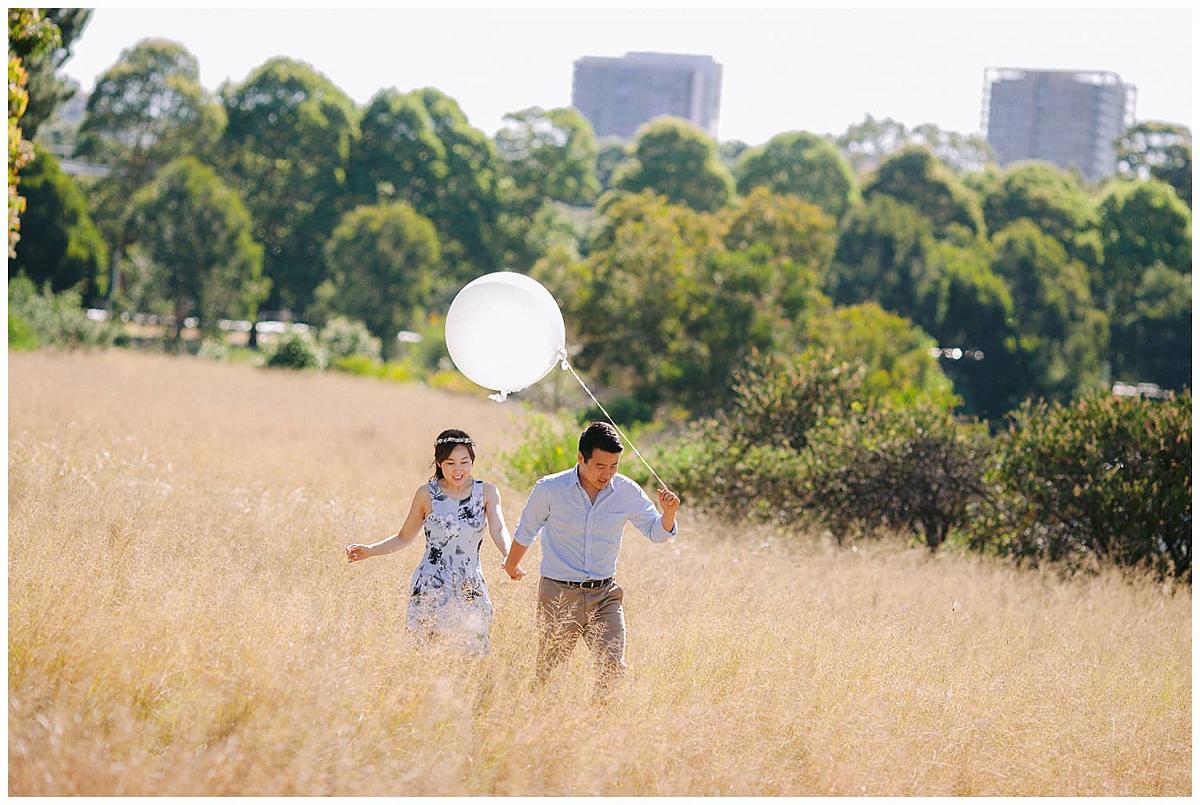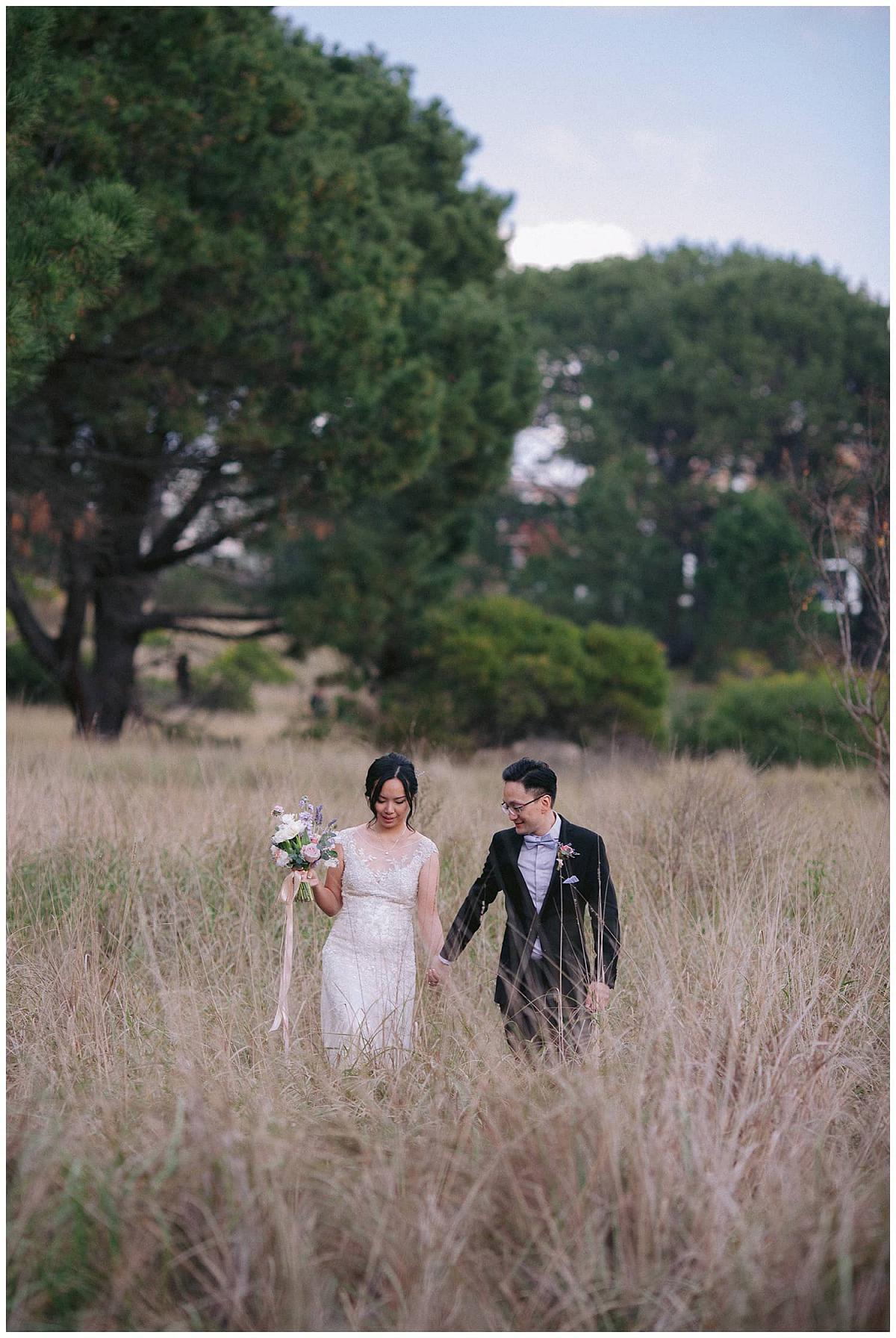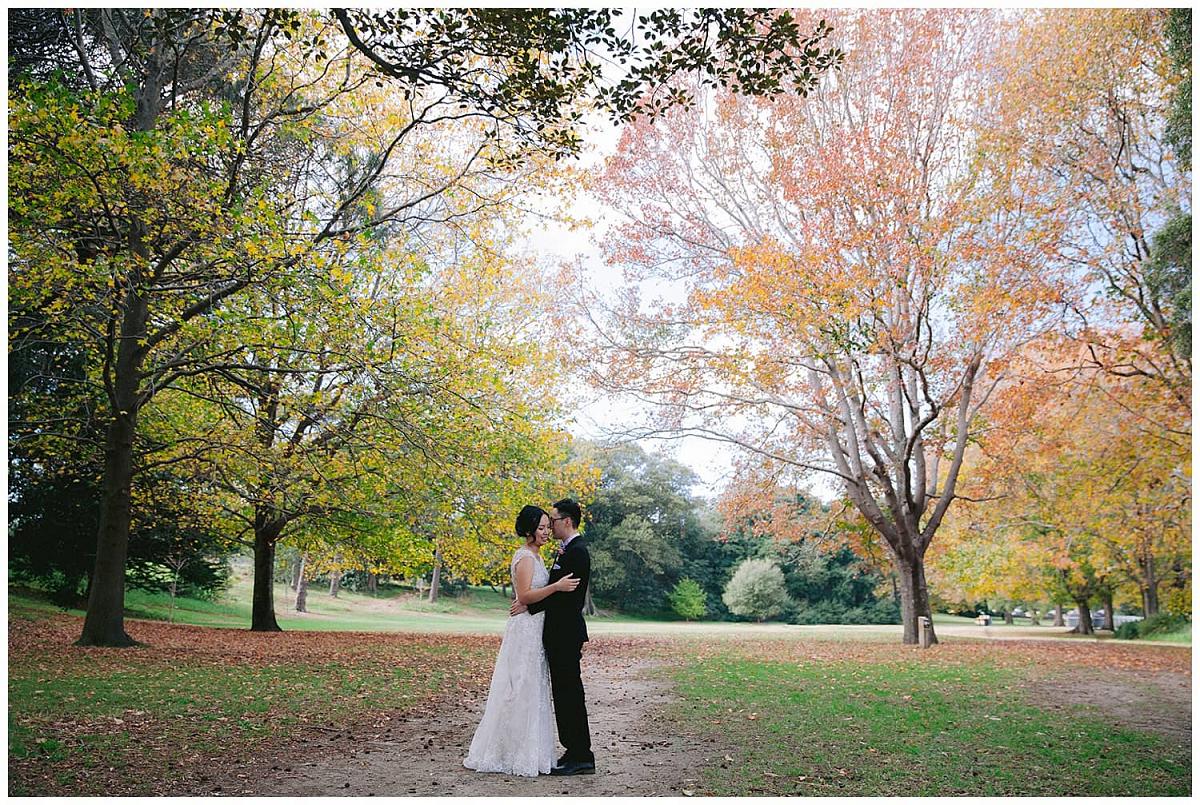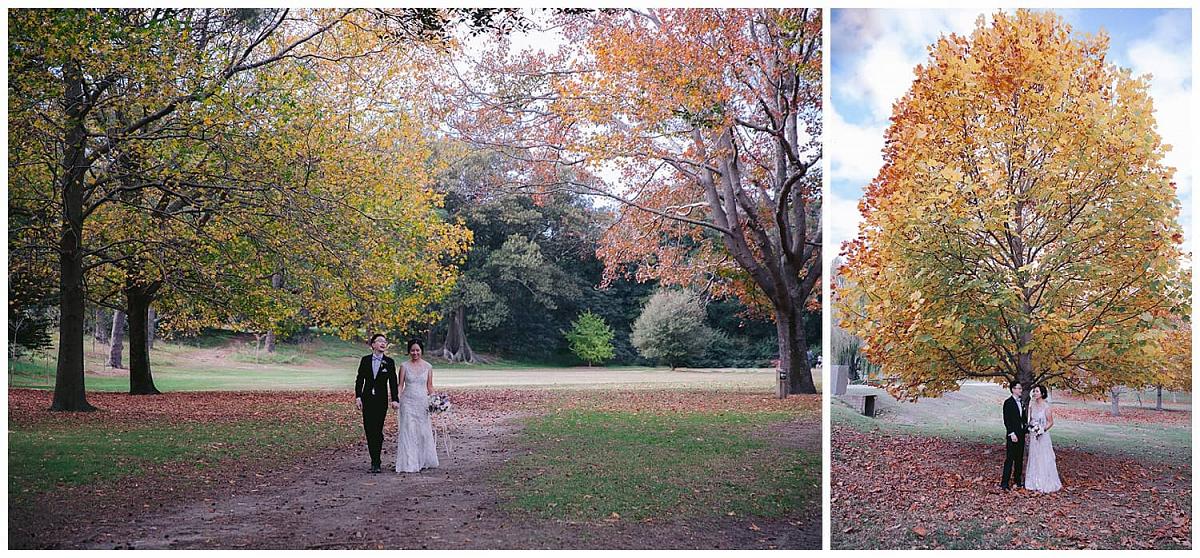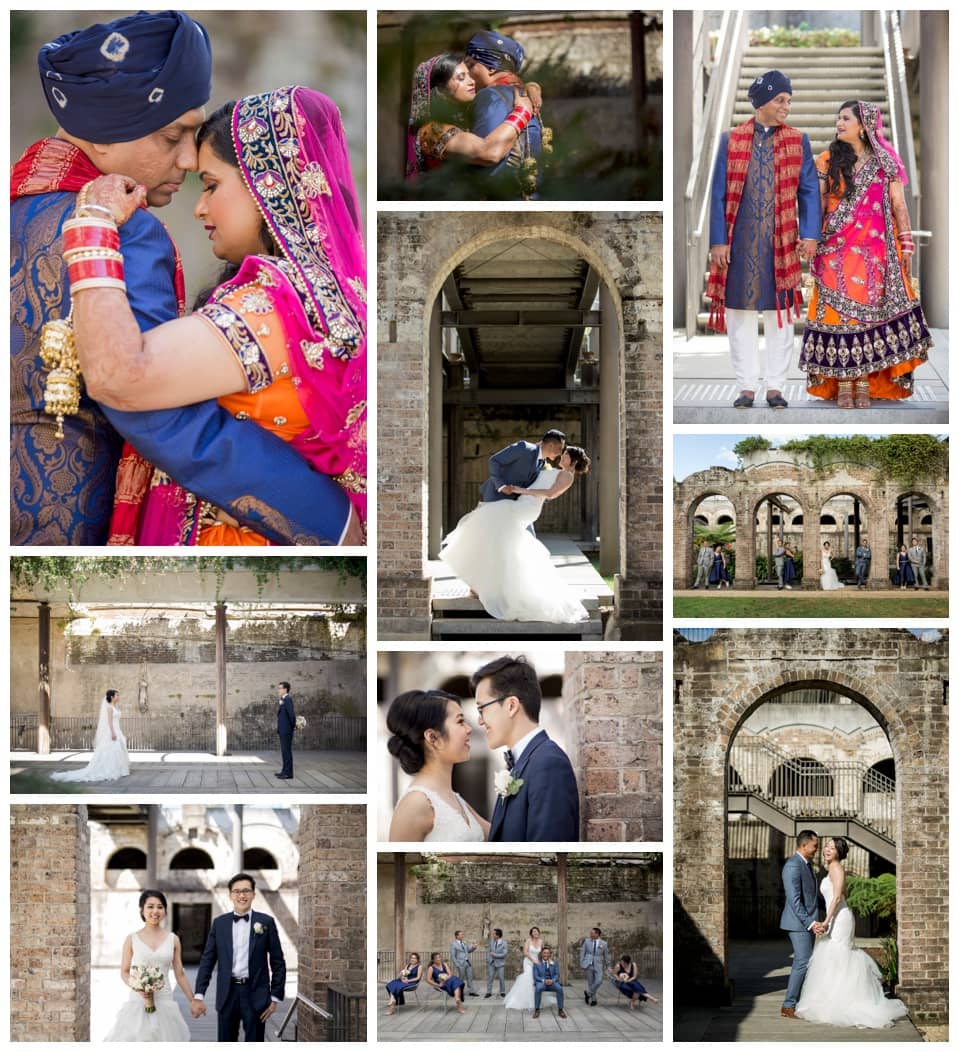 Mosman
Beautiful beaches and waterfront views of the Harbour are what make Mosman a popular photography location. It's a nice combination of city and nature, which make for some stunning wide view and sunset shots. Also, you can't go wrong with a beach shoot.
Things we like:
The bridge at Balmoral Beach--great for walking shots and shots of the whole bridal party
The pier at Bradley's Head gets you right next to the water and allows for some beautiful photos of you two with the Sydney skyline behind you
The beach at Clifton Gardens makes for a fun and more casual photoshoot. Some photos on the bridge will have you looking like you're straight out of an advertisement
Old stone brick structures at Gunner's Barracks. The simplicity puts all the focus on you, the couple.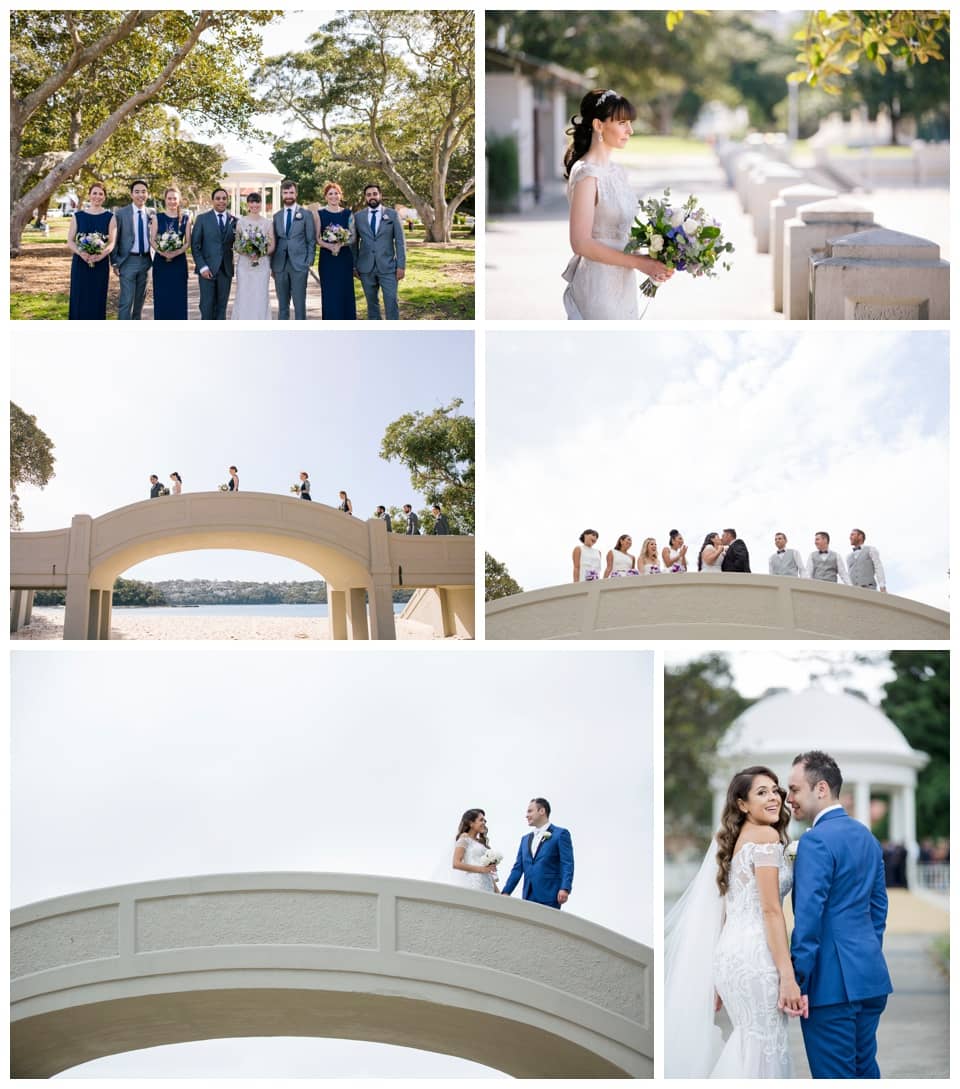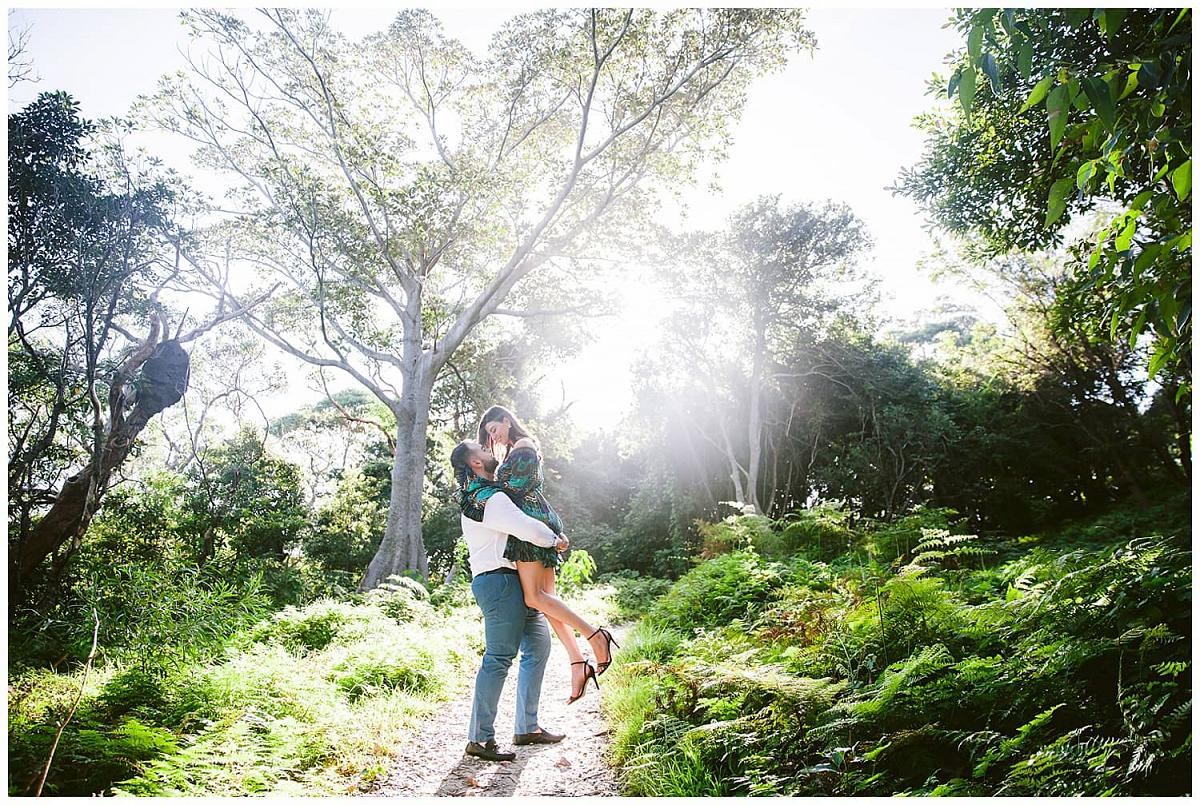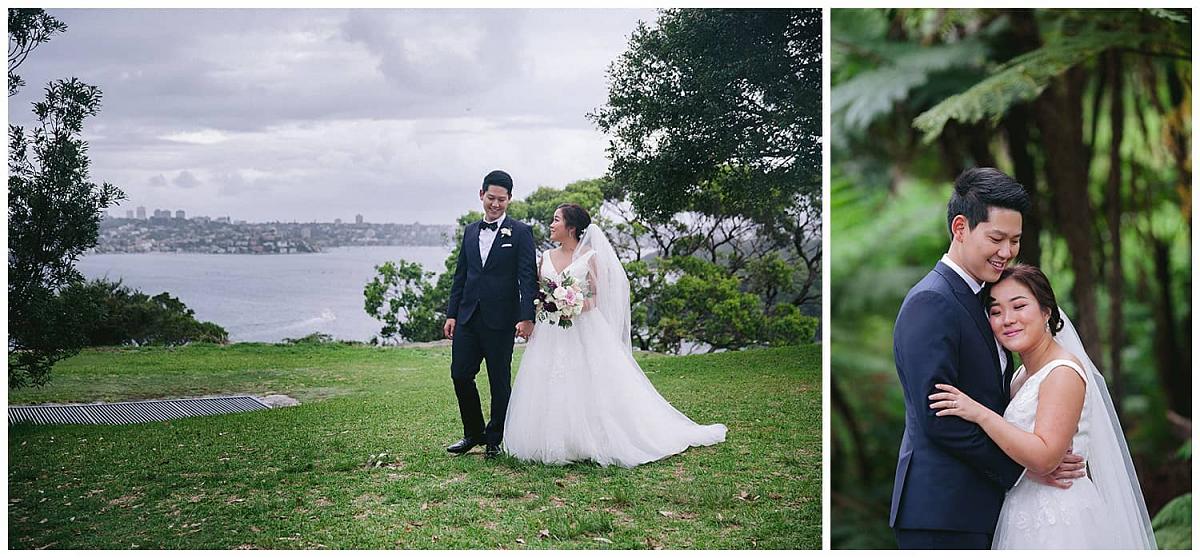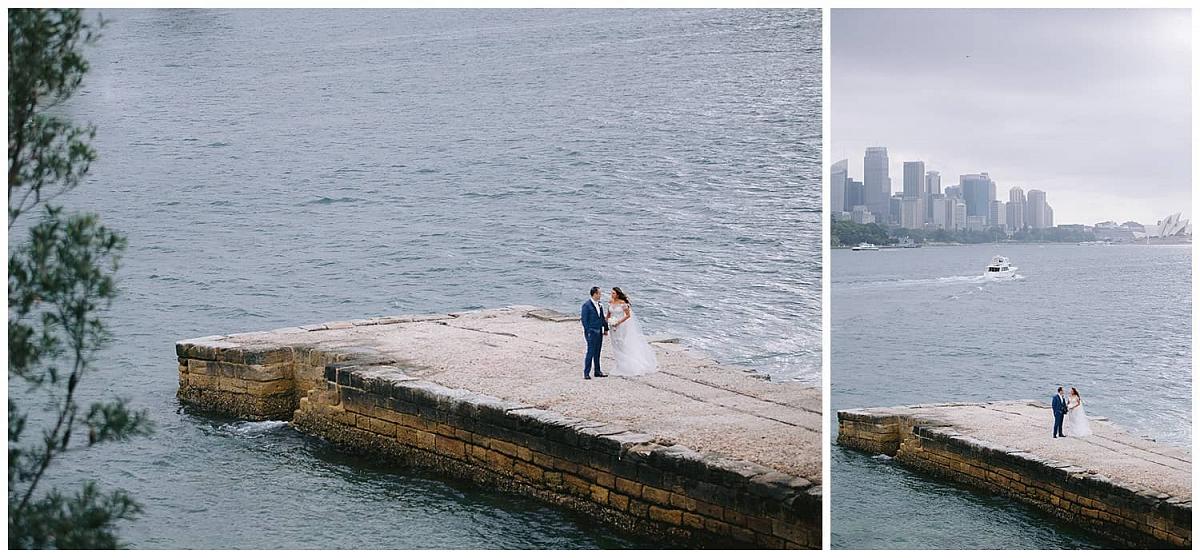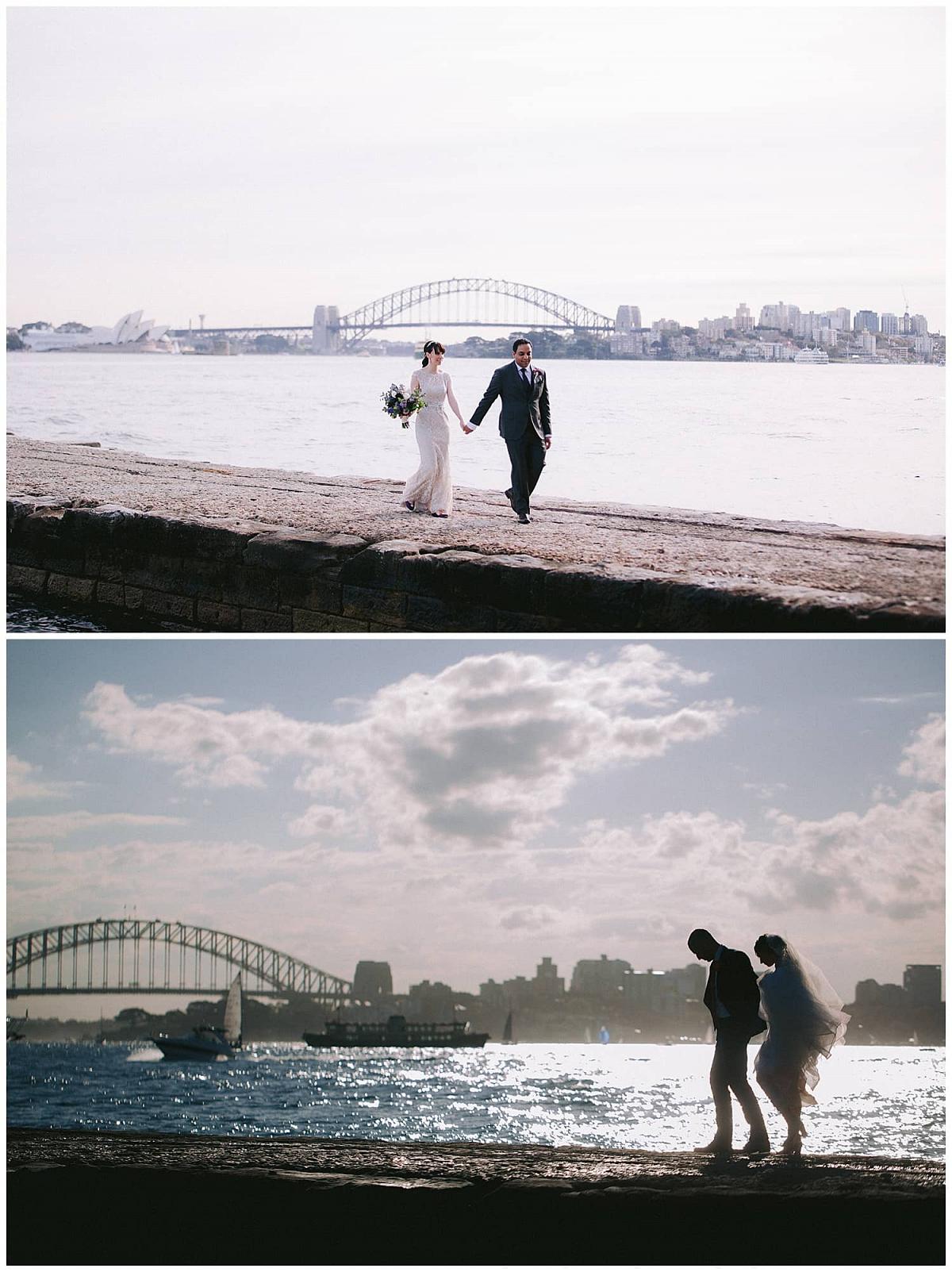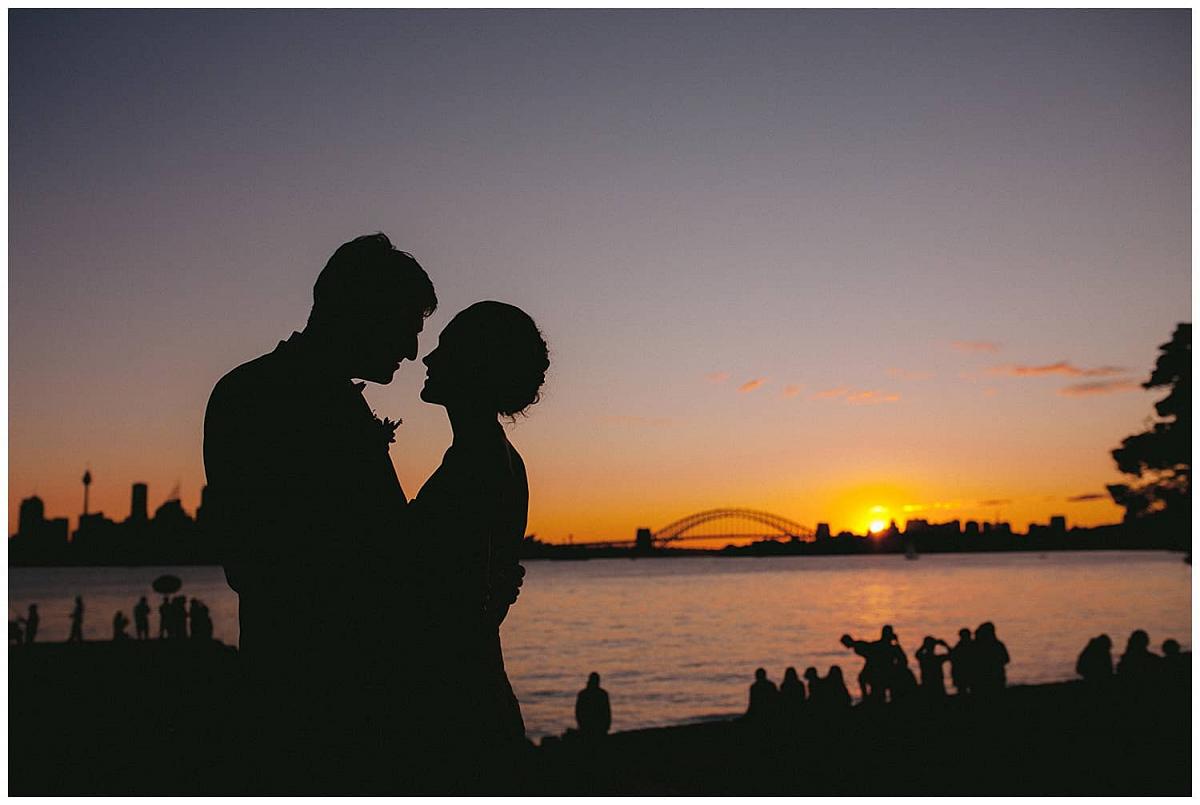 Royal Botanical Gardens Sydney
Like we've said before, you can't go wrong with nature for your wedding photography. What makes the Royal Botanical Garden stand out are the different types and colours of flora you can have as your backdrop. There are some pink flowers, lavender, and even some cacti planets which add some texture and pop to your wedding photos.
Things we like:
You can choose to get married in the rustic looking chapel or lawn at the premises or the local church for couple prefer a more formal ceremony.
Plenty of photo locations at the premises.
Split level of the reception hall offers aerial shots
You can organise lawn games for your guests during your bridal portraits session.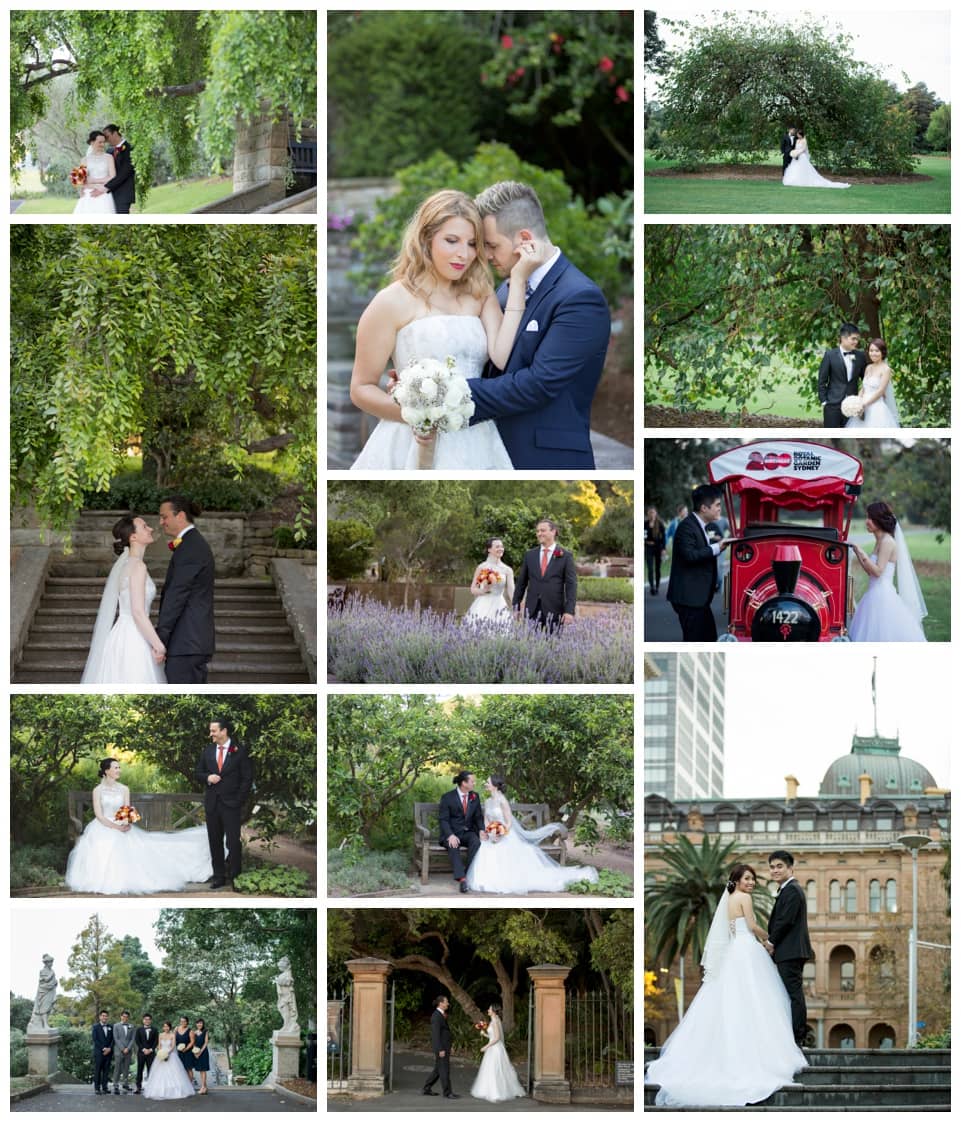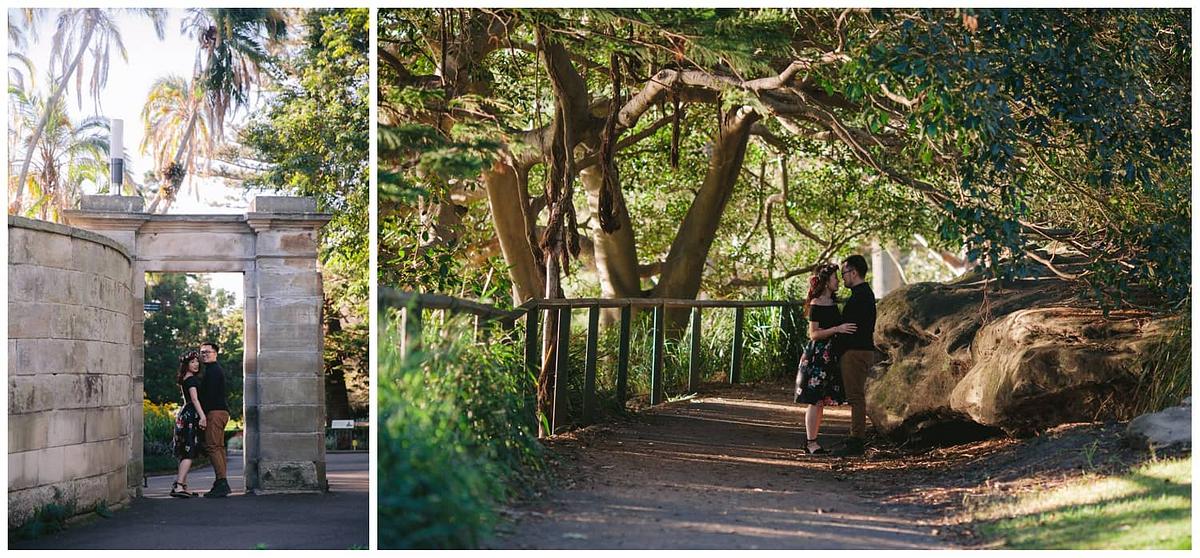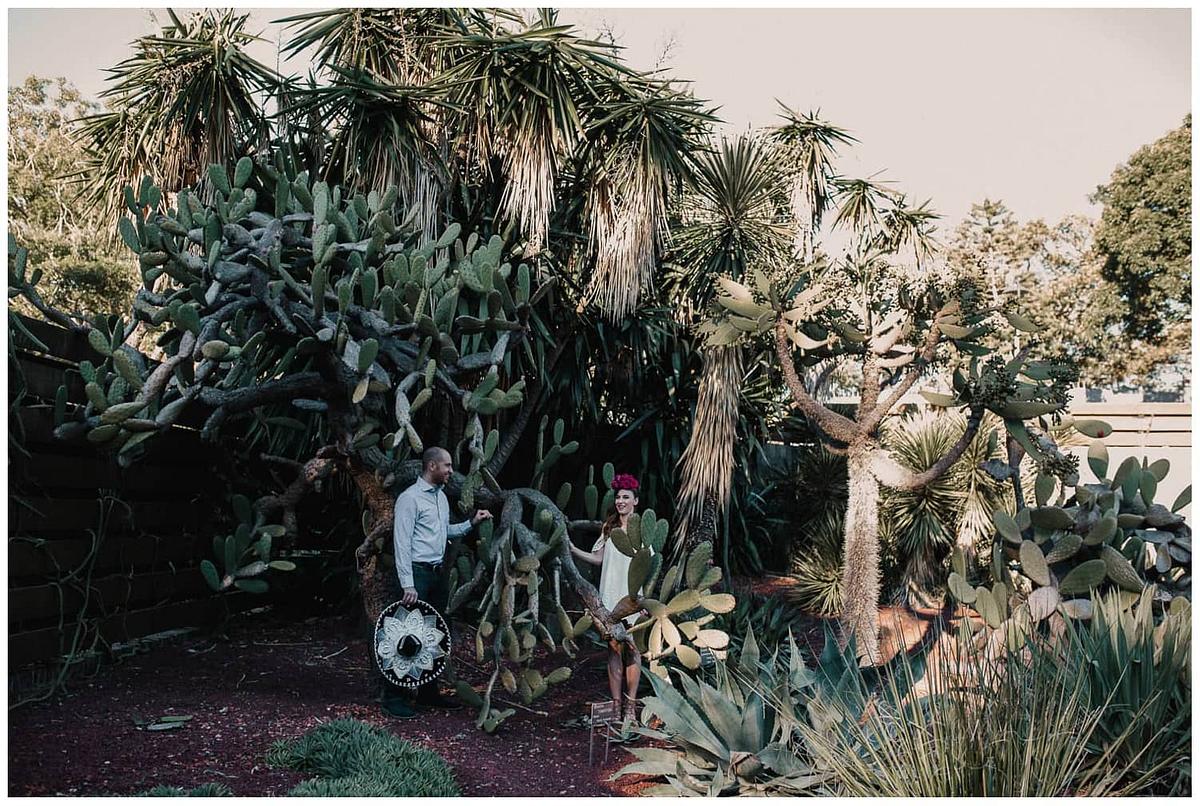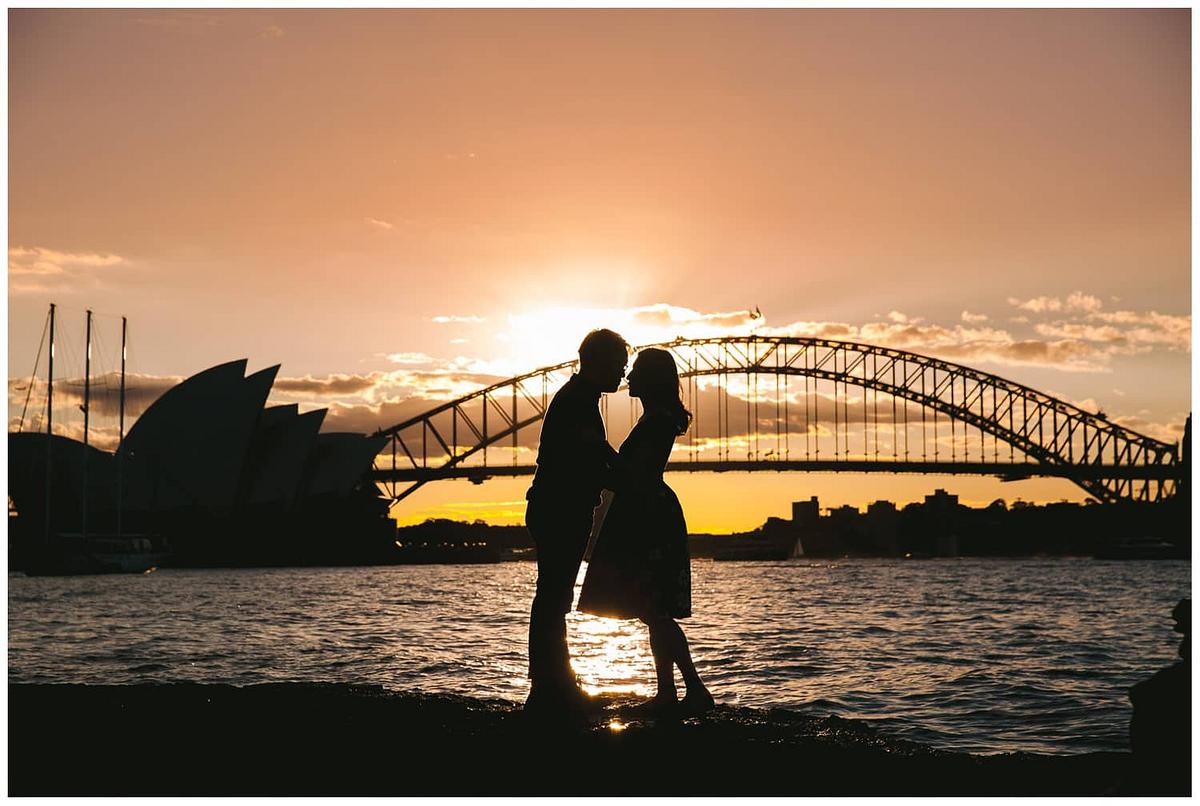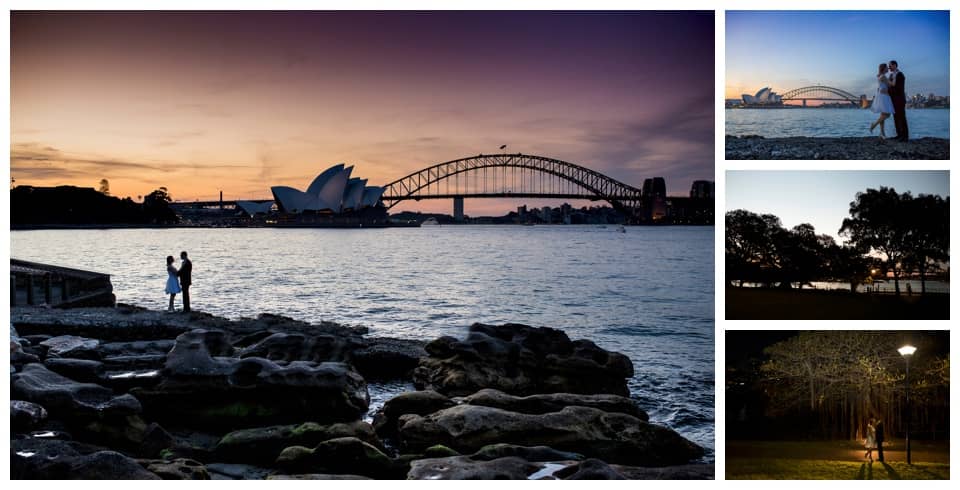 Eden Gardens
This private garden space in Macquarie Park provides a diverse range of flora, different types of gardens, and unique sculptures located throughout the gardens for wedding photography. This location may also be used as a ceremony and reception venue, which allows you to have your entire wedding in one place.
Things we like:
If you're having your wedding at close by wedding venues like Curzon Hall, Oatlands House, Lauriston House, and Epping Club, Eden Gardens is an ideal choice for you. Instead of spending an hour or so in travelling to the Botanical Gardens or Centennial Park, Eden Gardens is just minutes away.
Seasonal Gardens that vary throughout the year, giving you a backdrop that matches the time of year of your wedding
Variety of plants, flowers, and even brick structures around the garden can give a fairytale feel to your photos
The Eden Unearthed art exhibition. These sculptures are meant to interact well with its garden surroundings, and they add an extra artistic touch to photos.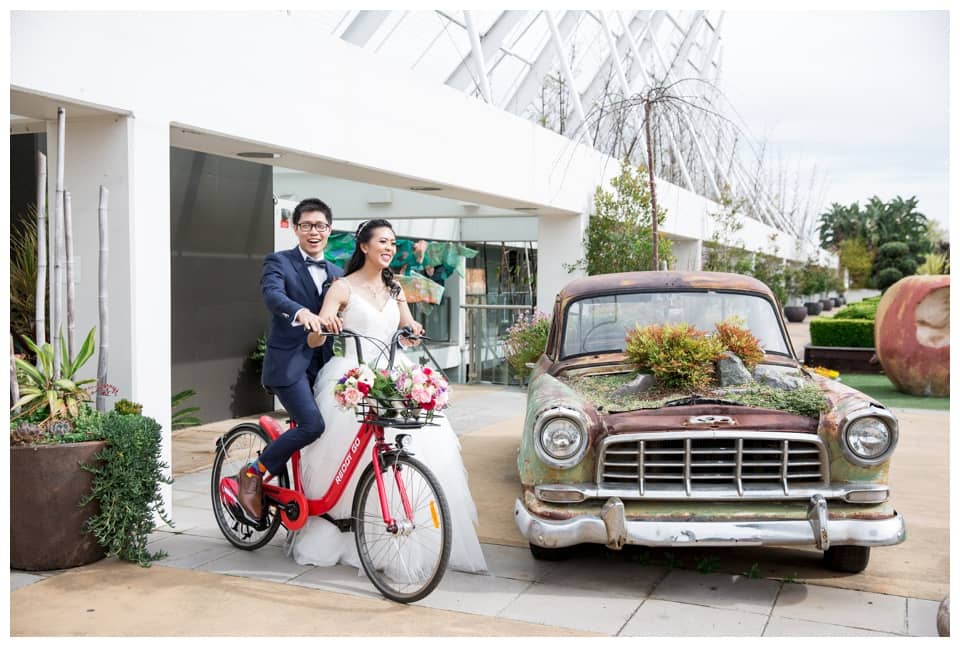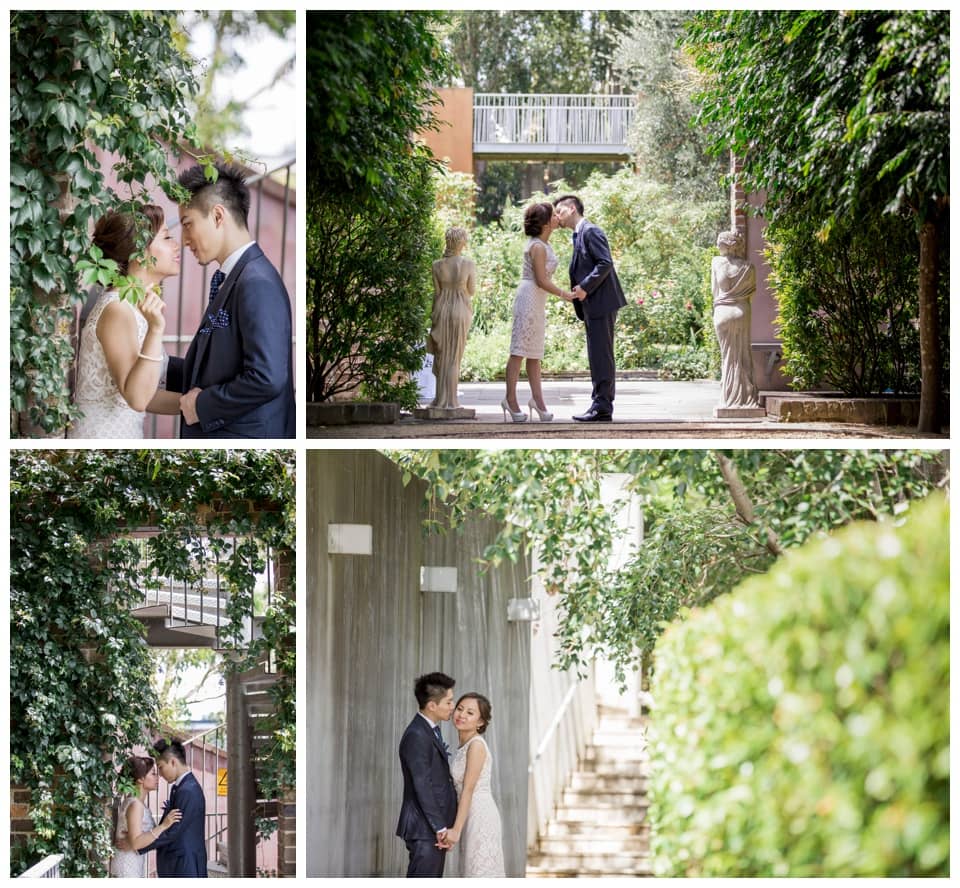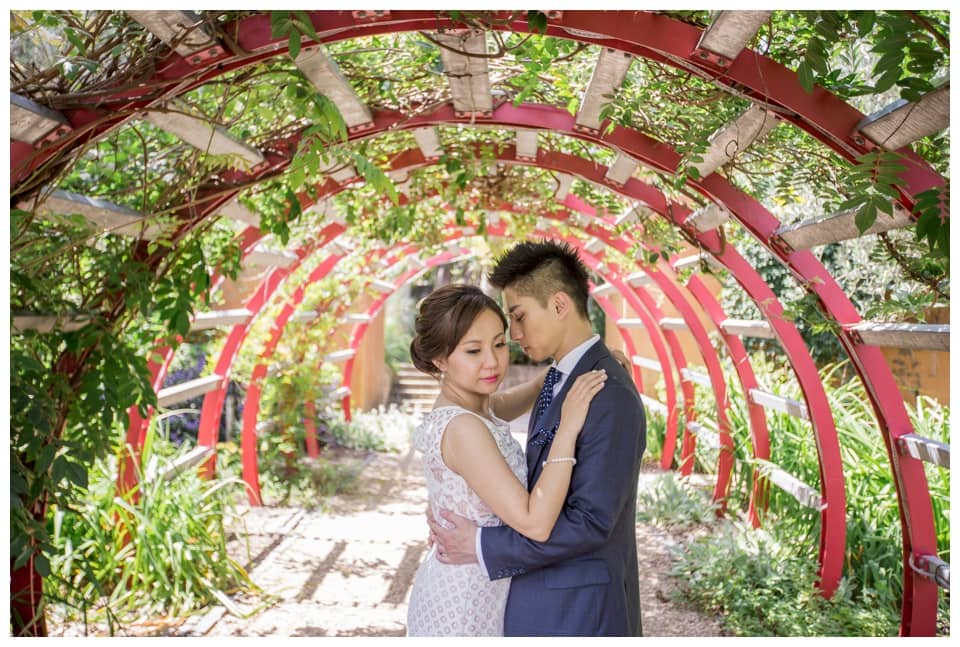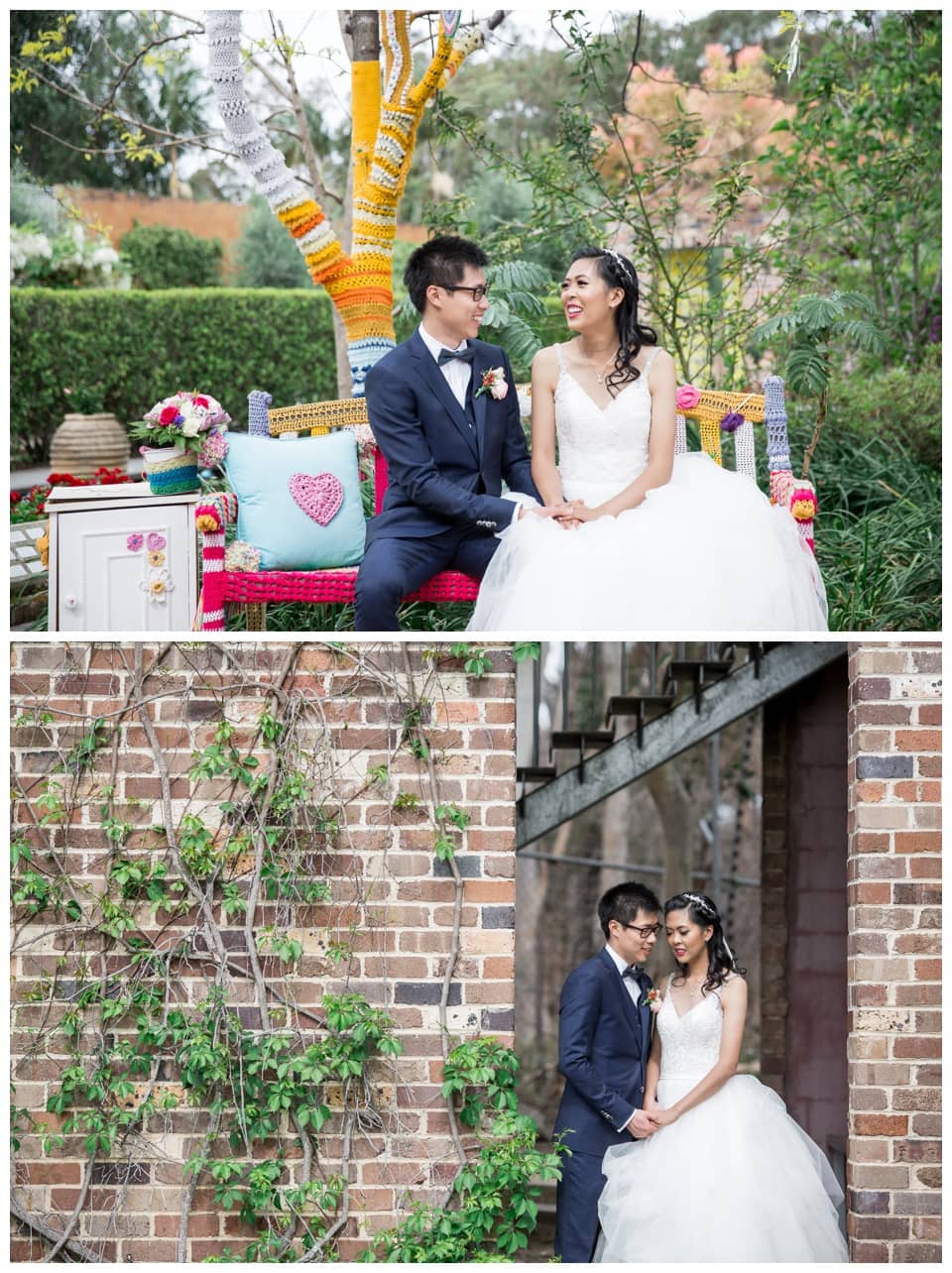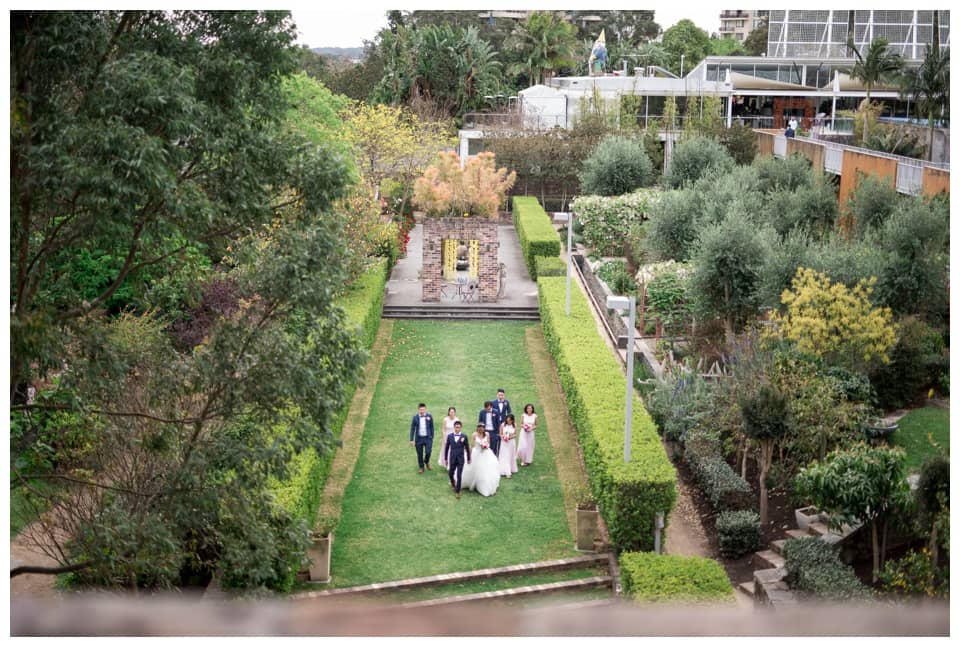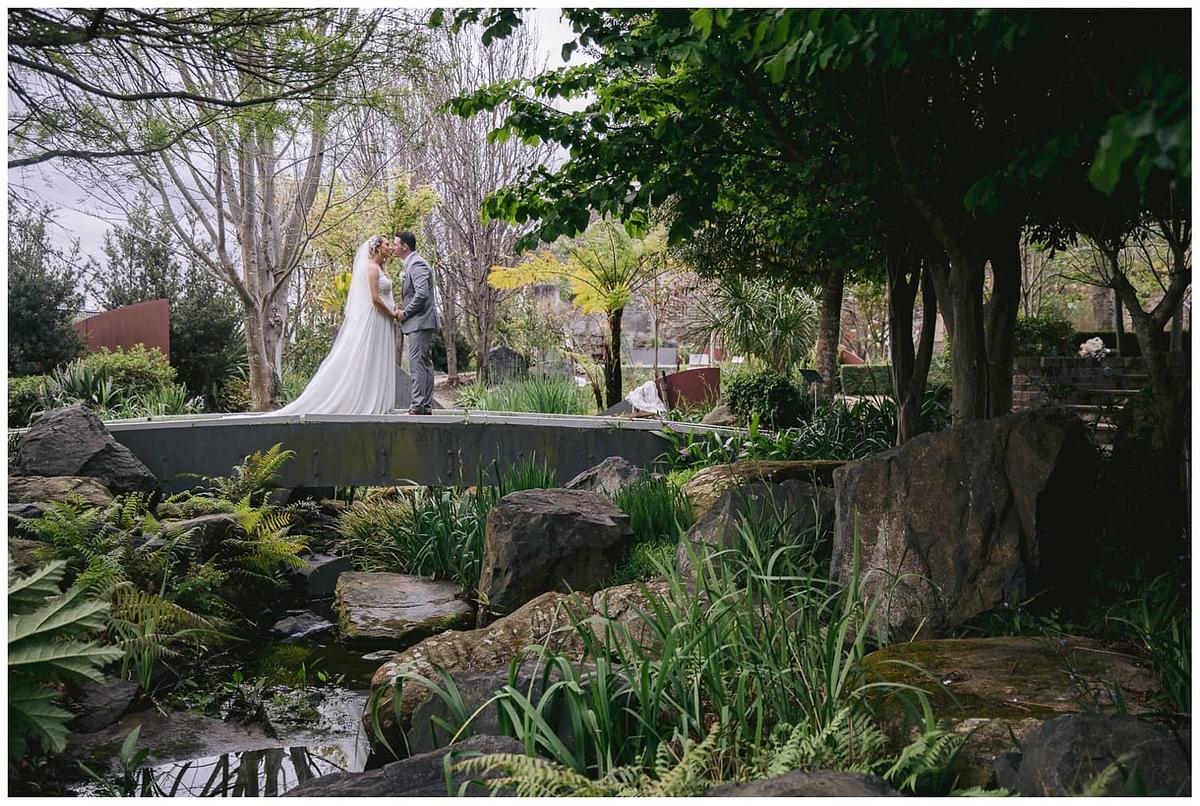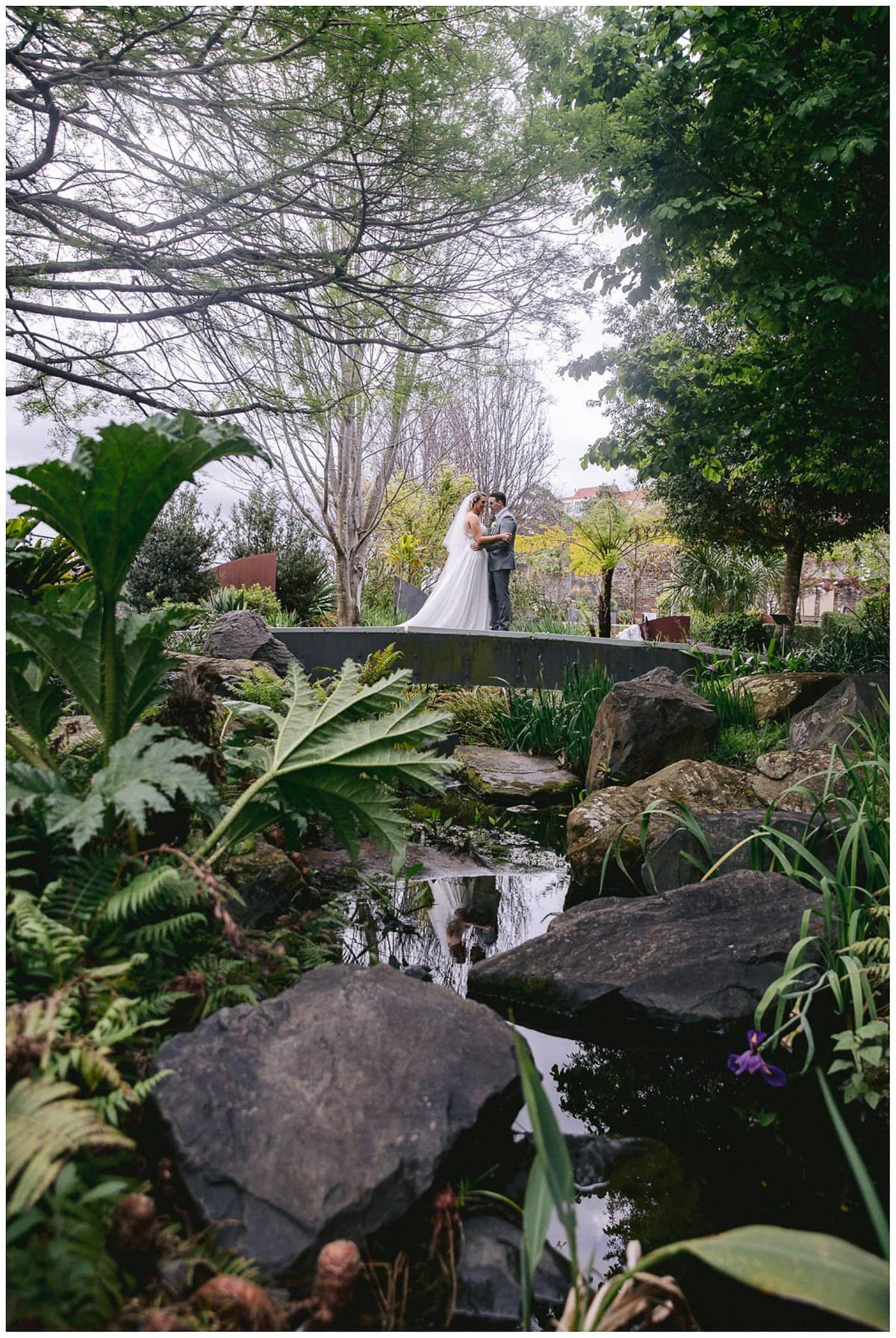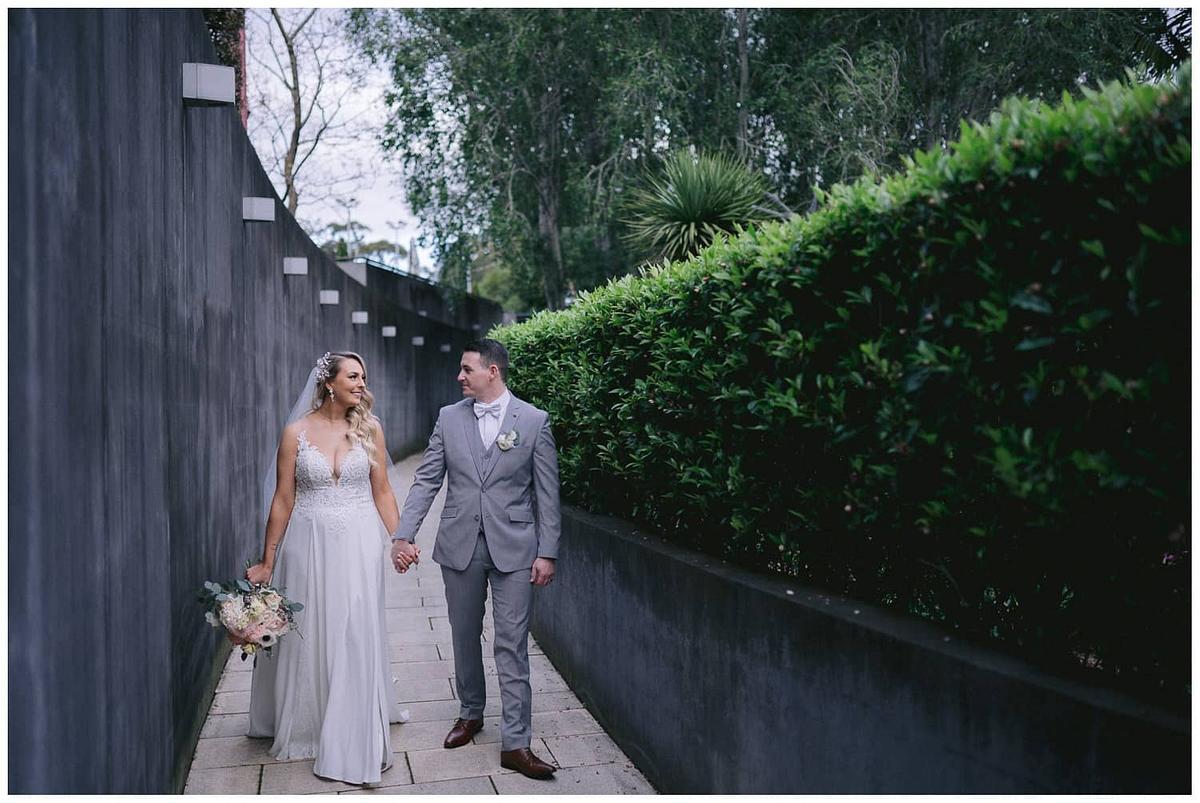 QVB
If you prefer to have photos indoors or if it happens to be raining on your wedding day, then the QVB is a beautiful place to have indoor wedding photos that are more than just walls. Grand staircases, stained-glass windows, and the height allow for a lot of backdrops and variety for your wedding photography.
Things we like:
The staircases. They allow us to experiment with height and add dimension for your photos, whether it is you walking down the stairs or us taking photos from above.
The architecture of the arches and detailed moulding add a vintage feel and make your photos feel more grand
Variety of coloured walls add a nice pop and stand out
Because it is a busy shopping centre, you can even get some great moments of you and your partner lost in your own world amidst the craziness and movement of people around you.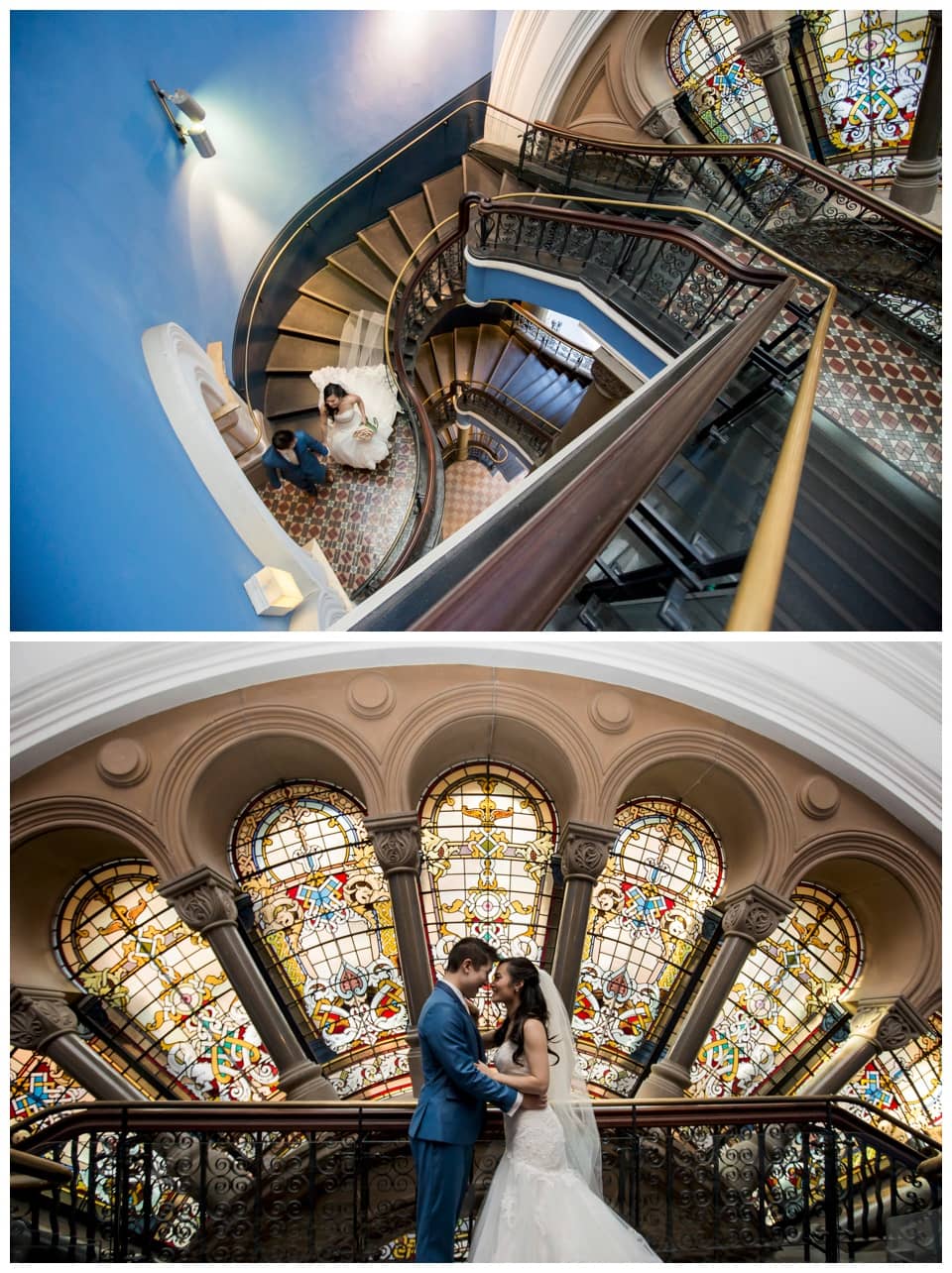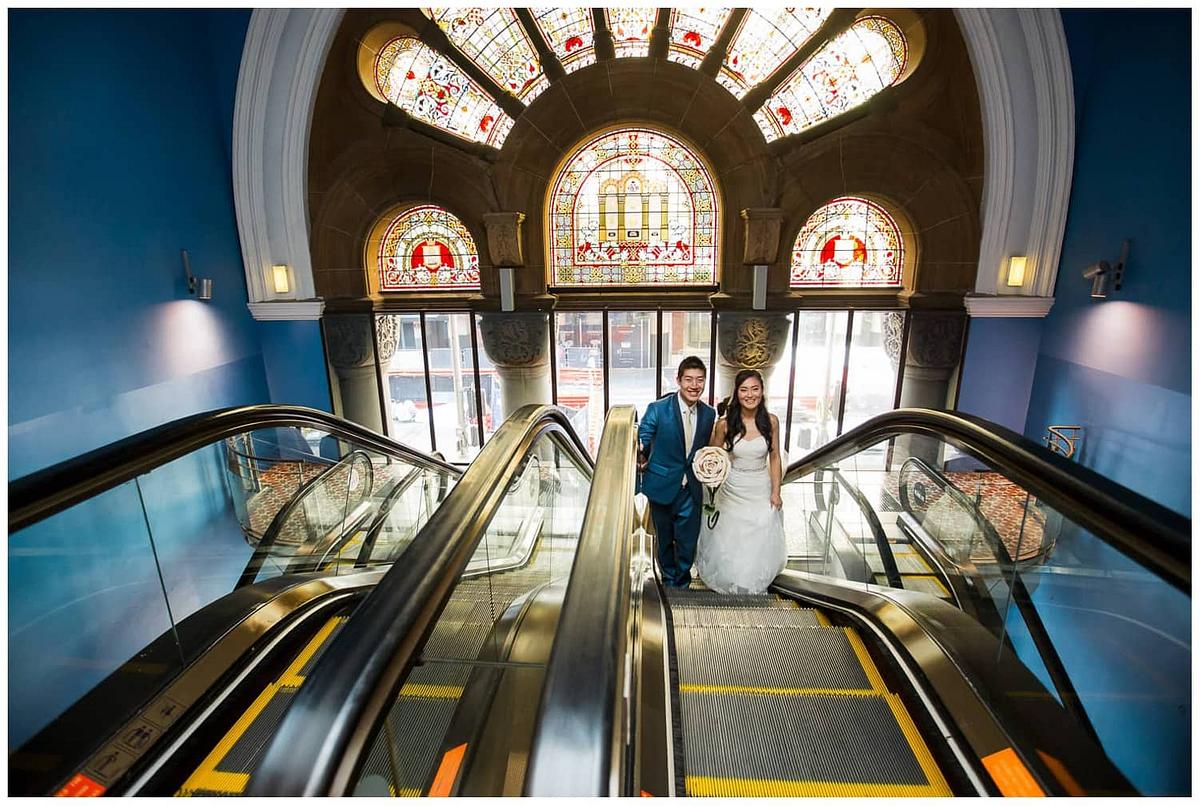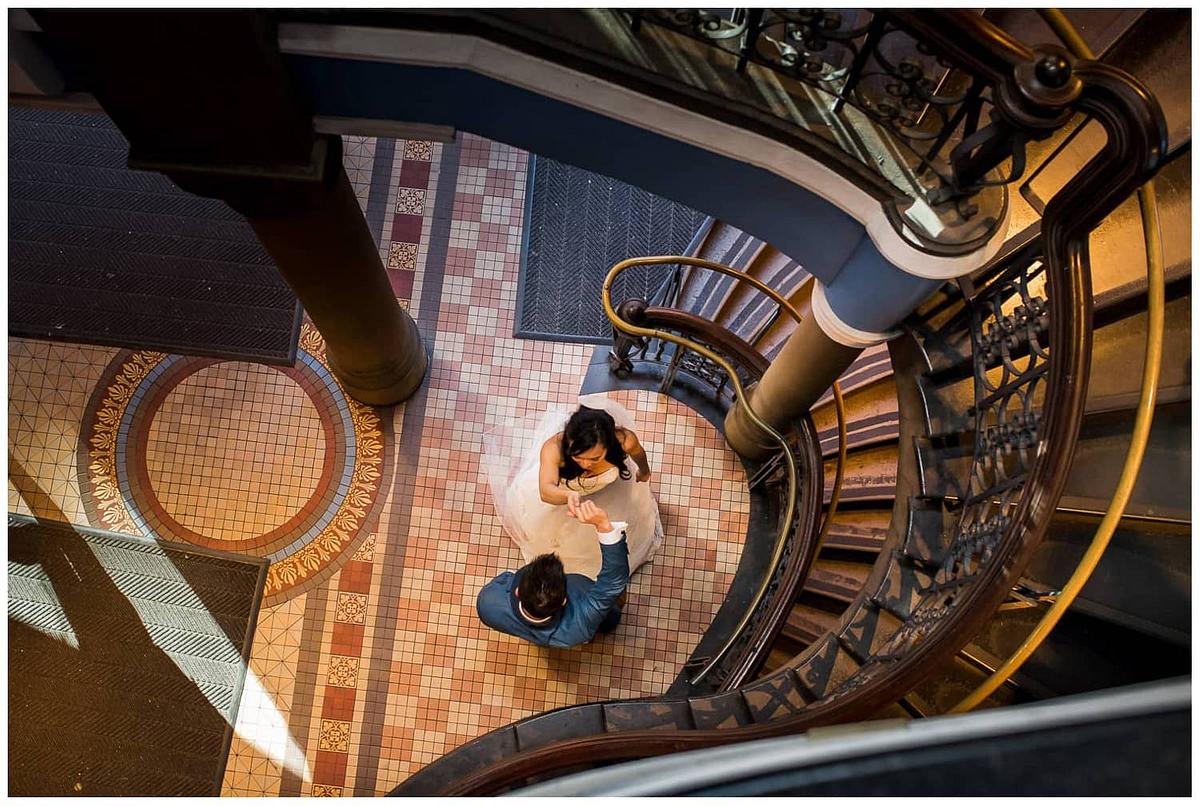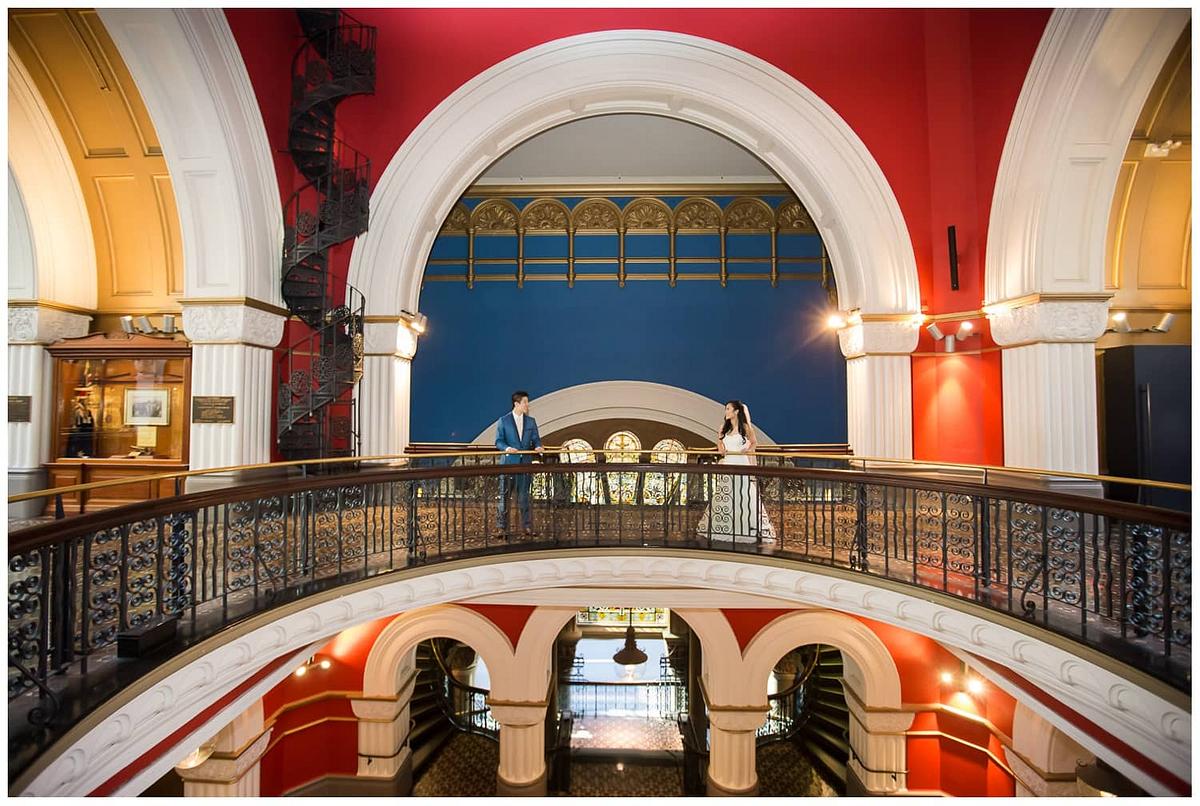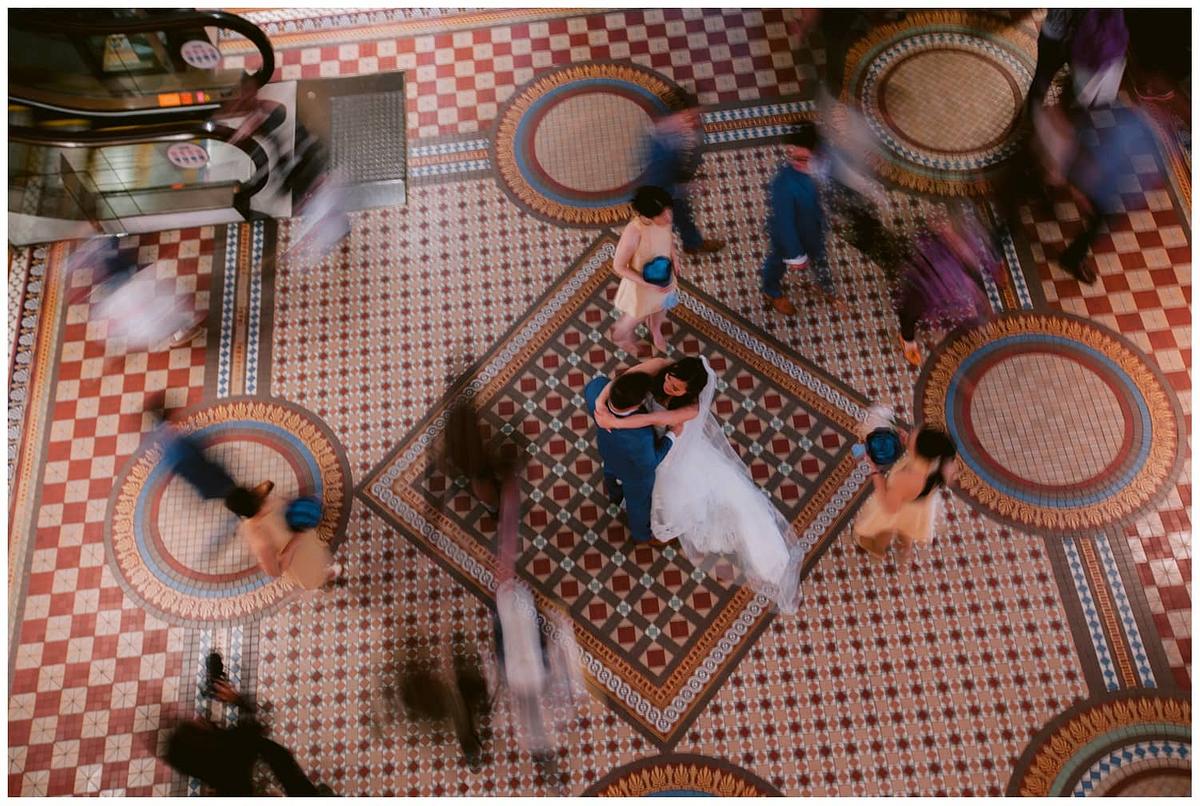 Martin Place
Martin Place is one of the most well-known business and finance centres in Sydney. What makes it stand out for wedding photography are the many heritage sites and buildings surrounding the area that make one feel as if they are in a different time period. 
Things we like:
Heritage buildings with beautiful architecture, seen in the columns, archways, and details in the buildings themselves.
The alleyway in Angel Place filled with hanging bird cages gives a whimsical and romantic feeling to your photos.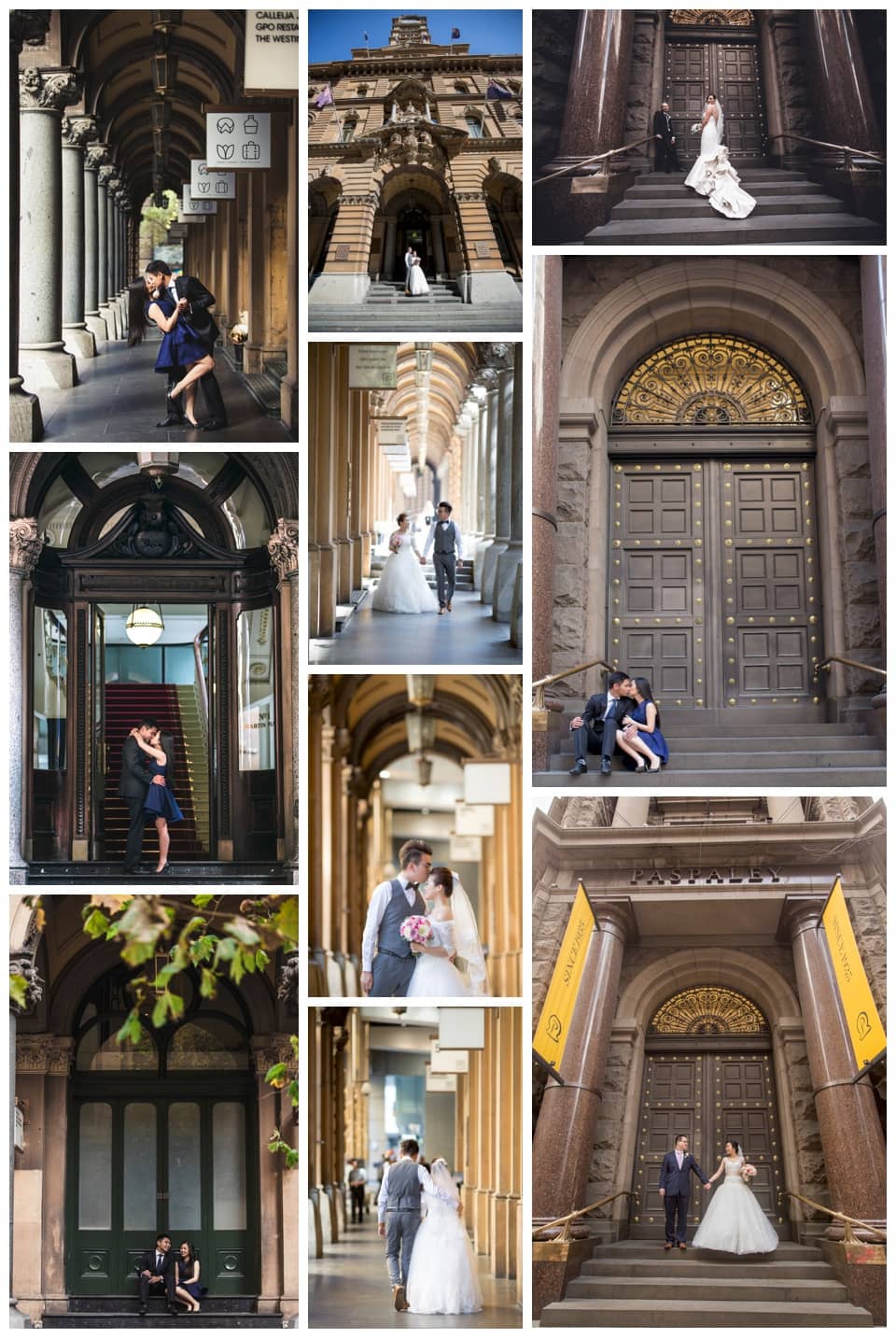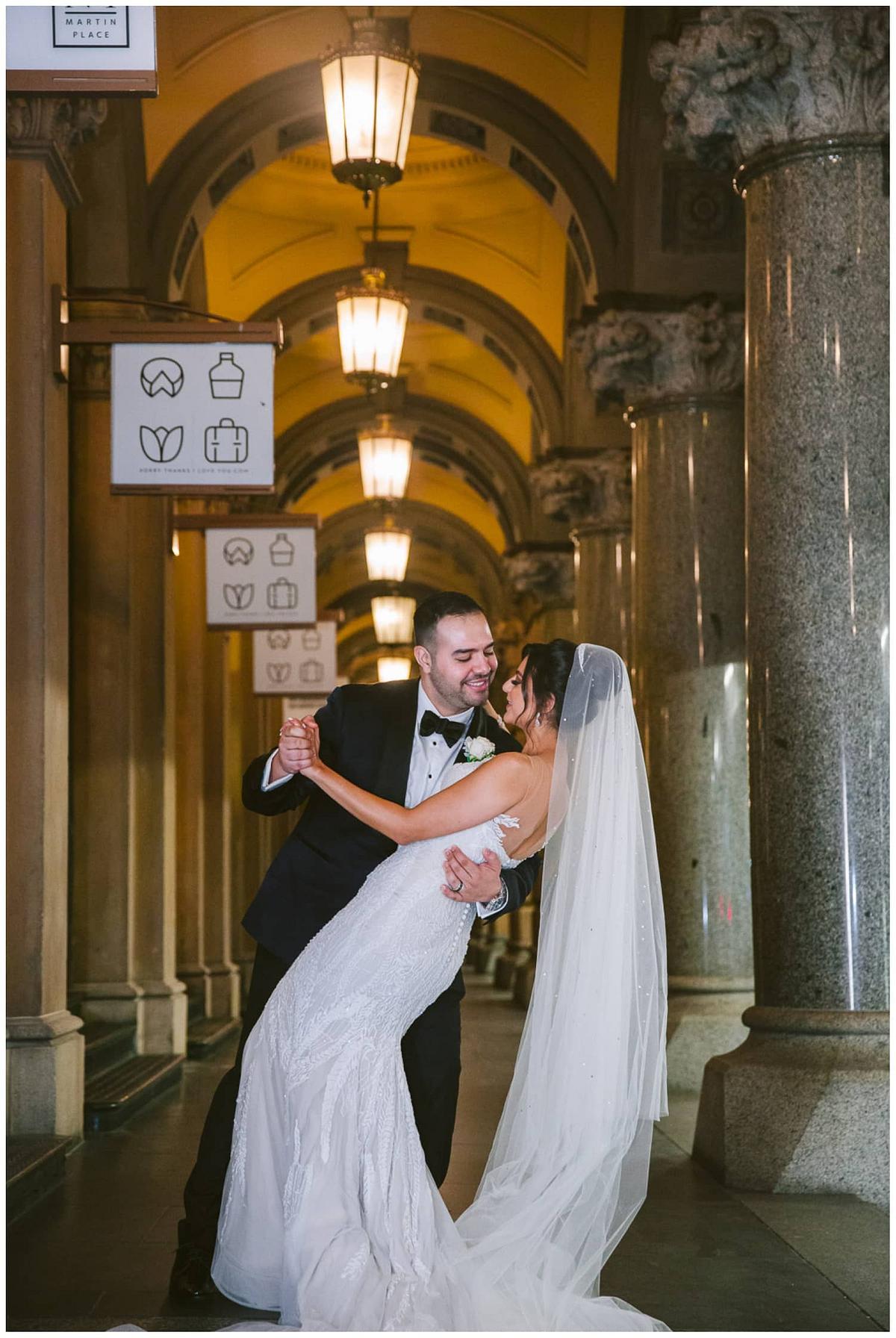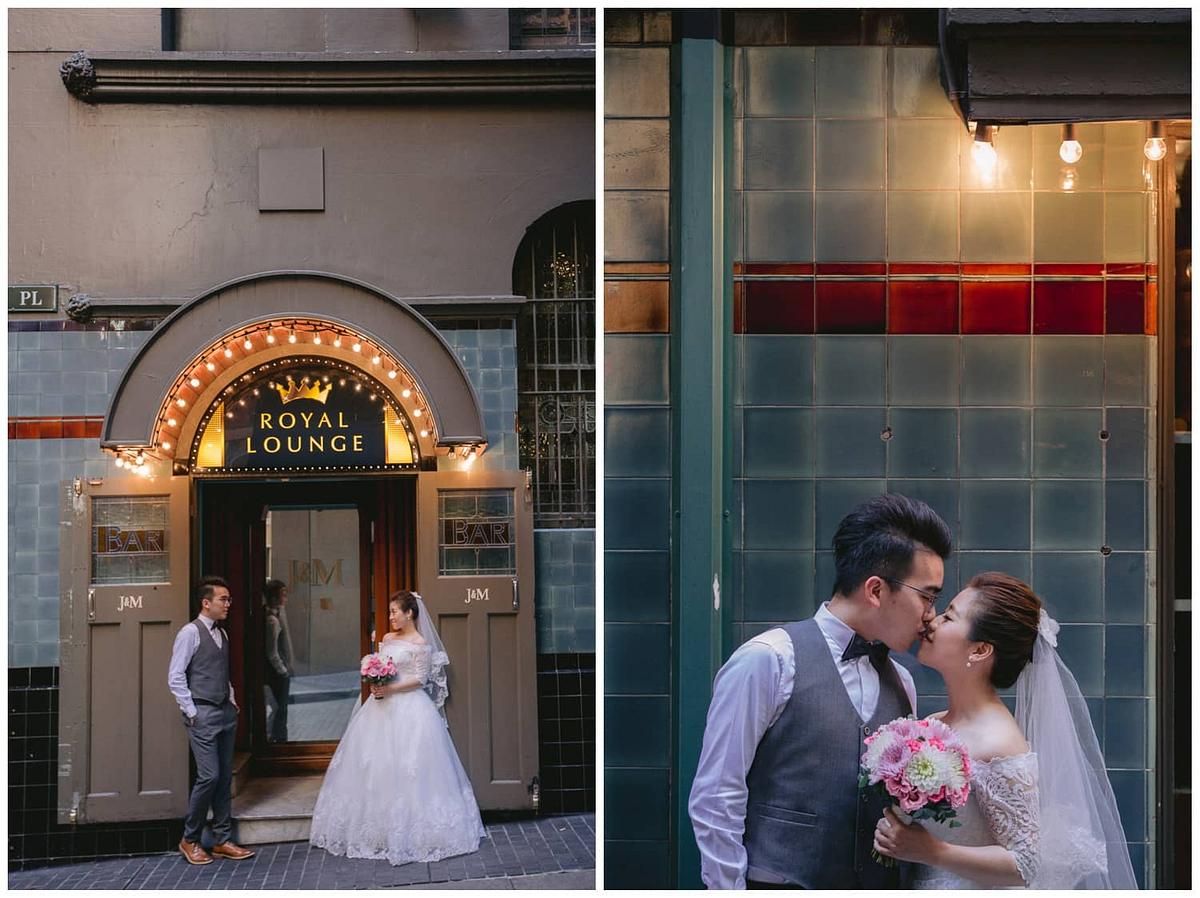 Hyde Park
Hyde Park is one of the most well-known parks and also the oldest park in Australia. Hyde Park offers 16 hectares of wide open space in the heart of the city. So, it's a very convenient place to go to add some greenery into your wedding photos collections. 
Things we like:
Archibald water fountain.
The towering tree lines along the footpath.
The light! On a sunny day, we quite often get some beautiful lights in between the trees to create dreamy look.
St. Mary's Cathedral is nearby if you wanted to have a traditional wedding in the city.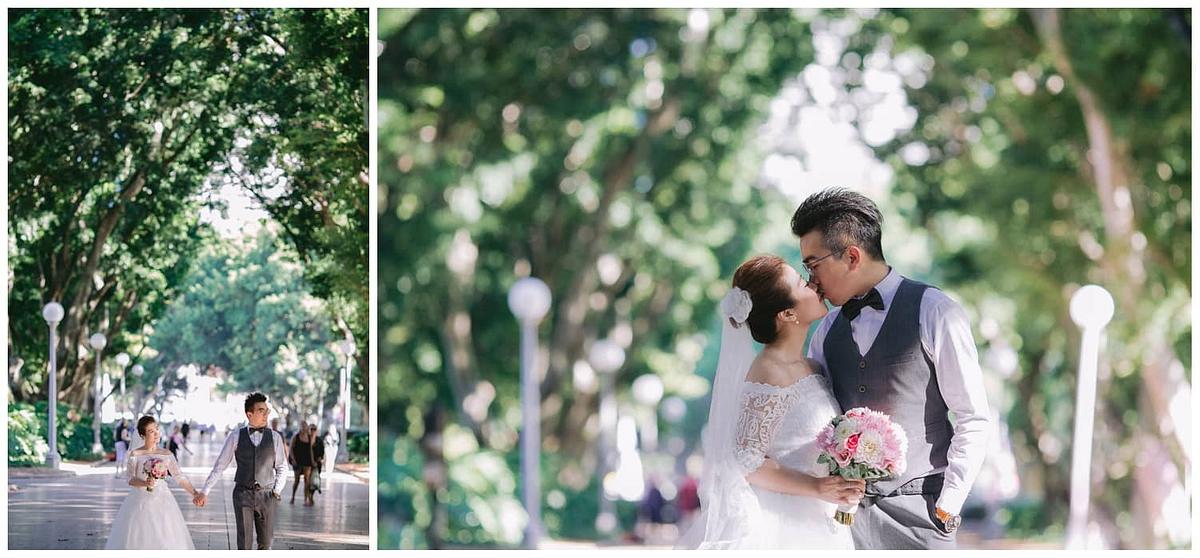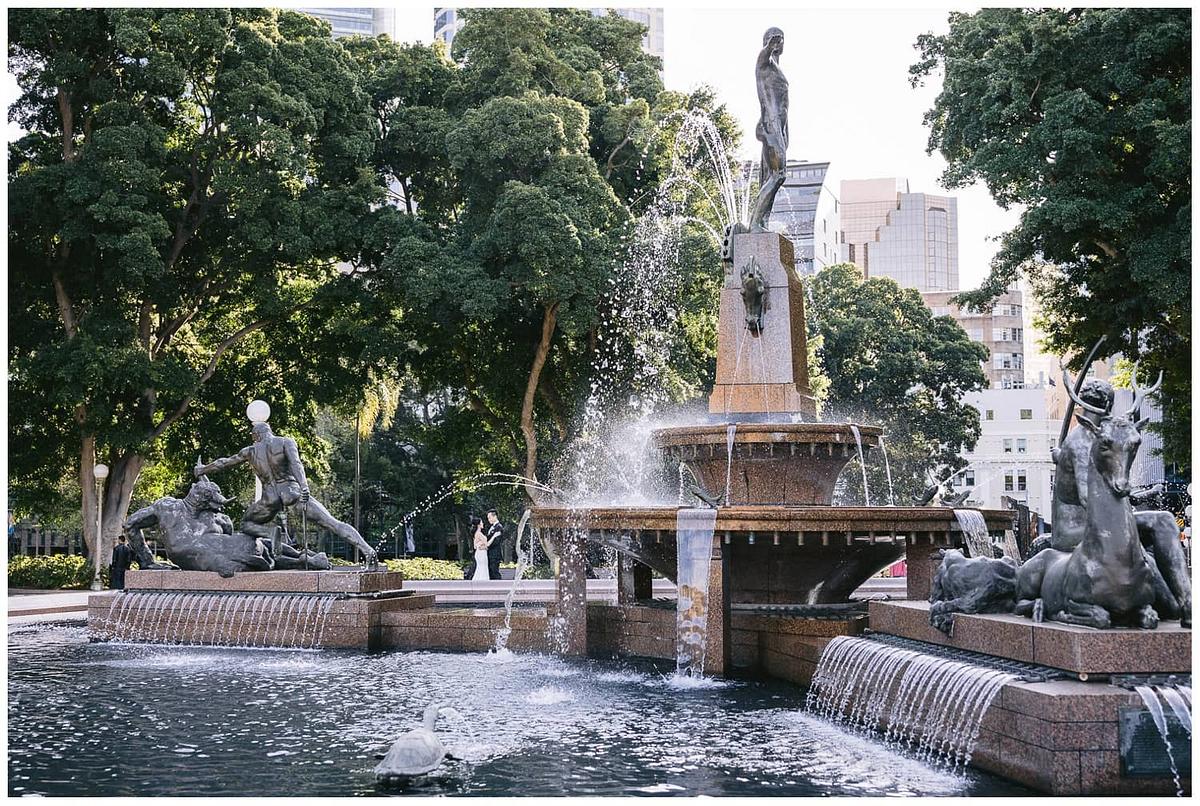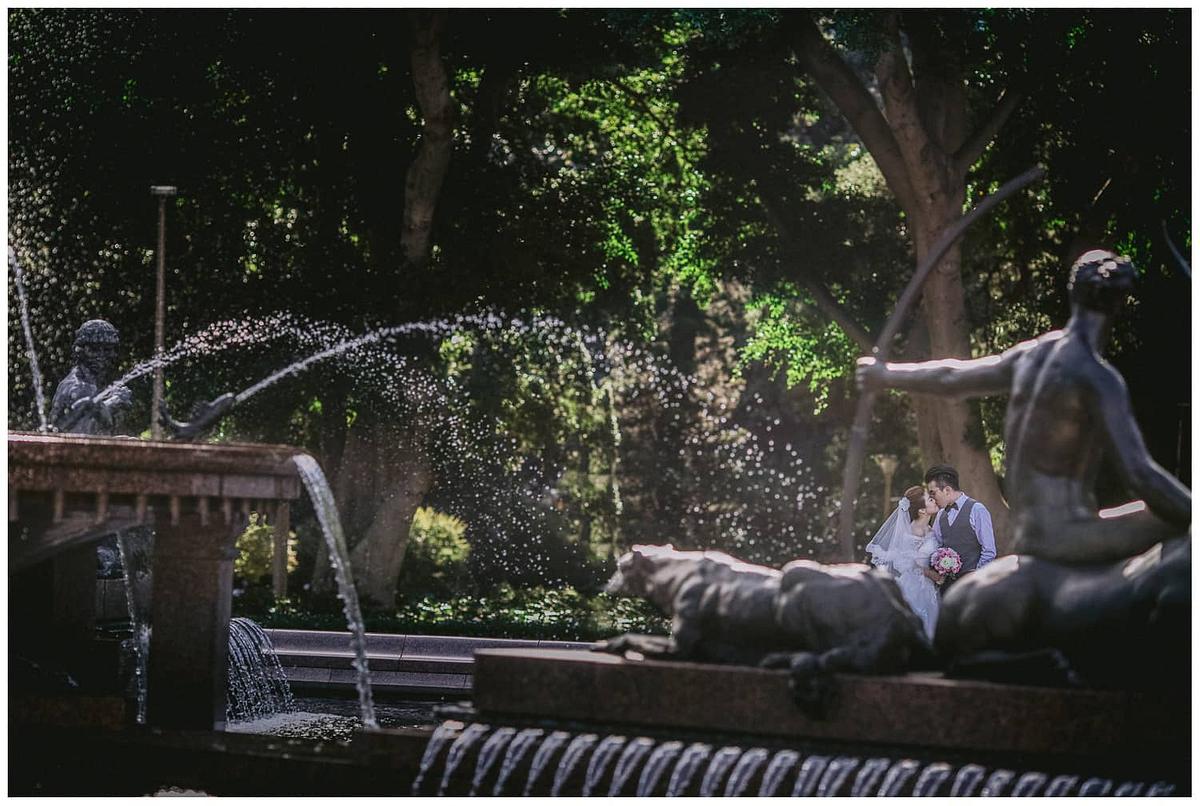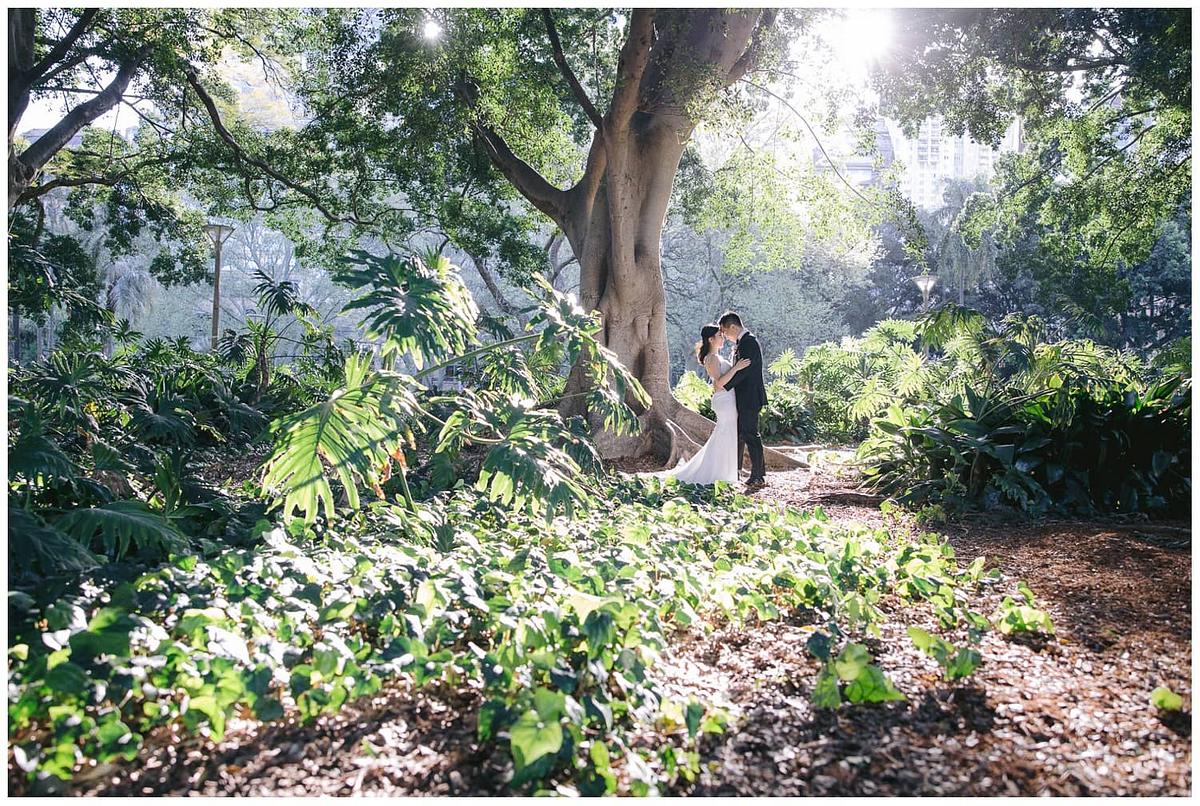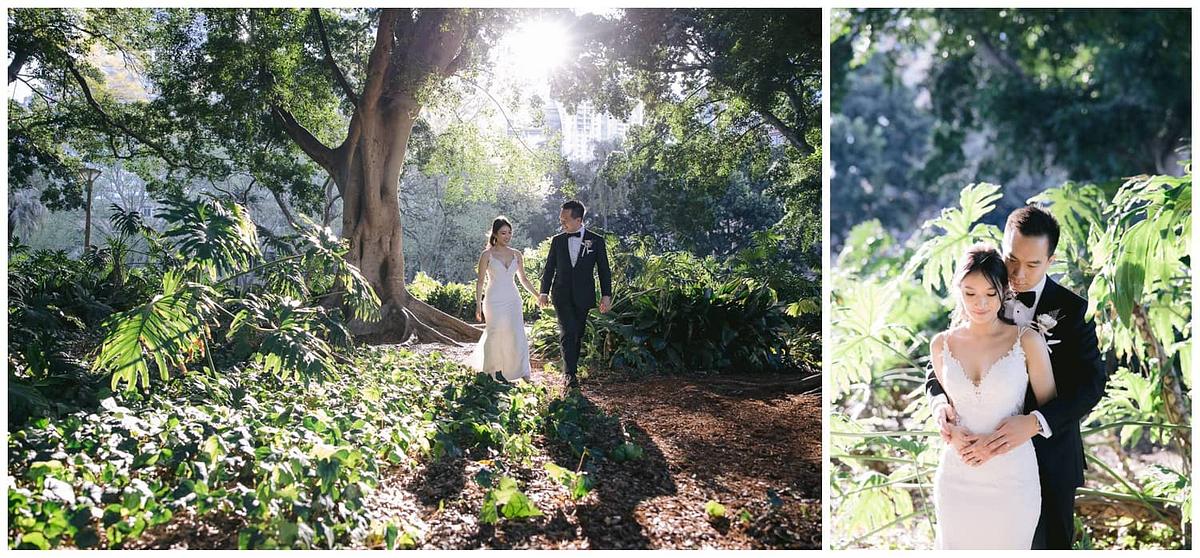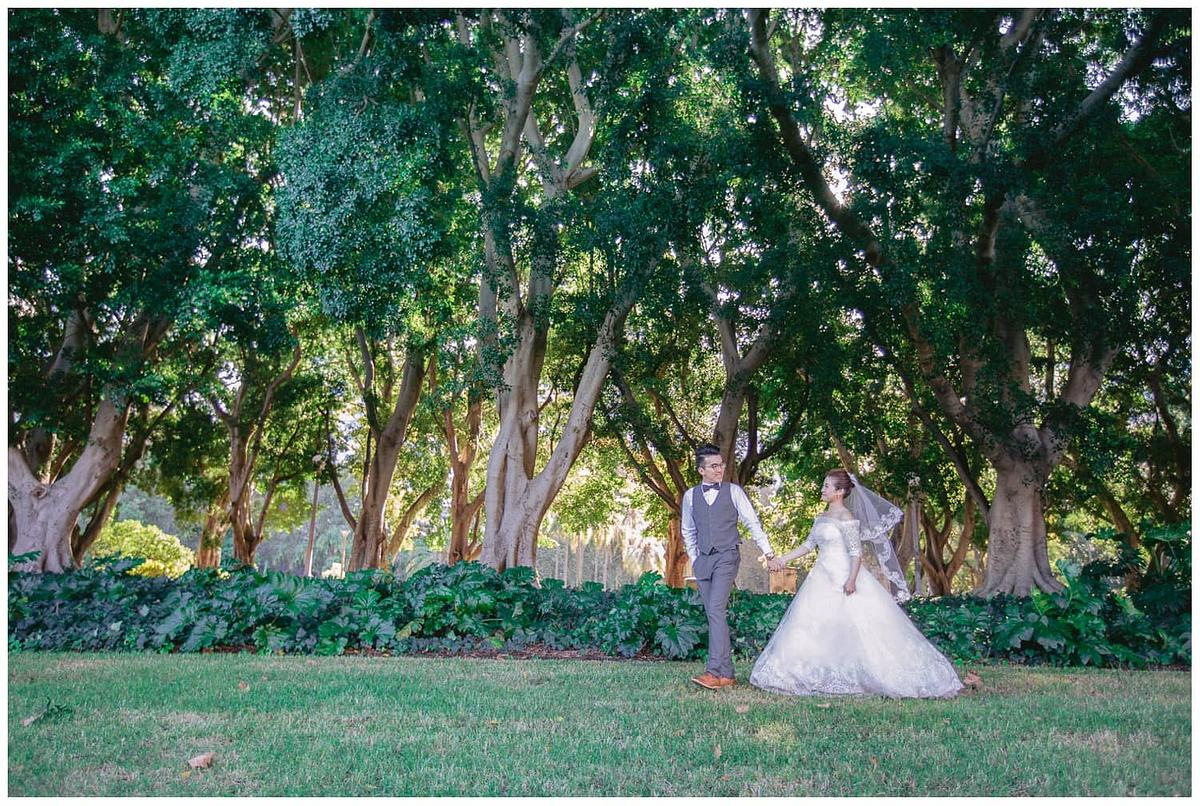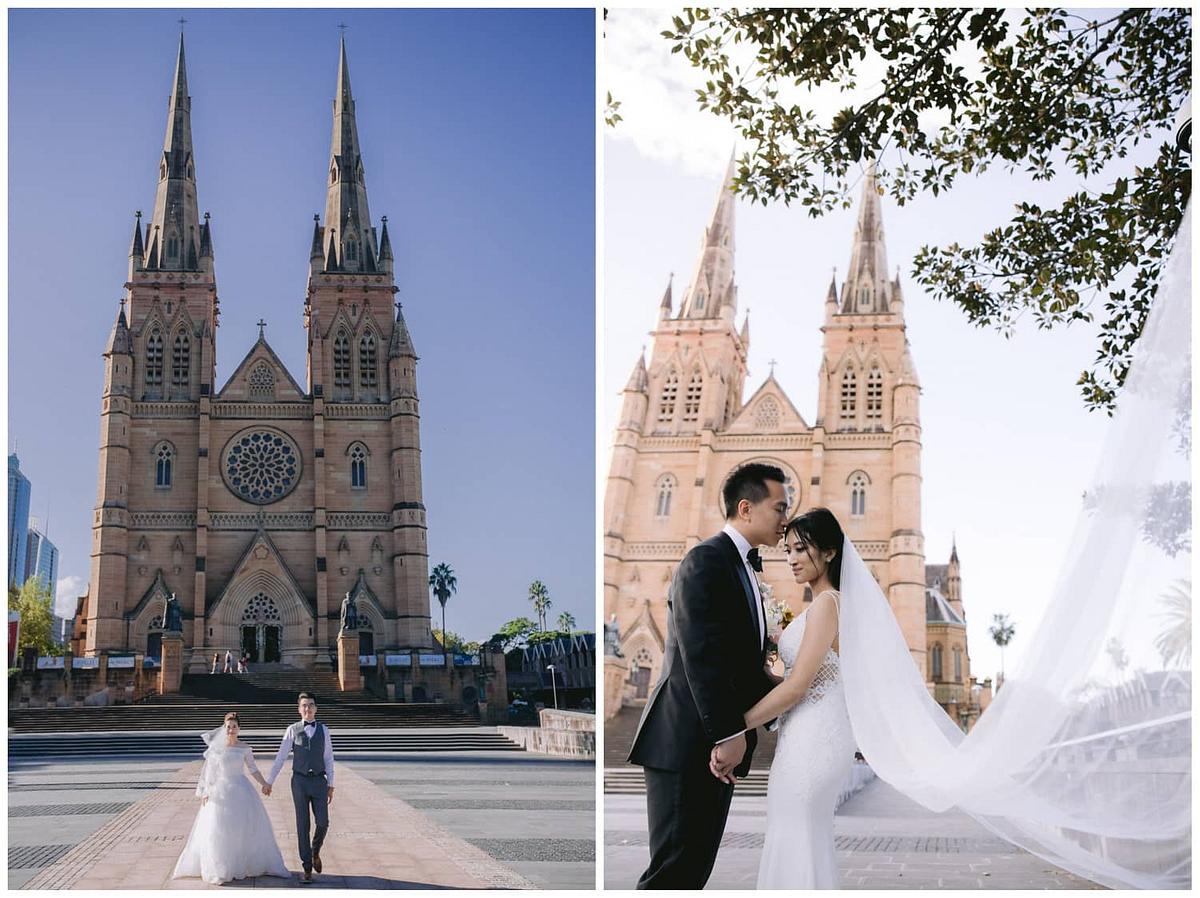 Watsons Bay
Watsons Bay is right at the tip of the South Head Peninsula, and it's a place that gives you the beach vibes without having to get sand in your shoes. There are docks, walkways, and even the famous lighthouse that can all serve as backdrops for your wedding photography.
Things we like:
You can take photos on the rocks that can have the waves crash right up to you and your spouse. This looks magical when done at sunset.
The docks that are in the area that would look great with walking or candid photos of you and your spouse
The iconic Hornby Lighthouse adds some character to your photos, as it is a heritage site.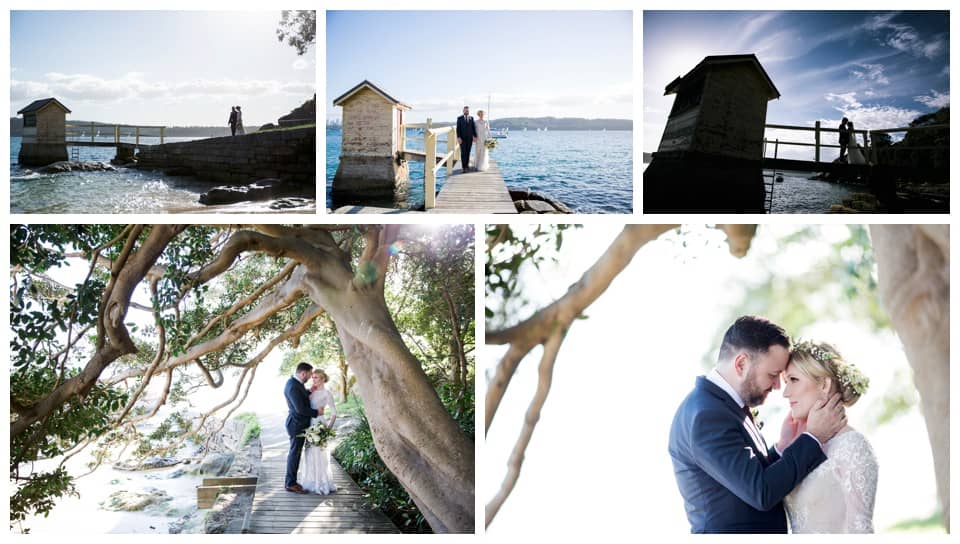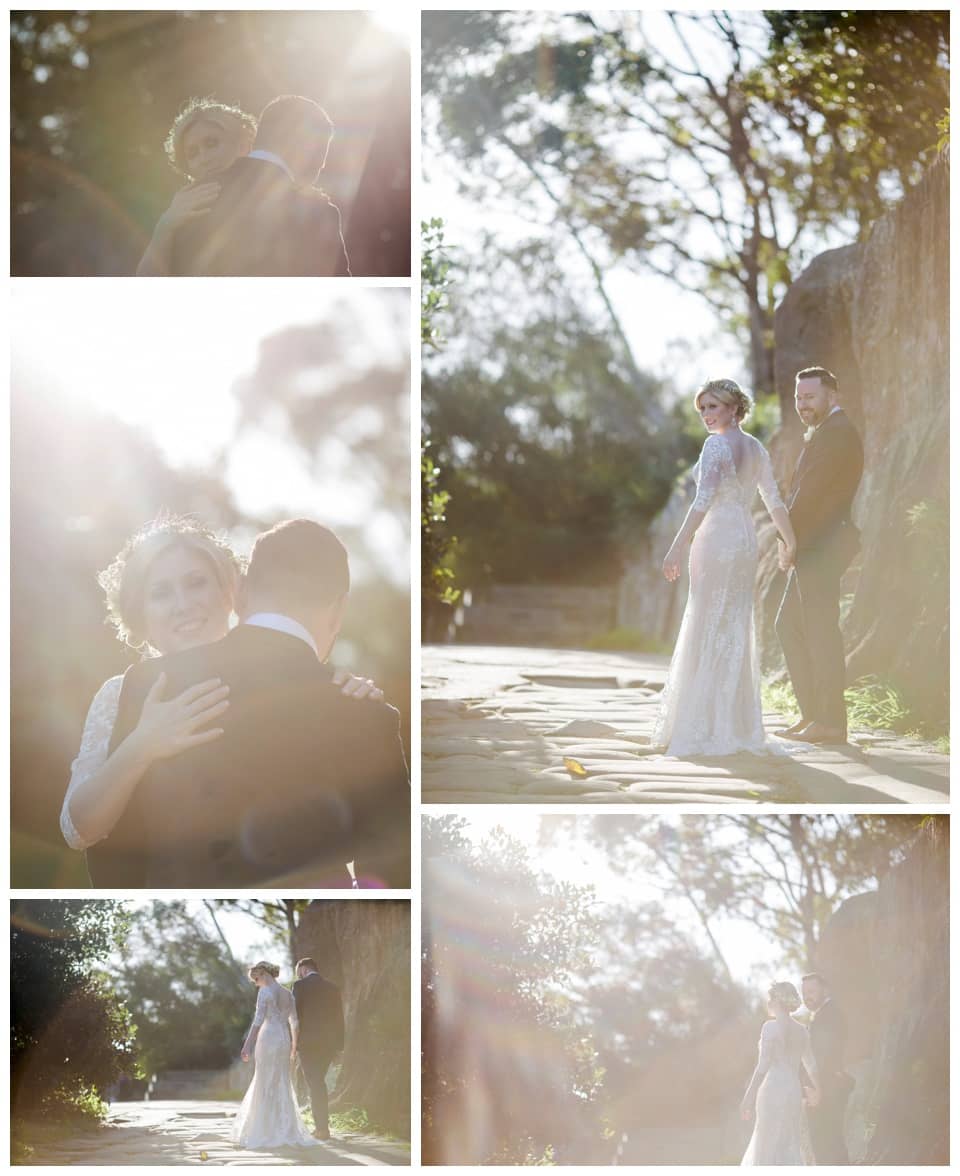 Barangaroo Reserve
Barangaroo Reserve is the newest wedding photography location in Sydney. It is a waterfront venue with stunning views of the city and the Harbour Bridge as the backdrop. Barangaroo Reserve was transformed from one of Sydney's original industrial harbours, giving it some character and rich history as well.
Things we like:
The rustic looking metal wall - we love to play with the shadows falling on the wall to create some creative shots.
The sandstone leading into the water, allowing you to get some beautiful photos right next to the water
The Harbour Bridge backdrop
Multiple locations to also host your wedding indoors and outdoors.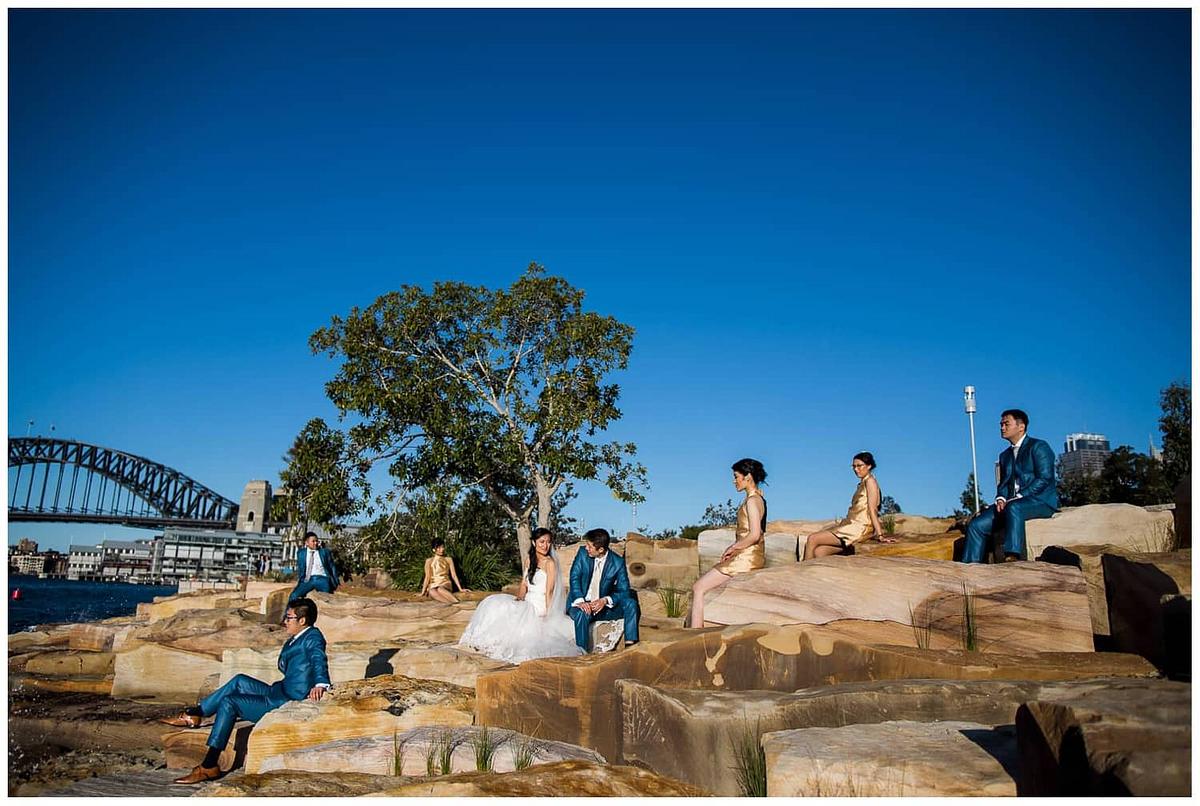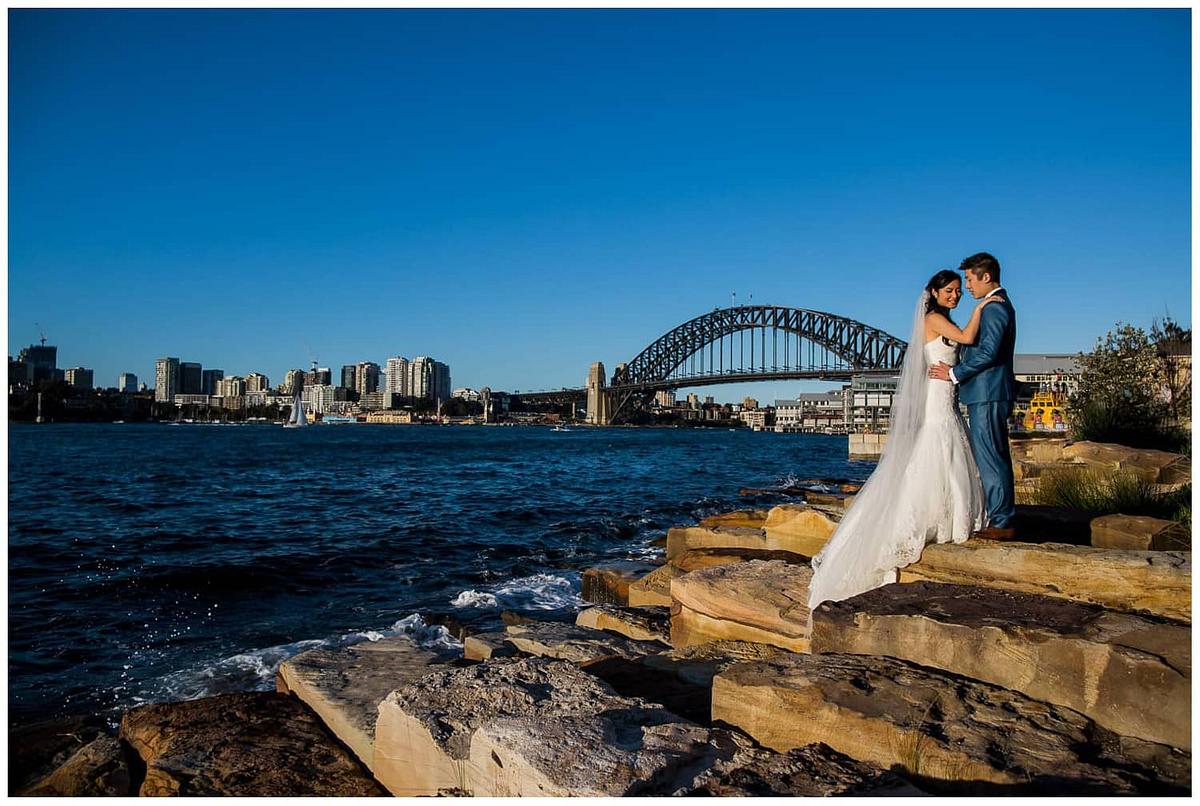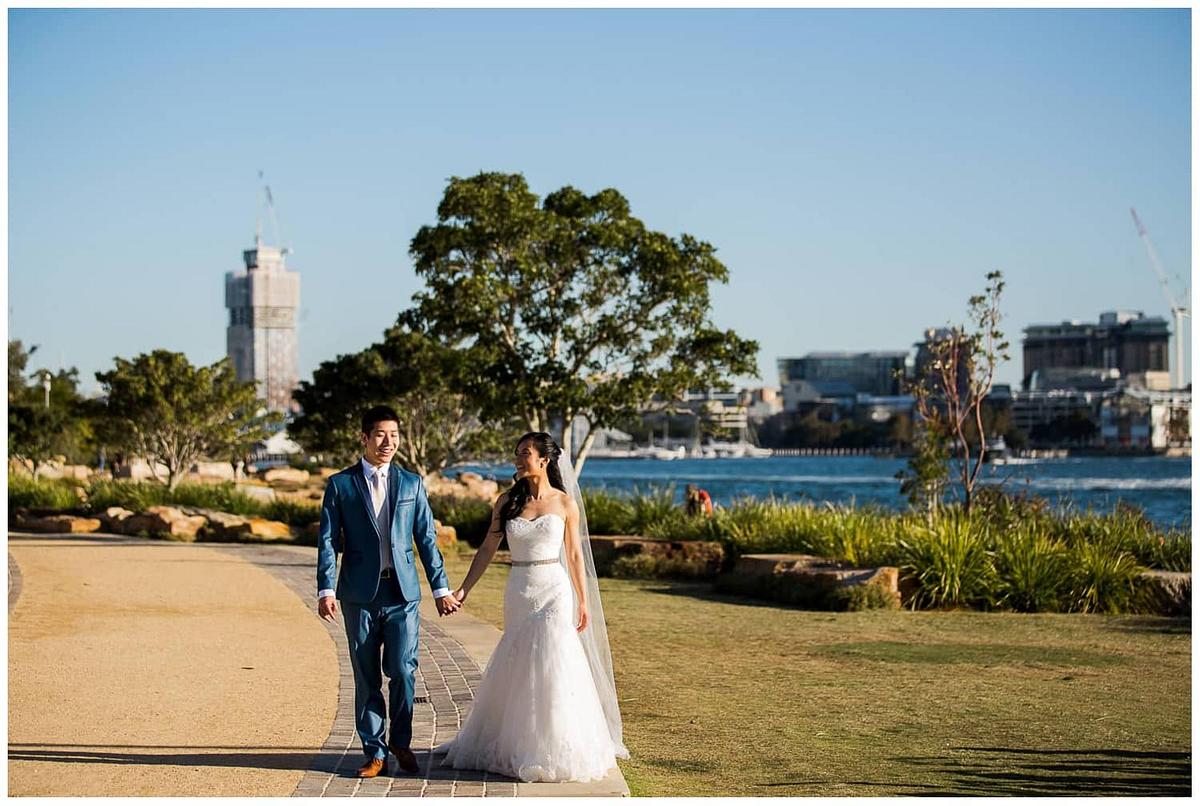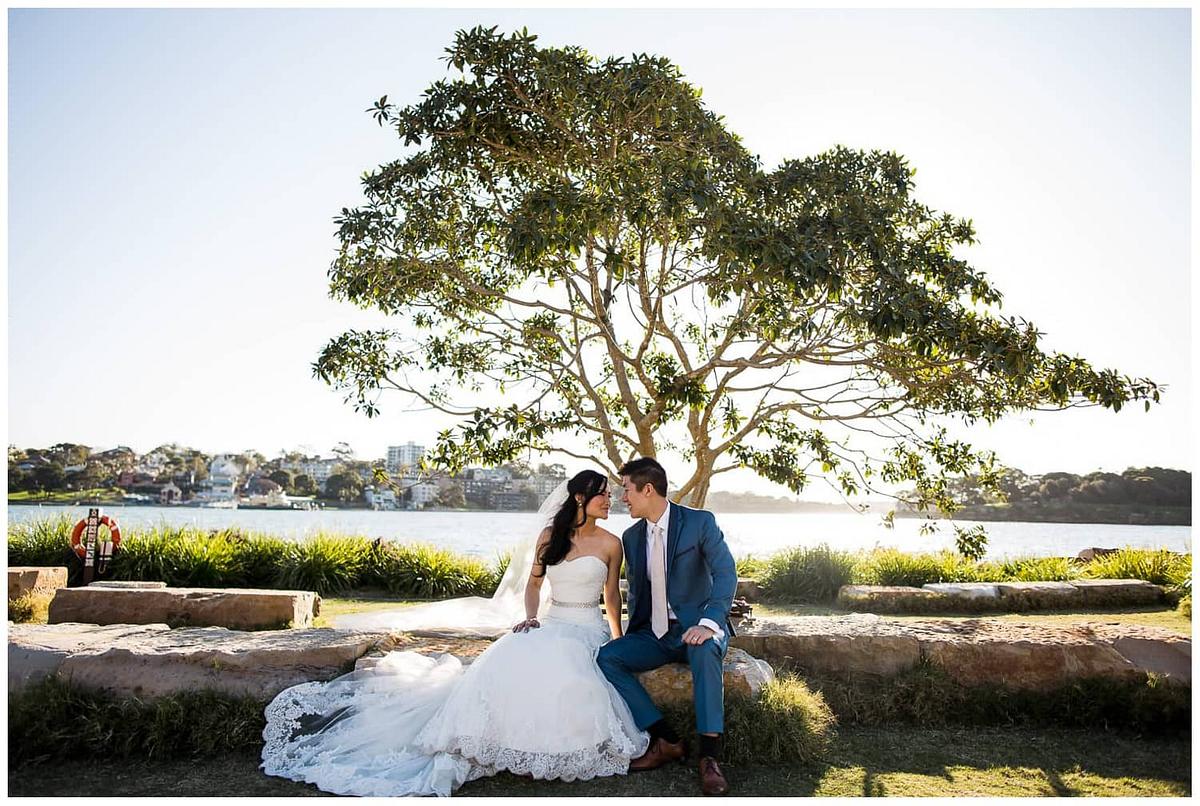 Fagan Park, Galston
Fagan Park is a hidden gem in Hornsby Shire. It covers 55 hectares that include a range of attractions for everyone.
Things we like:
Diverse and stunning backdrops for wedding photography!
Good collection of international gardens in one place eg Africa, Australian, Chinese, Dutch, English, Japanese, Mediterranean, North American and South American gardens.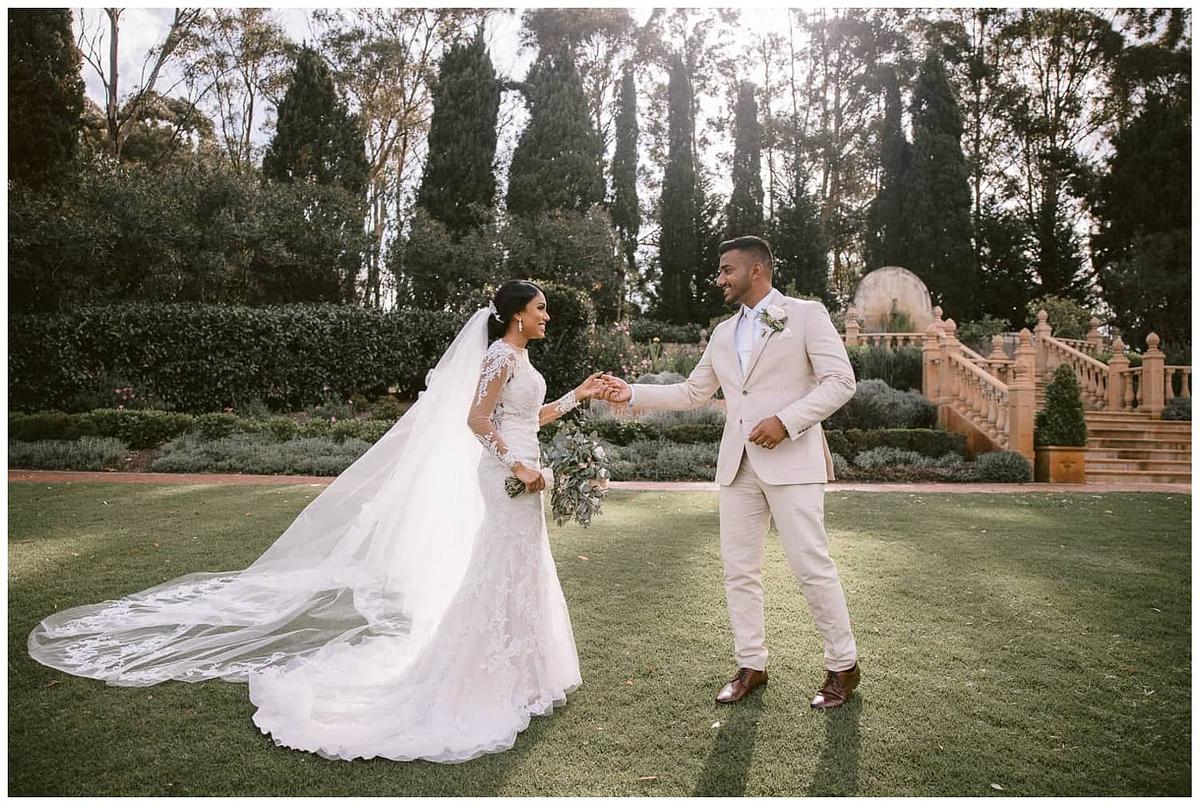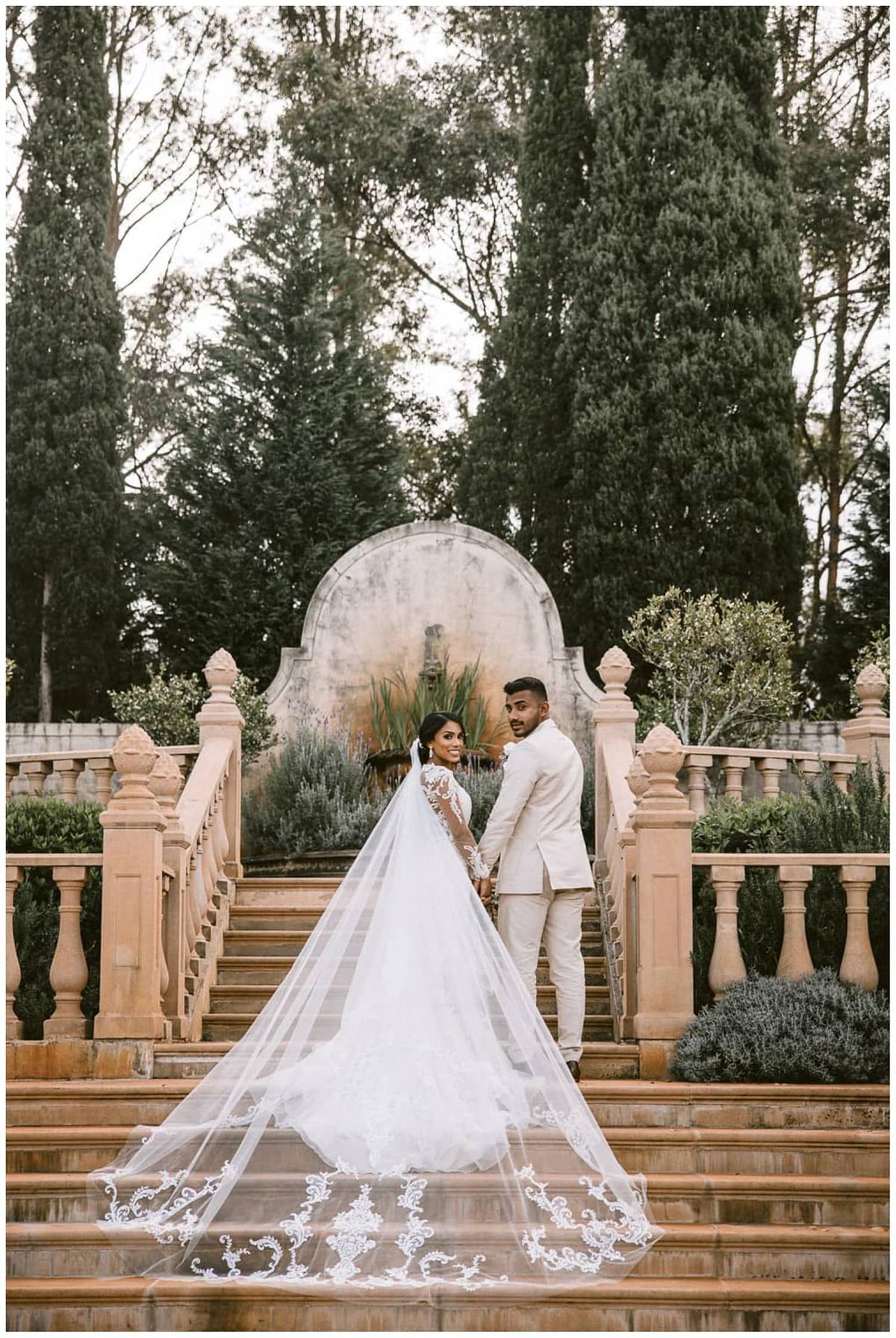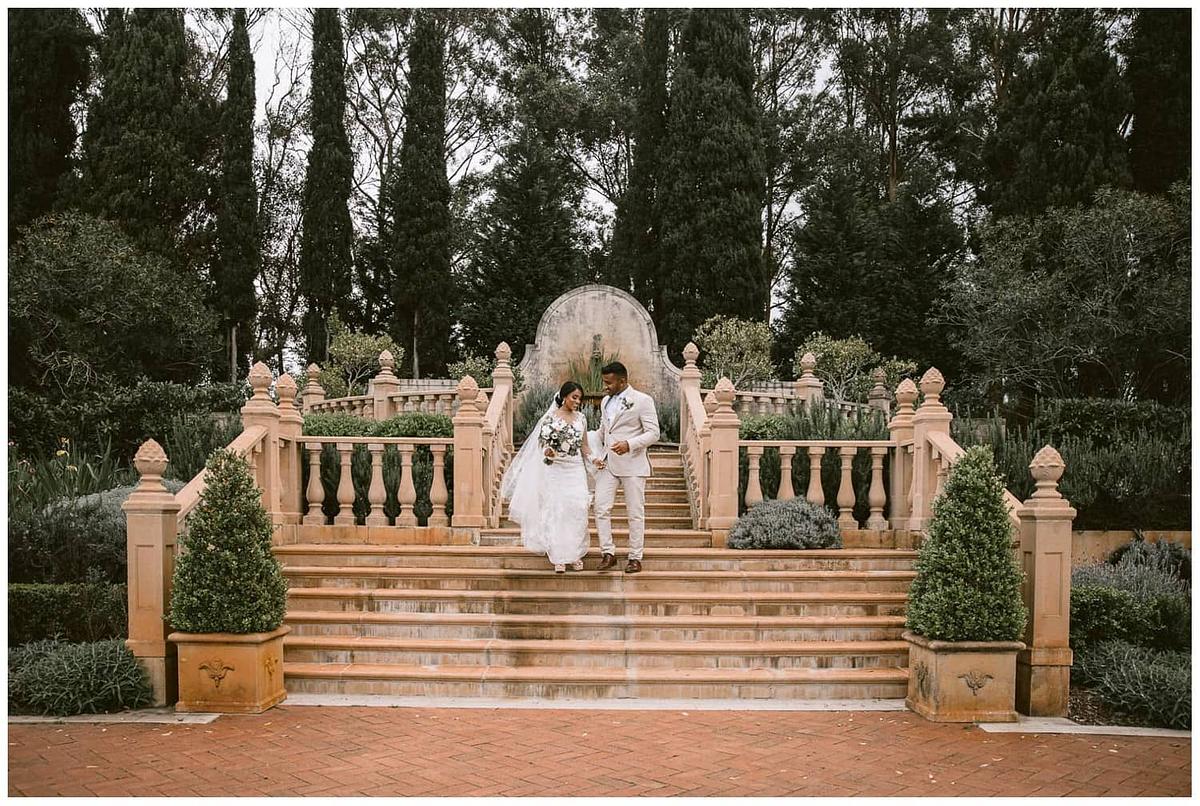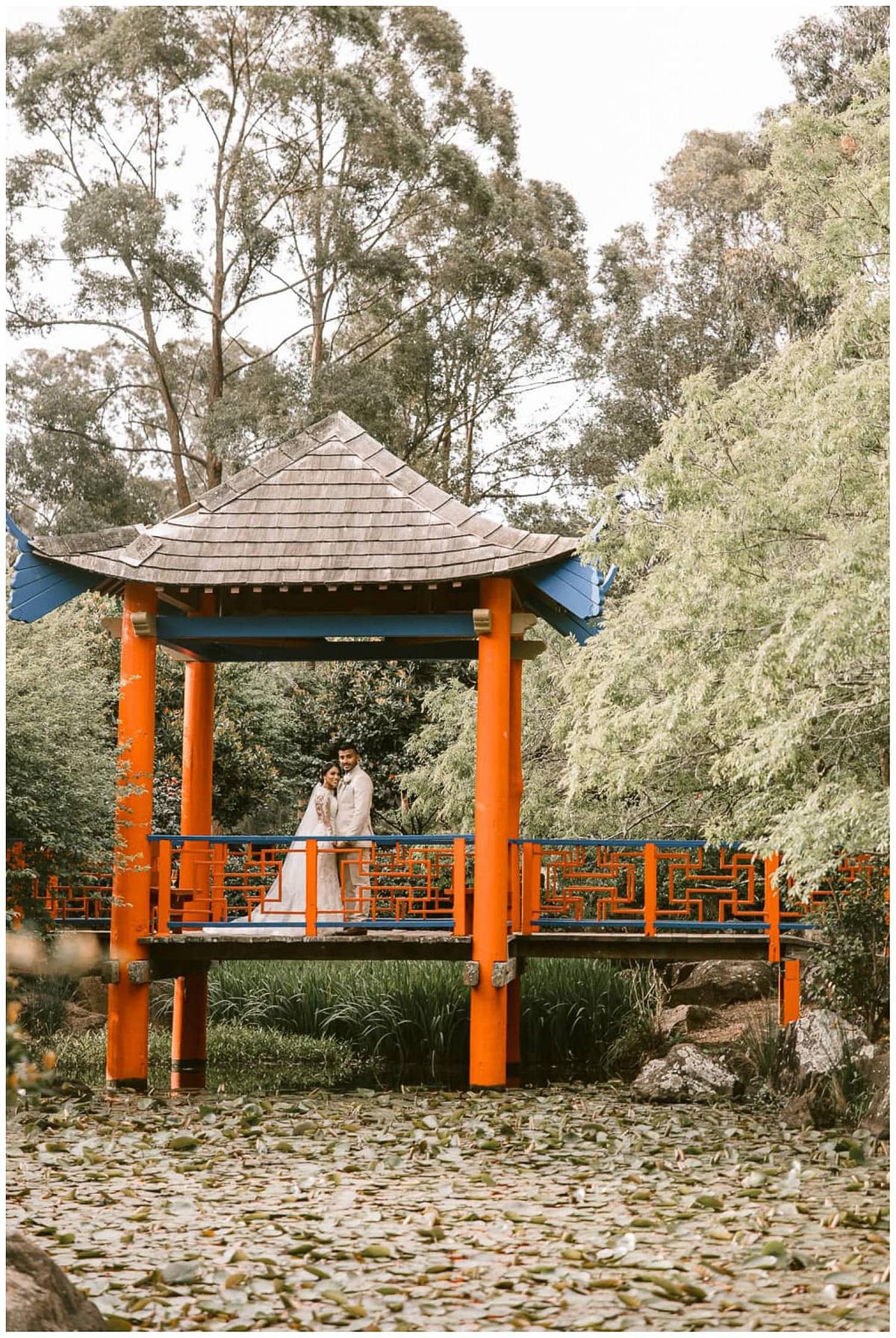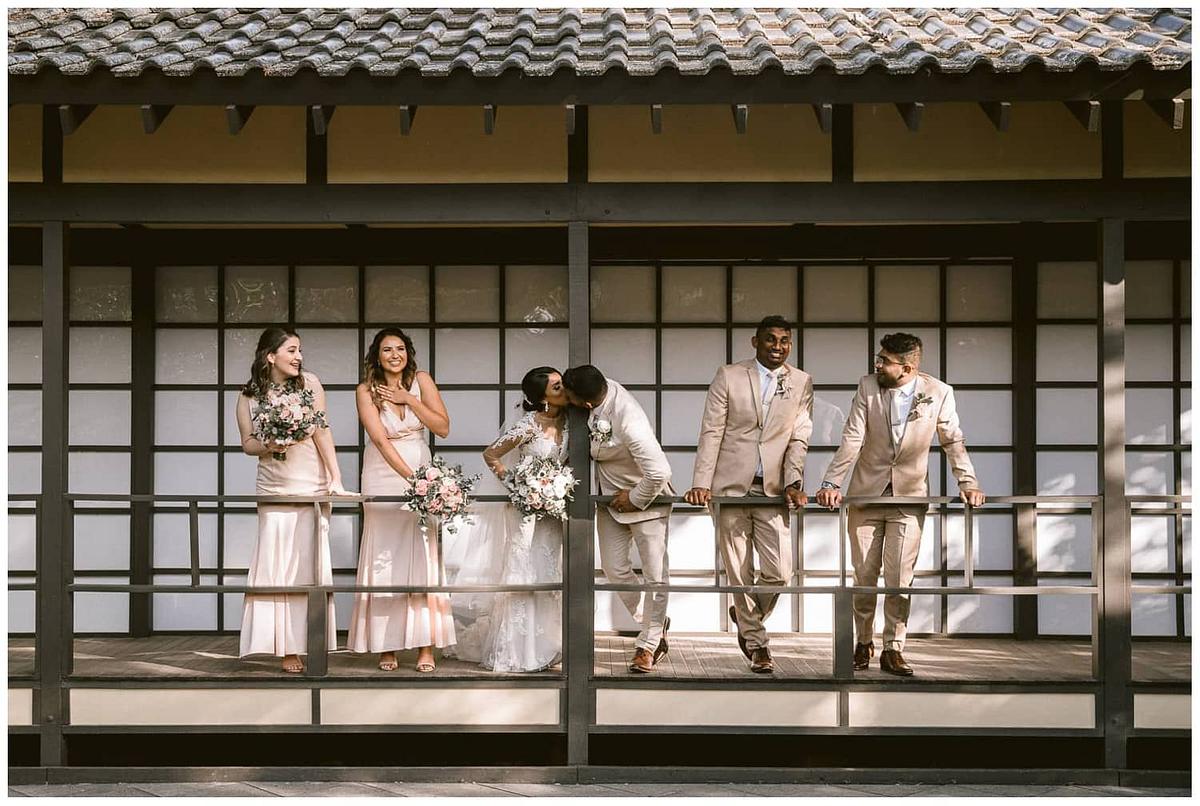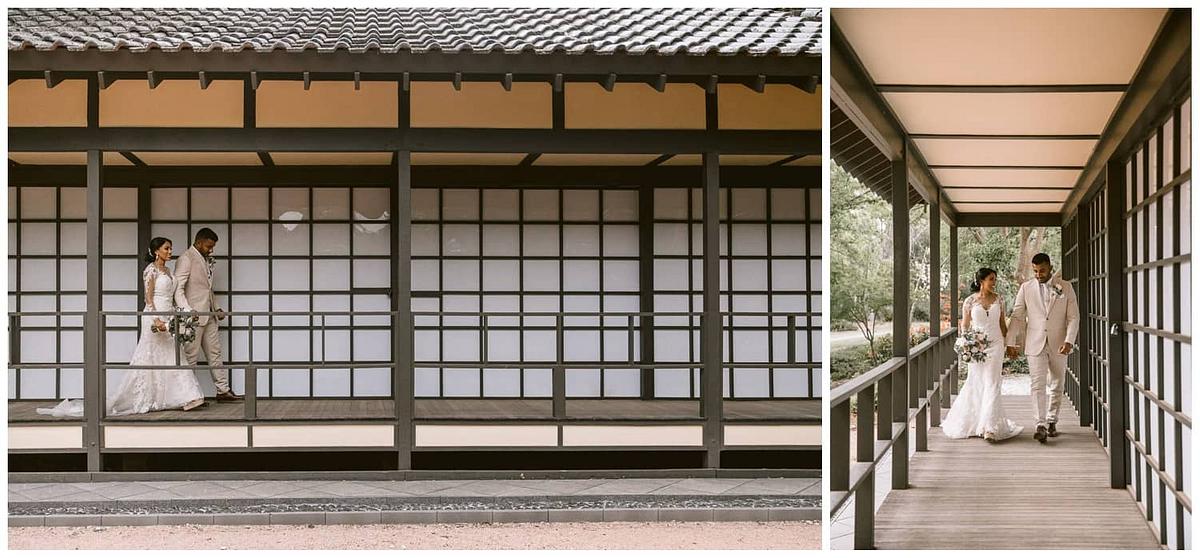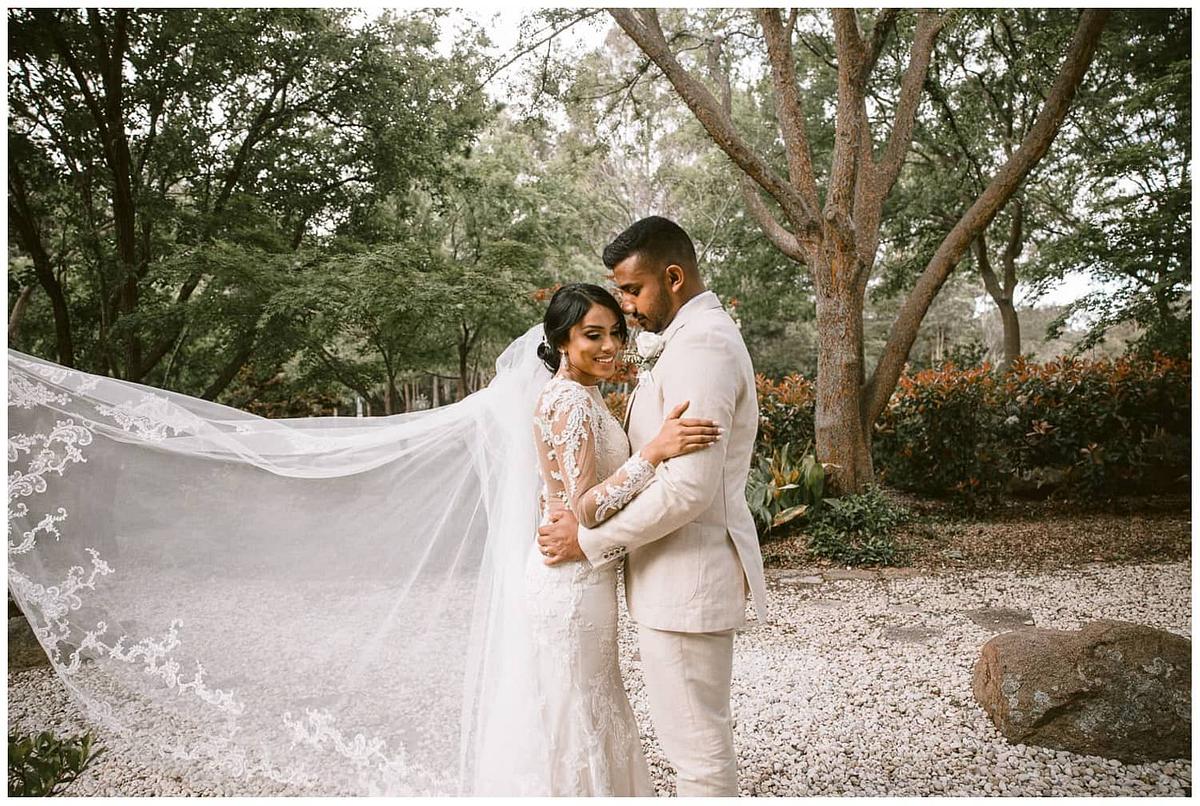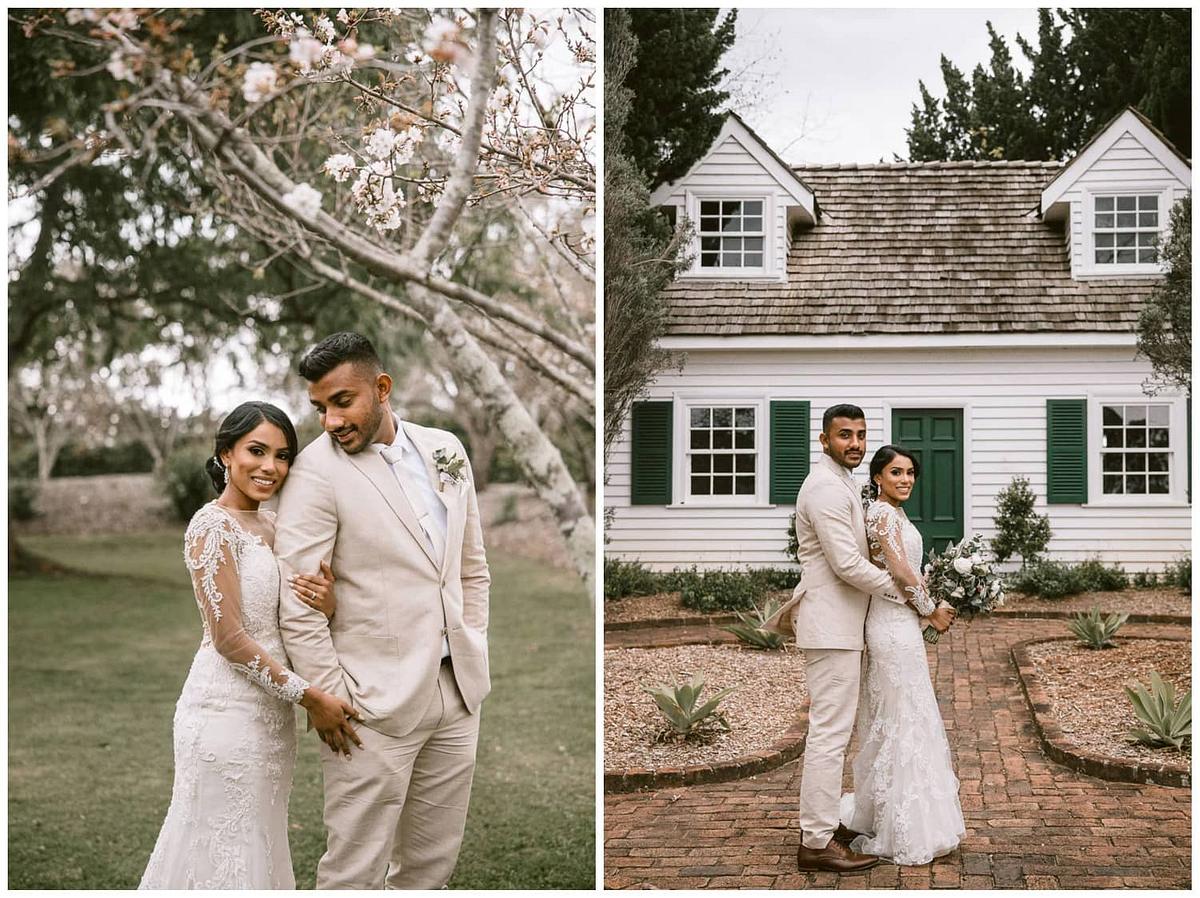 For more inspirations, visit our blog on: